Each creature must be transferred and stored on a Cherishable device. We call this "Sending the Soul." In essence, a Cherishable functions like a hardware wallet. Typically they look like this: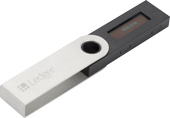 Wallets have a set of private keys to keep your crypto currencies and collectable assets safe. A Cherishable will need some method to store collectible assets off line similar to a conventional hardware wallet.
We began to investigate the hardware needed to accomplish this and decided to use an open-source device called Firefly.

What is a Firefly?

It's an open-source, affordable, air-gapped hardware wallet for Ethereum. We decided to build one as part or our research. The goal was to see how it worked and in the process to think about how this might be a useful in storing our digital assets in an object off the internet. Our next step is adding one of the crypto kitties we breed on to it. The Firefly works with a companion application called Ethers wallet.