There are specialized energy harvesting IC on the market that does an excellent job.  A chip based solution works great if you need good efficiency at low working voltage, but each part are tailored for a particular range of operating voltage.
| | |
| --- | --- |
| Energy source | Voltage range |
| Thermoelectric | 20mV - 500mV |
| Solar | 80mV - 25V |
 There was a conversation over here that illustrate the point for this project.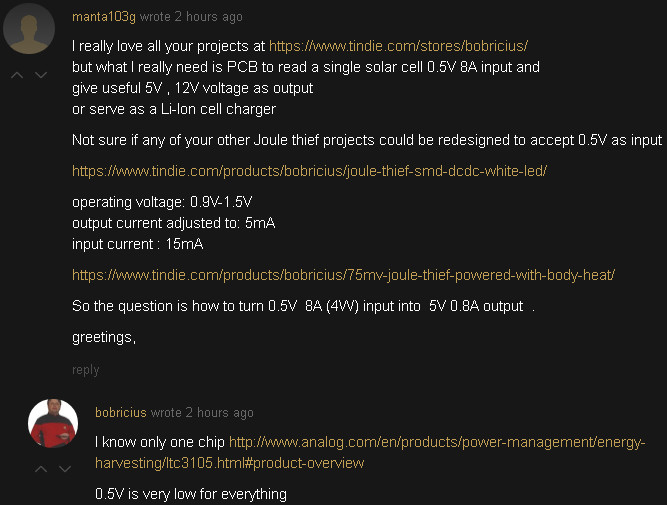 The LTC3105 with an input range of 0.5V, can only source 5V around 22mA. The LTC3105 could be useful for bootstrapping a much higher power design.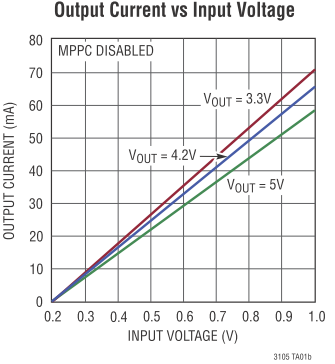 There are a lot of boost converters once the input voltage is above 0.7V.  
Where a gap in the market that isn't filled, you'll need to look for other solutions. A chip designed for energy harvesting has a lot of process advantages than conventional or discrete parts.  I still have a few tricks up my sleeves.
Transistor Basics
This is the $0.10 tour for a much more expensive/extensive Physic/Engineering course.   I am going to reverse the usual ordering.  This is about what I can remember these days.  :P 

MOSFET
N-MOSFET has a piece of P Substrate formed by doping with 2 N+ region (Drain and Source) formed by ion implantation (i.e. hitting it with a big electron gun).  There are back to back NPN diode junctions between the Source and the Drain which blocks current flowing between them.  The gate region is formed by depositing a thin layer of silicon oxide on top of the channel which forms a capacitor between the Gate and the Source.  

By applying a positive voltage at the gate, some of the free electrons in the substrate are attracted to the region and forming a negatively charged region called the depletion region.  This removes the diode junctions, so now electricity can flow between the Source and Drain.  A higher gate voltage increases the depth of the region and lower the resistance.
A large amount of current is needed to charge/discharge the capacitances quickly during switching to reduce switching loss.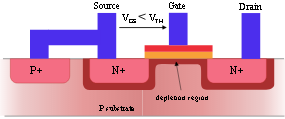 The manufacturers play with the MOSFET structures to create devices with different electrical characteristics such as ones that can work with lower gate voltages.  A Depletion Mode MOSFET is formed with a depletion region by implanting N ions.  They turn on at 0V.  To turn them of, an external negate voltage is required to repel the electrons to collapse the depletion region.  The ones without this is called an Enhanced Mode MOSFET.
Bipolar Transistor 
A NPN transistor have a similar structure as a...
Read more »