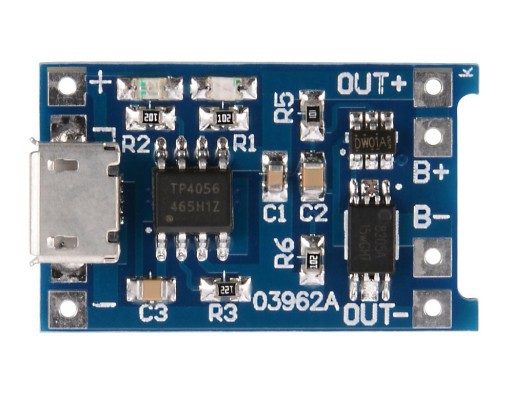 The Power harvesting circuit is made of  TP4056 charging IC and DW01  li Ion battery protection IC. 
About the TP4056 :
The TP4056 IC is a complete constant current/constant-voltage linear charger for single cell lithium-ion/Lithium Polymer (LiIon/LiPo) batteries. Its SOP-8 package and low external component count make the TP4056 ideally suited for portable applications. 
Other features include :
1.  Current monitoring
2. Under voltage lockout
3. Automatic recharge
4. Two status LED to indicate full charge and the presence of an input voltage.
To know more about TP4056, you can read the Data Sheet.
About the DW01 :

The DW01  battery protection IC is designed to protect lithium-ion/polymer battery from damage or degrading the lifetime due to overcharge, overdischarge, and/or overcurrent for one-cell lithium-ion/polymer battery powered systems.
To know more about DW01 , you can read the Data Sheet
I used a ready made module which include both  TP4056 and  DW01 ICs. This module will offer 1000 mA charge current then cut off when charging is finished. Furthermore when the battery voltage drops below 2.4V the protection IC will cut off the load to protect the cell from under voltage. It also protects against over voltage and reverse polarity connection.