August 13, 2018
As soon as we tried to program our custom MAX32660 motion co-processor board we knew we had a problem. The MAX32625 PICO DAP debugger which came with the MAX32660 evaluation kit and the MAX32625 PICO debugger we bought separately both interface with the MAX32660 target via a 2 x 5 SWD 0.05-inch connector, which of course, we didn't put on our tiny 0.7-inch x 0.5 inch breakout board; no room! We did expose SWDIO and SWDCLK as well as nRST on the breakout board edges. That is, we expected to have to use the SWD port to program our breakout. We just didn't think it would be so hard to do so.
First we tried to use the edge pins on the MAX32625 debugger which are supposed to connect to SWD and nRST, etc but we couldn't make this work. Not sure why. Programming via the SWD connector did work on the evaluation board so we ordered some SWD cable breakout boards from Adafruit (faster than making our own), which allowed access to all of the SWD signals from the 0.05 inch cable. And...success! Simply connecting SWDIO, SWDCLK, GND, nRST, and VREF to 3V3 and we were able to program the custom board MAX32660 to toggle one of the GPIOs we exposed as WAKE on our breakout. The toggled GPIO then actuates an led and voila: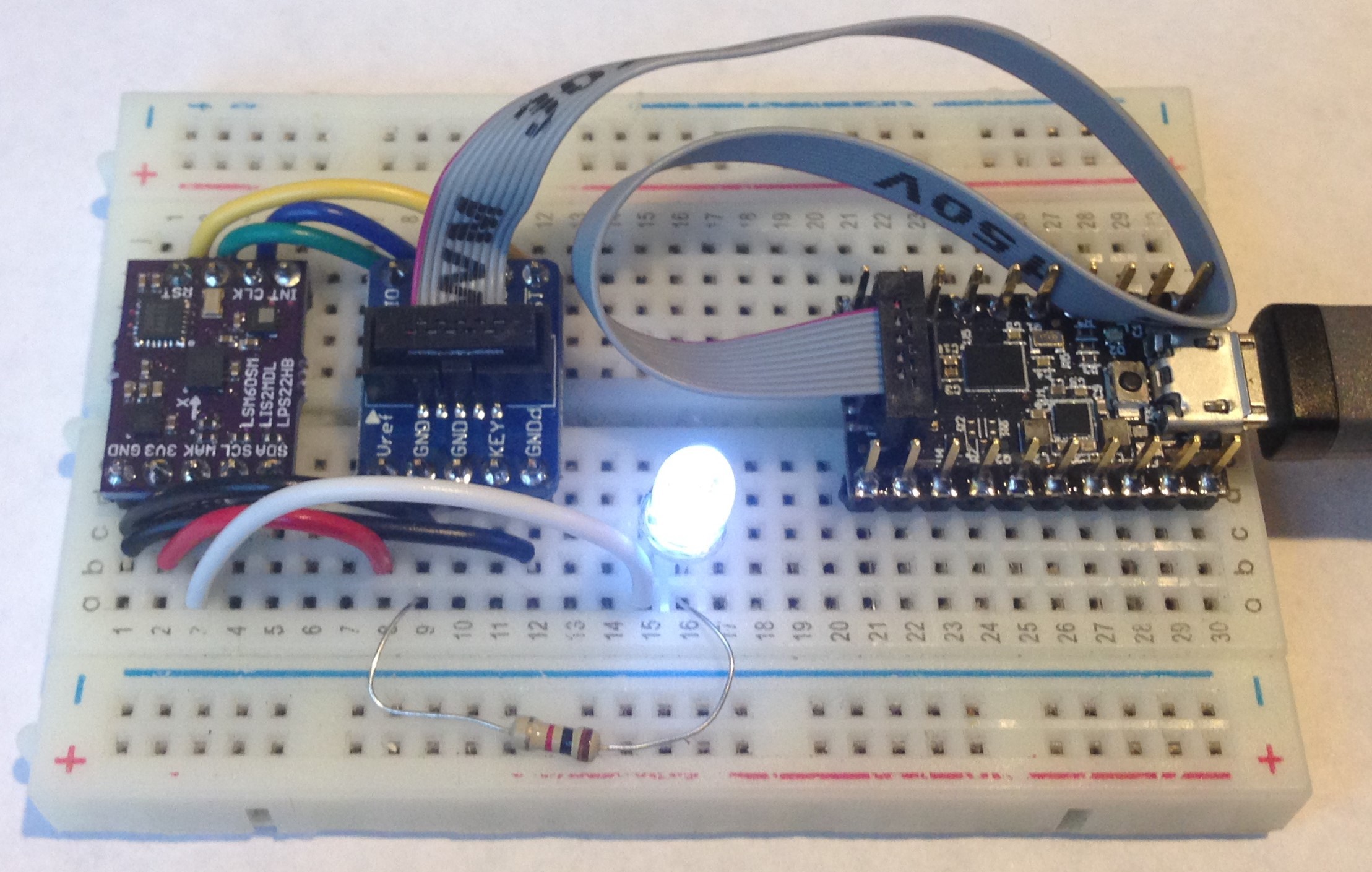 Here we have GND_detect also connected but we subsequently learned this is not needed.
Yes, it is a little clunky but for prototype hardware and firmware development this works just fine. In the end-user application, once programmed with firmware the breakout doesn't need to be programmed again. The breakout will communicate with the host MCU via I2C in use. So in reality for the final product we don't need SWD and nRST exposed to the user; and it is a shame to waste valuable board edge just for one-time programming. So we will likely expose the SWDIO/SWDCLK, and nRST along with GND and 3V3 as a 2 x 3 test pad pattern on the back of the board that can be programmed at the fab using a pogo pin connector.
This was the last technical hurdle to overcome for proof of concept. Now we will continue our firmware development and, in a few days, test the board as a motion co-processor to an STM32L4 host MCU. Very exciting!