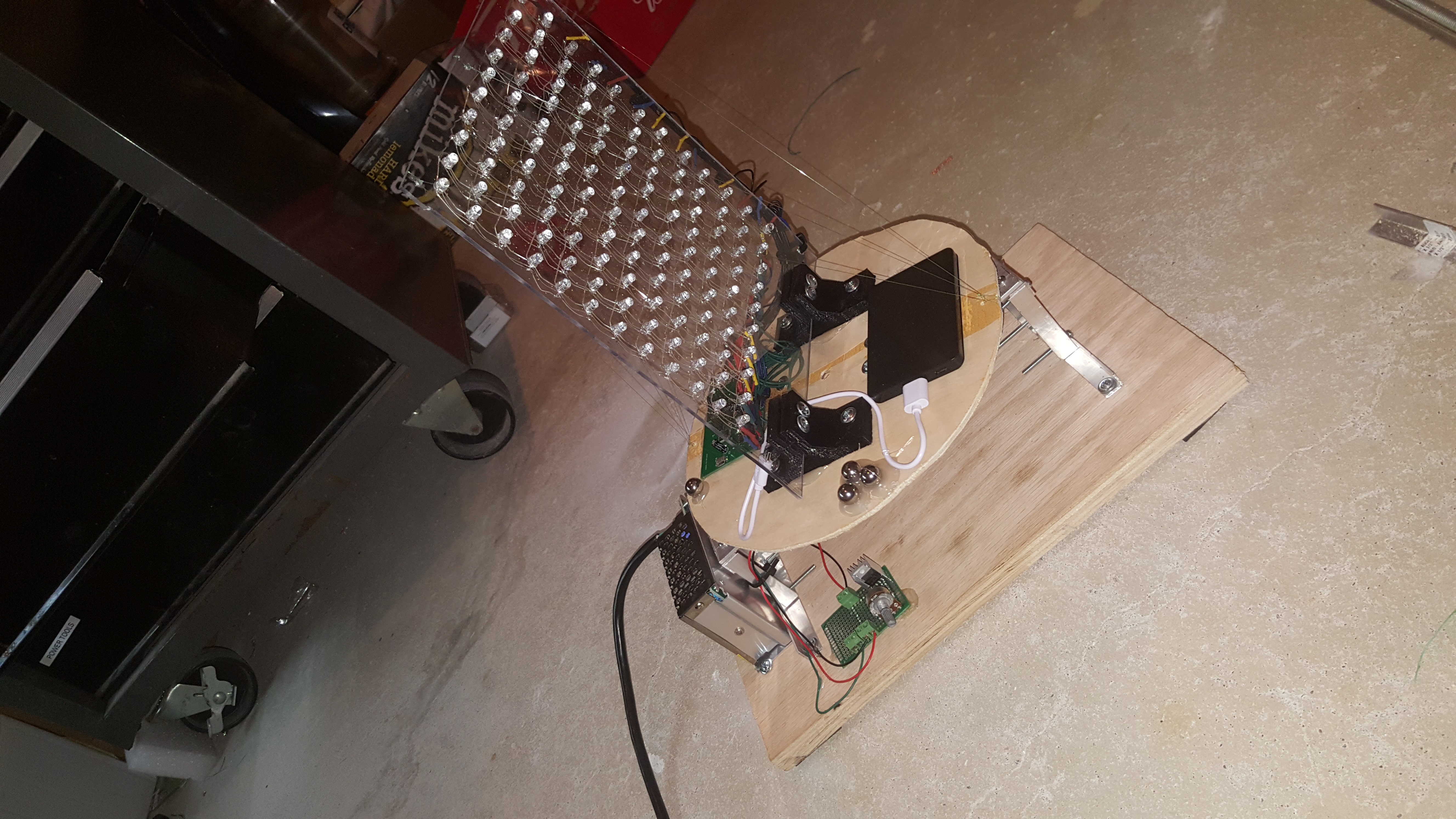 Spent some more time on this over the weekend. The matrix was attached to some cheap board I had lying around cut into a half decent circle. the board doesn't really have any issue with vertical wobble which was my biggest concern, however it does still vibrate a decent bit at a high speed. after constructing the entire thing, I decided the top of the matrix needed some more support, so naturally fishing line was the perfect solution; it's strong and clear making it impossible to see when spinning. as for the balancing of the thing I knew this would be difficult, for the most part the foam stops on the bottom stop it from sliding around too much and it stays put at the speed I'm usually running it at, but it could be better. There are also ball bearings hot glued to the board to balance it.... it works... what more do you want? 
I sped up the code some more on the control board, it had to be slowed down during development due to some strange power issues I was having which is a hilarious story in hindsight. Either way I'll need to commit a few more hours at some point soon to code optimization to get this thing working ideally. Also need to program in some extra patterns for this thing so it's not only displaying 2 images all the time. 
Additionally, I had to adjust a few of the 3d printed gears, specifically the smallest one attached directly to the motor. The gear was way too tall, and not giving enough thread to the nut for it to hold properly. quick rework and a 20-minute print and we were back up and running. also changed the large gear to give it more clearance on the aluminum stand. 
Here's where the project stands: 
the base is fully assembled
the matrix is attached and balanced (as well as I could manage) 
the entire system works consistently
what needs to be done: 
more patterns
some recognition of the rotation so that patterns can be more diverse
more balancing 
speed up shift register speed to reduce 3d "pixelation" as much as possible (see attached video) 
make it less loud? it kind of sounds like it's just plotting its opportunity to tear itself apart. 
work on the micro controller circuit that controls the ESC so that it automatically spins up to the desired speed. (which may make list item 2 irrelevant depending on how finely the motor can be controlled)
I strongly recommend turning your volume down before playing this video
also, lots of flashing lights