I've been busy migrating my "Mother Nature" controller circuit out of my breadboard and into perfboard... and yes, it's insane but no, I don't have time to produce a printed circuit board because I'm leaving in six days for a fellowship in Mexico. For the record, I do not recommend soldering so many components and connections in perfboard because the risk of error is high, either from bad solder joints, signal interference, or just plain confusion. I plan to design a printed circuit board for future embodiments of Mother Nature. Stay tuned.
As you can see in my previous log, I'm surrounding my perfboard circuits with spray painted cardboard to make them look cool -- and by the way, you could use this quick-and-dirty strategy to make a "starving artist's badge" for the Hackday Superconference.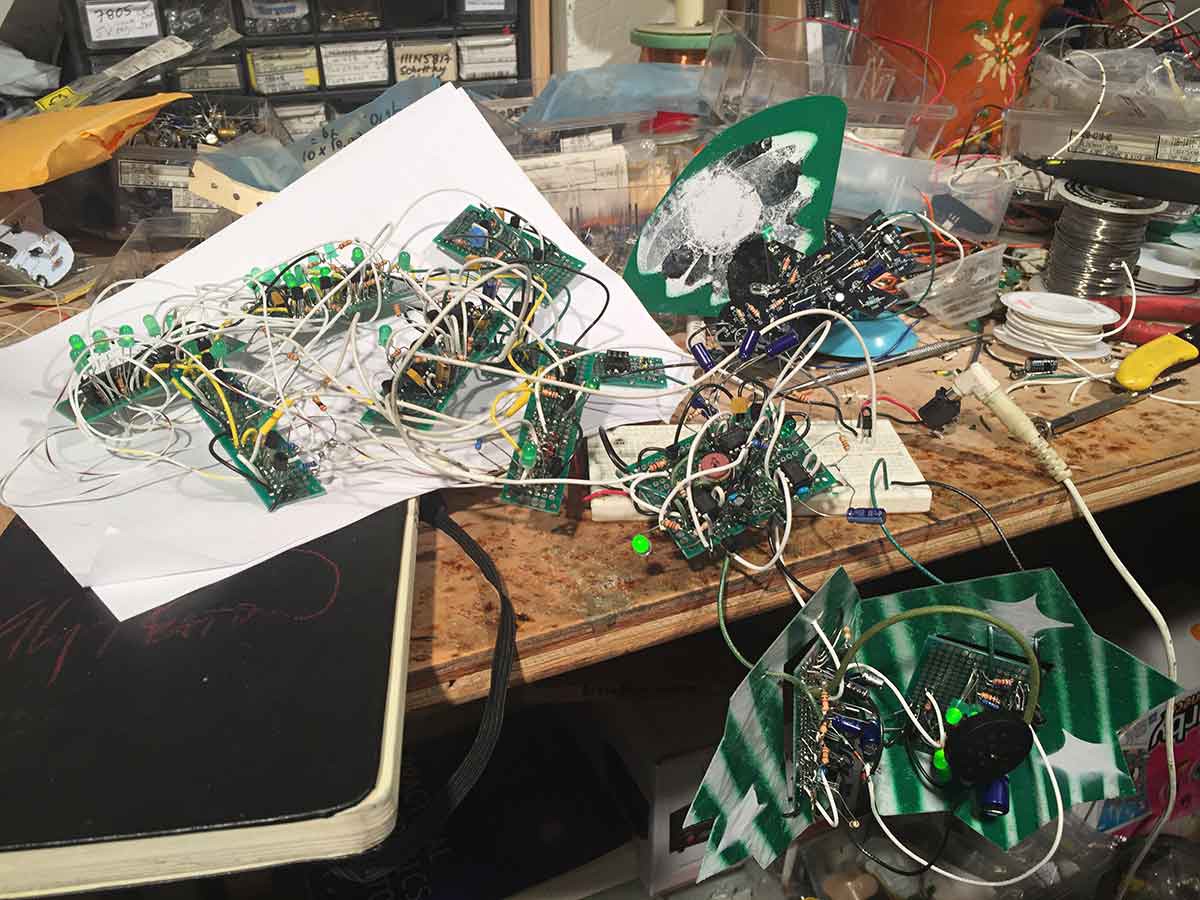 As for the design of my "Mother Nature Board," aka random pulse generator to trigger various events, I have some additional technical tips to share:
Don't have logic ICs on hand? Build discrete transistor gates. This approach has the advantage of common components (NPN transistors, resistors, diodes) and you can add multiple inputs to the same gate -- which is useful if you discover that an event is triggering too often... just add another input to the gate and the outcome will become less frequent. Not triggering often enough? Remove or change an input to the gate. You can even tie an input to ground (or power) and let the other fluctuate. I use 2N3904 transistors for as many things as possible, but you could also build these cool light gates described by @Dr. Cockroach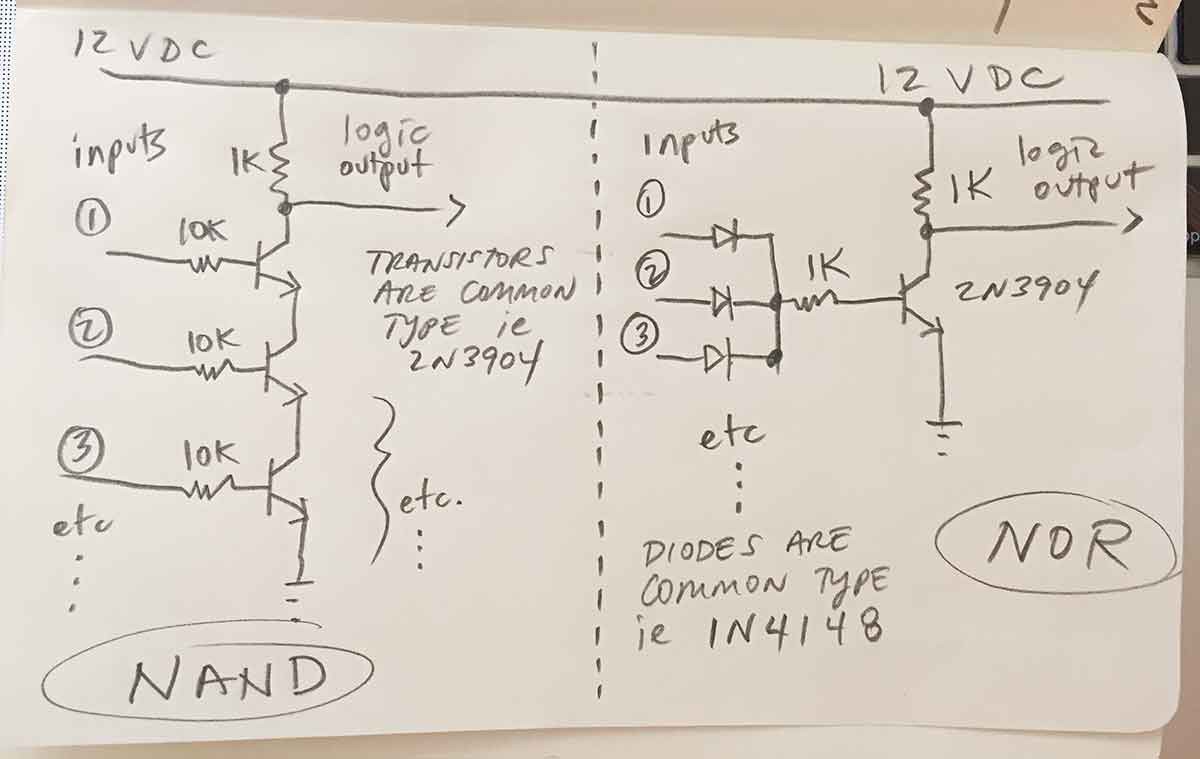 There's a limit to how many things you can drive directly with a signal such as the output of a logic gate. Good engineers read data sheets and calculate voltages and current at various locations in their circuit. Impatient engineers add a generic common emitter amplifier between the signal OUT from a logic device and the signal IN to whatever you're driving. This hand-waving approach to buffering will not work in all cases! But it will probably work for most slow logic applications where you want to transform a signal multiple times and drive some light loads. I'm an artist who prefers prototyping to math, so I work a lot with "try it and see" circuit design. Plus, I am not building a nuclear reactor. Note that a common emitter amplifier will invert your signal. Pay attention to whether you need your signal to be active high or active low. Note that a 555 timer in monostable aka one-shot configuration is looking for an active low input. If necessary, invert the signal again to get what you need.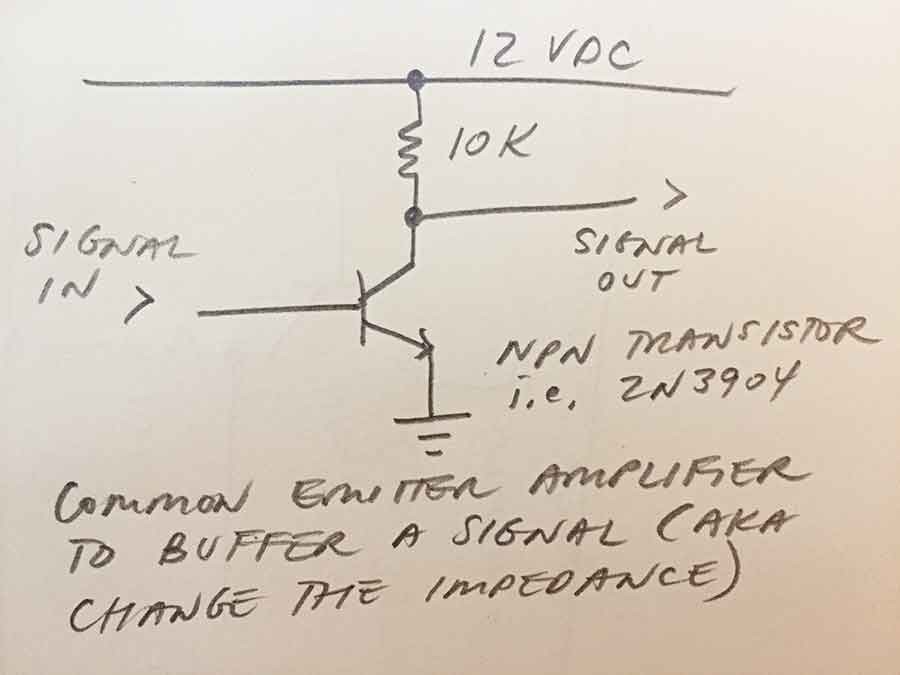 Mosfets make great electrical "on/off" switches because they don't draw current on their gate (==the mosfet equivalent of a transistor's base). They just need a voltage. I use mosfets for the last step in my Mother Nature circuit, or the point at which I want to turn power on or off to a particular sound circuit (the load). Make sure you have a gate resistor to ground or voltage will "sit" on the gate even when the signal is low (and the mosfet won't turn off).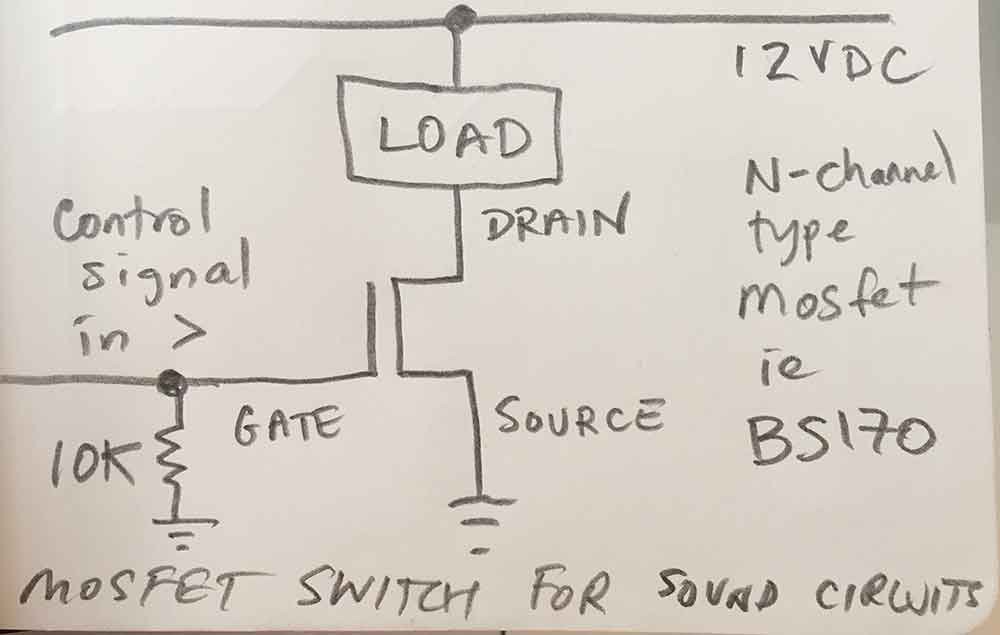 I hope these tips are helpful. To end this log, I give you a video showing my Mother Nature circuit in perfboard with two sound circuits hooked up. If you watch the LEDs carefully, you will see how certain combinations of logic are triggering the sound circuits. The cricket is wired up to chirp most of the time, whereas the Katydid is triggered less frequently. For this demo, I hooked up only two sound circuits because it's already hard to understand what is happening, and more circuits becomes a sort of natural chaos... which is my goal, as you will see in forthcoming logs.