Loading the software on the Arduino
For this project we'll need an Arduino Mega or UNO that has either a 16U2 or a 8U2 chip for USB communication. I'm using a Mega with a 16U2 chip. Many chinese manufacturers use a cheaper one on their arduinos, but only these work with the firmware we will be flashing in order for the computers to recognize our Arduino as a MIDI device without any tinkering.

Before flashing, we will upload the code that will translate the input from the pressure sensor into a midi signal:
https://github.com/andreykramer/MIDIBreathController/blob/master/MIDIV3.ino

MIDI library required: https://github.com/FortySevenEffects/arduino_midi_library

To flash HIDUINO onto the board you download the Atmel Flip software, put your arduino in DFU mode (here's how's it done with an arduino Mega, note that you may need to solder a couple of header pins if yours doesn't come with them already installed)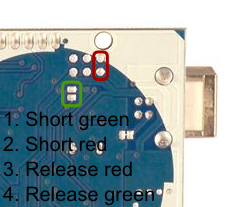 Then click on your arduino on the device manager, and install the corresponding driver to it. You will find them inside the flip installation. Open FLIP, click the chip icon, select  your chip, click the usb icon, open the connection, press file -> load hex file and load the HIDUINO firmware (choose the appropiate file from the list). Then just click run and your Arduino will be recognized as a midi device the next time you plug it into any computer.