If you don't have dollars (Sorry I mean diodes), and you don't want two different current directions in your A and B inputs... What would be an easy ALU circuit ?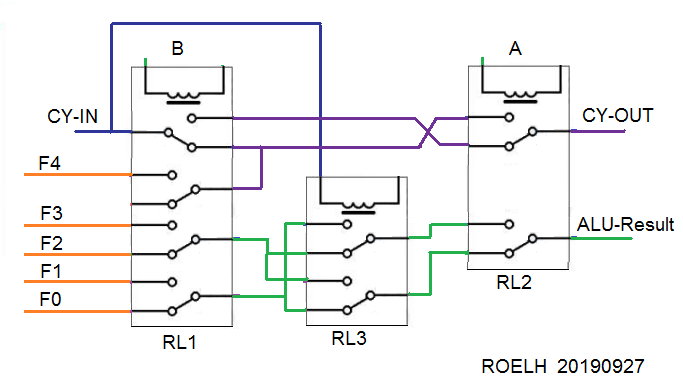 The above circuit will do all possible logic functions, and will also ADD.
The controls are a lot like that of the 4-bit TTL ALU, as described in ITS FIRST Log. It also operates in much the same way.
If F4 has no power, then none of the RL3 relays will attract. In this case, the four inputs F0 - F3 determine which of the 16 possible logic functions is executed. Of course, the CY-IN of the first circuit must also not be activated.
For addition, F4 must be powered and the XOR must be selected as operation (F2 and F1 powered). Note that there is no built-up of carry delays.
If you also want a shift-right for your one-byte ALU, then add two 4-pole relays to select the normal ALU result or a shifted version of it.
Note that the upper contact of RL1 has been mirrored in the drawing, to make it easier for you to follow the current flow. Also note that the ground connection of the relays is not shown.