My nixie clock power supply died. It was one of these cheaply built Chinese modules so it doesn't come off too much as a surprise. Looking at how to replace it, I realize there is a dire need for a better high voltage design out there. Most of the kits seem to be based of a traditional boost converter based on a MC34063 switching controller. This has several issues:
The 34063 was never meant for high voltage
It's a design from the mid 70s with everything that it implies -no thermal protection, not a current mode controller, crappy feedback sensitivity
It's astonishing that there are so many nixie tube enthusiasts out there, yet there is no good solution for the most critical part of a nixie circuit: the high voltage supply. With that in mind, I decided to design my own PSU with one requierement in mind: build it like a tank.
The LT3757 flyback design
key components:
The LT3757 switching regulator controller from Analog / Linear Tech.
The DA2032 3A, 1:10 flyback transformer from Coilcraft.
The LT3757 is a good choice because it can specifically be used for high voltage, as demonstrated in the datasheet with a boost example to 300V. The downside is that it's extremely expensive. At the time of writing this, I paid US$4.49 for one ($2.55 for 100); which is a ridiculous amount of money for a 3x3mm MSOP-10 package. $4.49 buys you a fairly nice middle of the range ARM micro-controller.
The DA2032 is a coupled inductor with a 1:10 turn ratio (a "flyback transformer" is a glorified coupled inductor – see below for further reading). The primary coil is rated for 3A. Because we need such a high boost ratio, we definitely need a high turn ratio on the transformer. On the wallet damage side of things, count US$4.50 for one of these.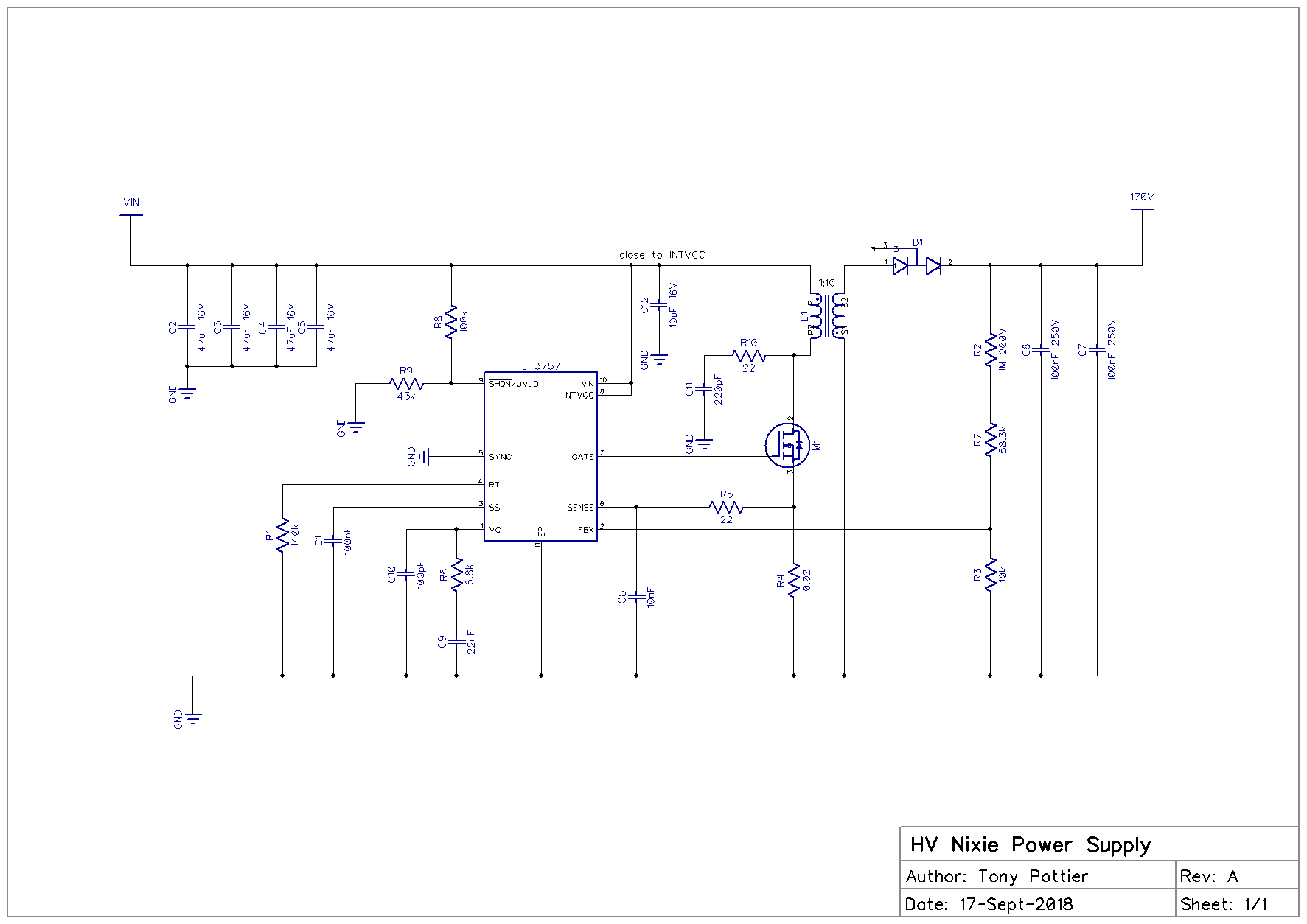 We already have $9 worth of components and we haven't even started building this converter! Then again, the goal of this prototype is not to be cheap, but to build a very reliable power supply capable of lasting years and years without failing. The only way to achieve this goal is to use quality components well within their electrical characteristics. Overstressing parts is the main reason why a circuit may work, but only for a short amount of time.
I simulated the design in LTSpice and everything looked good; so there was only one thing left to do: building it!
PCB and initial tests
PCB was manufactured by JLCPCB -once again they did a good job. It's my first time prototyping with very tiny 0603 components so I ordered a stencil with it which made my life a lot easier and the soldering look very professional. Unfortunately the MOSFET I picked is a D2PAK (TO-263) package and not the DPAK (TO-252) footprint I used on the PCB. Oops. Well it still works but the drain of the MOSFET isn't completely soldered on.
Efficiency
Benchmarking is done using dummy resistors as load, in this case I used 6x43K resistors in parallel which at 170V is 21.7mA. Since a typical IN-14 Nixie Tube uses about 2.5mA of current, this benchmark works as if you're powering over 8 tubes (21.7 / 2.5 = 8.68).

At first I measured an efficiency of about 70% at 12V. That's not horrible but it's still a substantial power loss. The power loss is mostly due to the crappy soldering of the MOSFET and the snubber behind the primary coil of the transformer.
The snubber is here to reduce voltage peaks seen by the MOSFET, which could typically end up damaging permanently the power supply. Because of this, Linear can get away with a 60V rated MOSFET switching the primary coil of their 300V boost example; at the expense of lost energy.

To improve the efficiency I removed the snubber and used a proper DPAK MOSFET, 100V rated.
I used a IRLR3110ZTRPBF from Infineon because it offers pretty good switching characteristics:
14mΩ Rdson
34nC total gate charge
Solid avalanche rating --that is very important as the switching MOSFET will see peak voltage above its max...
Read more »