The initial plan was something like this: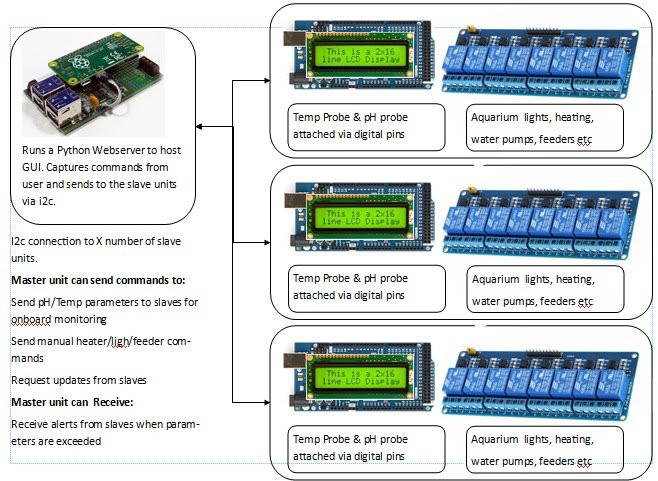 The aim was to use a Raspberry Pi as a Webserving i2c master. This would provide a user interface accessible over the network on any device, and also the ability to relay commands to multiple i2c devices.
These slave devices contain Arduino Nanos operating as i2c slaves, with multiple relays (for controlling a tank's lights, heaters, pumps etc) and also pH and Temperature sensors for monitoring the tank's current state.
All data collected by the Slaves would be returned to the master when requested for display on the web GUI when the page is requested. For example if the user were to access page /23 on the web interface the device would make a request to the slave configured for Tank 23.
In theory I would like the master to be able to provide a set of parameters to the slave; things such as temperature and pH thresholds, to be saved to the Arduino's EEPROM. This would allow the arduino to constantly monitor the Tank's state and respond to some any anomolies:
Trigger the heater if the temperature drops below the provided threshold
Send warning messages back to the Pi if anything is amiss.
This would allow the user to preset configure each individual slave for the type of fish they are keeping in that tank. Ideal for a multi tank setup, or even a pet store.