In this opportunity I have decided to test the practicality of the IoT platform Ubidots for user management in the case that it has many devices for several organizations or companies under the same Ubidots platform.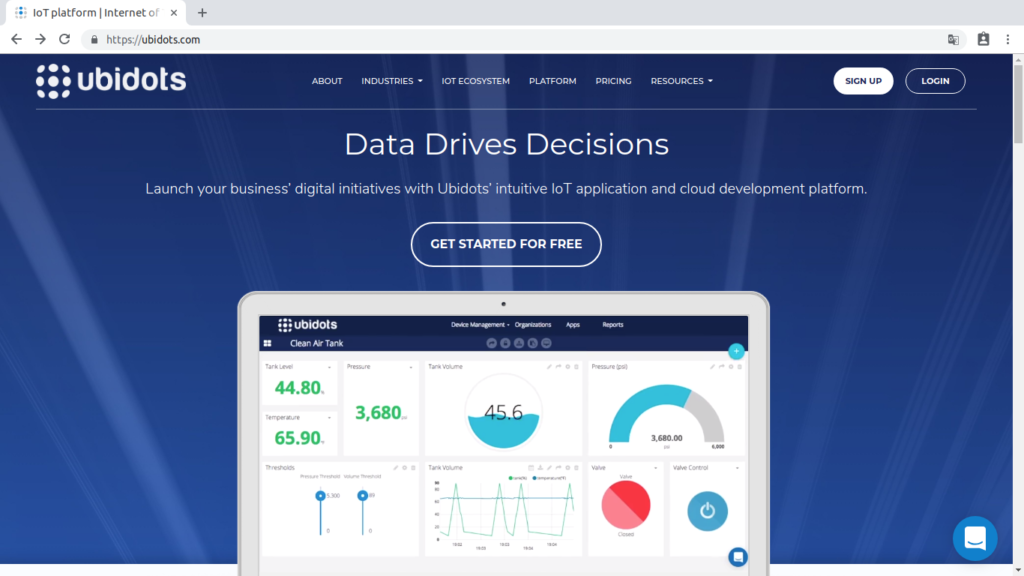 Mayor información: ubidots.com
In previous tutorials we made the creation of a device configuration and design of a dashboard. 
In previous tests we have only added a device but this time we will analyze how to manage and configure 107 independent devices.
The laundry WasherMAC

This WahserMAC laundry has implemented the Ubidots platform to monitor some of its machines specifically its smart washers and dryers as it provides a 24hr wash service.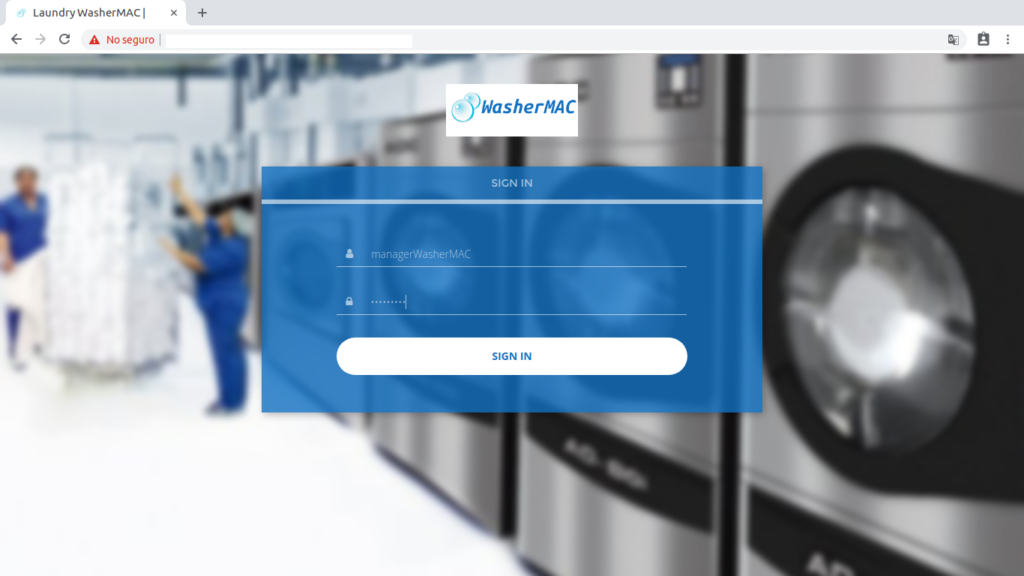 The Ubidots platform would facilitate the analysis of operation, planning for preventive maintenance, analysis of consumption of resources such as electricity, hot water, cold water and steam.
The main need is to analyze the mechanical wear of the washers and dryers since the mechanical components have a life cycle in some cases indeterminable in a traditional way.
This recognized laundry area has 4 branches Bristol, Aragon, Malta and Centenario, each headquarters has 3 different types of high capacity washers / dryers with industrial performance.
Video: Manage most 100 devices in Ubidots Apps, Organizations, Roles & Users 
Dashboards for each Headquarters
It has been previously designed 4 dashboards each for each site, collecting the information of the washing machines and dryers.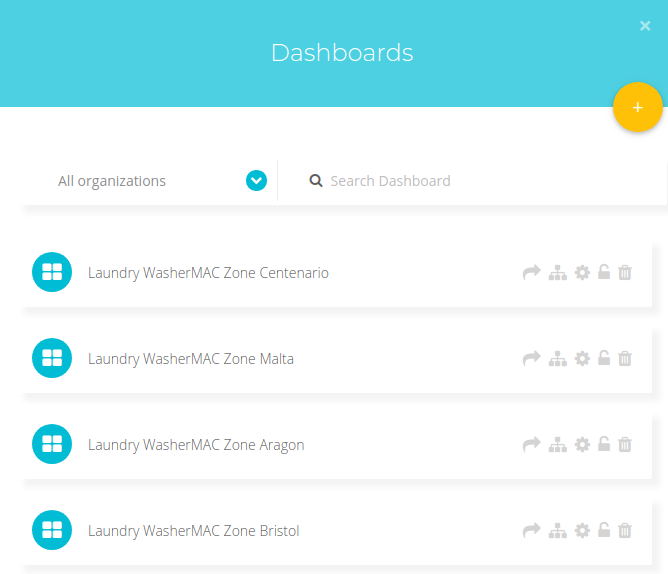 Dashboard WasherMAC Zone Bristol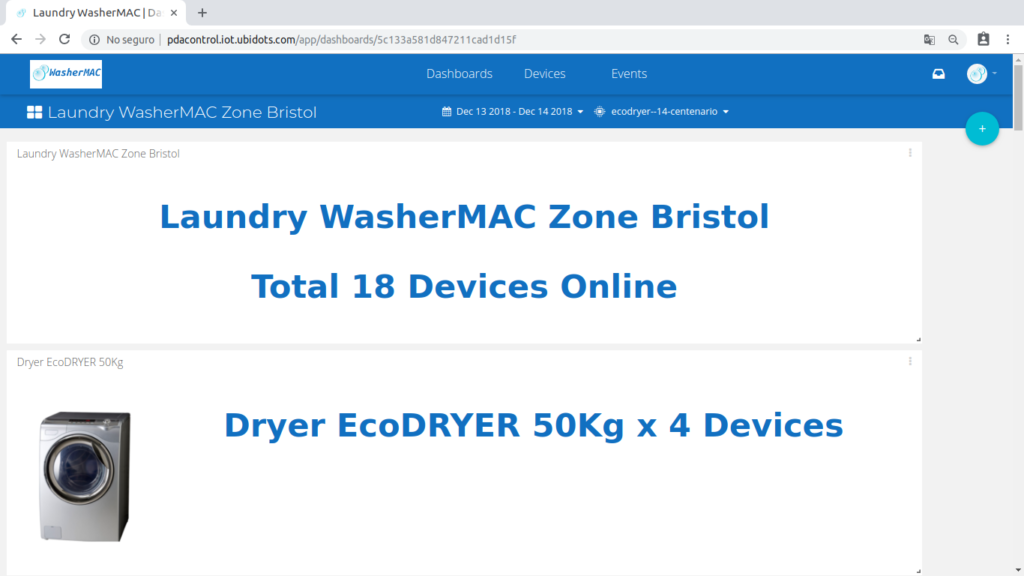 Dashboard WasherMAC Zone Centenario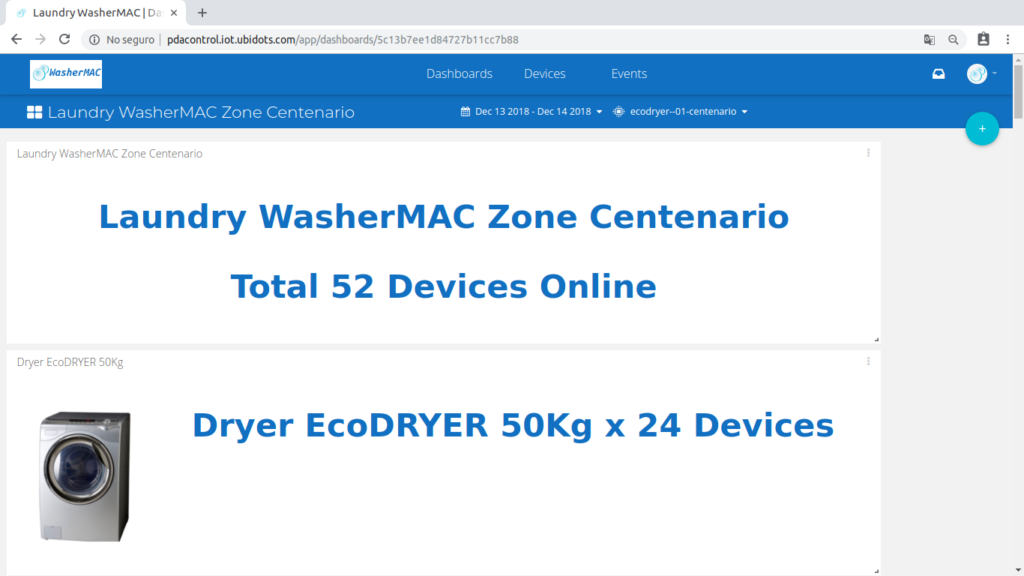 Dashboard WasherMAC Zone Malta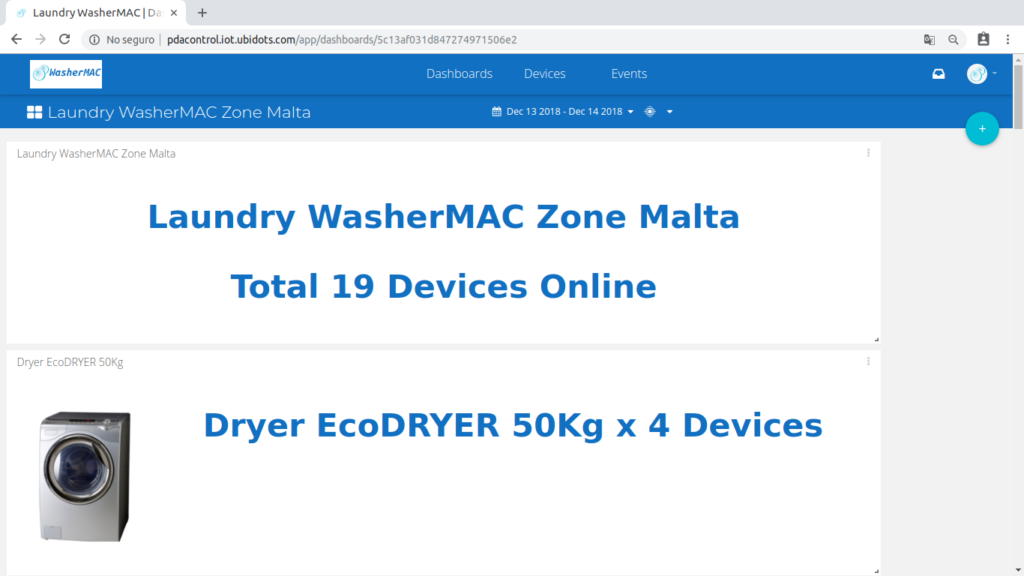 Dashboard WasherMAC Zone Aragon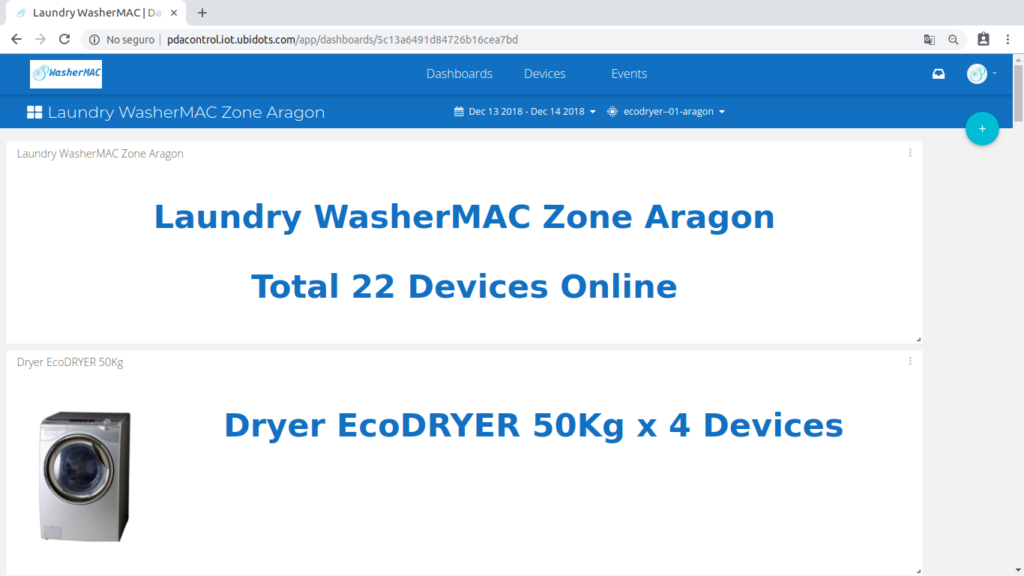 Device Management
As mentioned above we have a total of 108 devices connected to our Ubidots platform, each device sends 4 variables, for a total of 432 variables.
The variables are sent to ubidots when starting during and at the end of the operation period.
Ubidots allows 2 methods of viewing connected devices: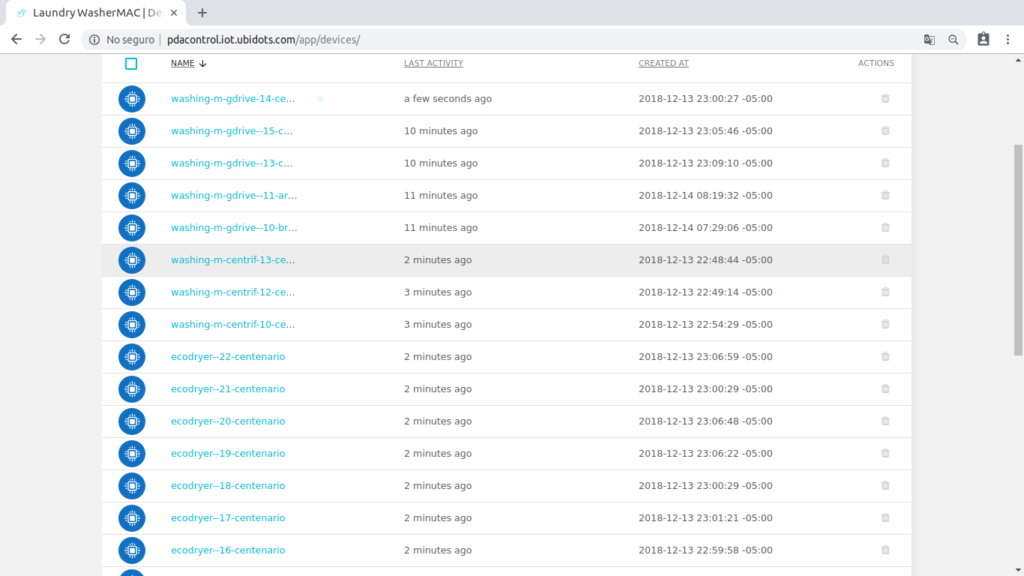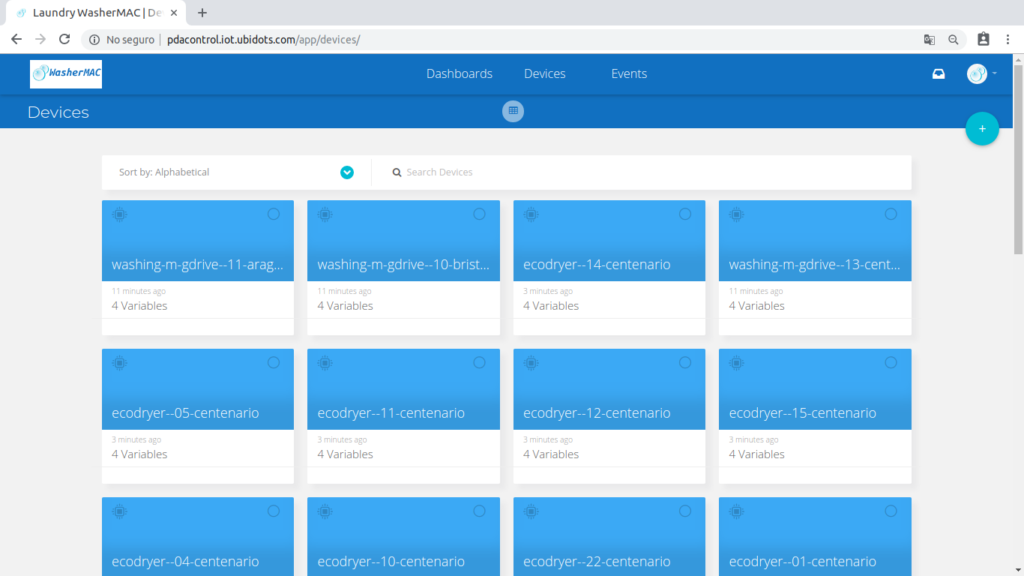 Specification of connected devices and variables
The Centenario venue has 52 devices: 24 EcoDRYER 50Kg Dryers 13 Washing machines Centrifuge Floating 120Kg 15 Washing machines Rigid Gdrive 100Kg washers
The Malta venue has 19 devices: 4 EcoDRYER 50Kg Dryers 3 Floating Centrifuge Washing Machines 120Kg 12 Washing machines Rigid Gdrive 100Kg washersL
The Aragon headquarters has 22 devices: 4 EcoDRYER 50Kg Dryers - 6 Washing machines Centrifuge Floating 120Kg 12 Washing machines Rigid Gdrive 100Kg washers
Bristol headquarters has 18 devices: 4 EcoDRYER 50Kg Dryers 3 Floating Centrifuge Washing Machines 120Kg 11 Washing machines Rigid Gdrive 100Kg washers
Complete configuration
From the Ubidots Industrial account, I will configure the entire application.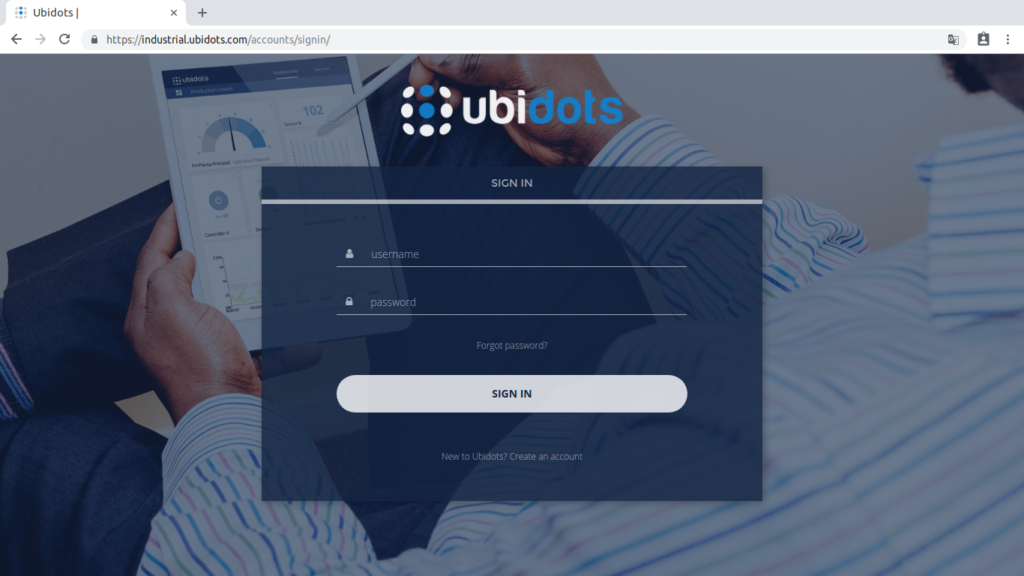 Organizations
In the case of the WasherMAC laundry, 4 organizations have been created given that although they are only one organization, it has been decided to administer them individually by headquarters:
Organizations require, Devices and Users.
Complete information
Roles
Roles are permissions granted to users for the use of Ubidots functionalities such as visualization, editing, creation and elimination of features such as Dashboards, users, roles, widgets, variables and events. The default platform has predefined roles but we will create a new role for maintenance personnel.
Complete information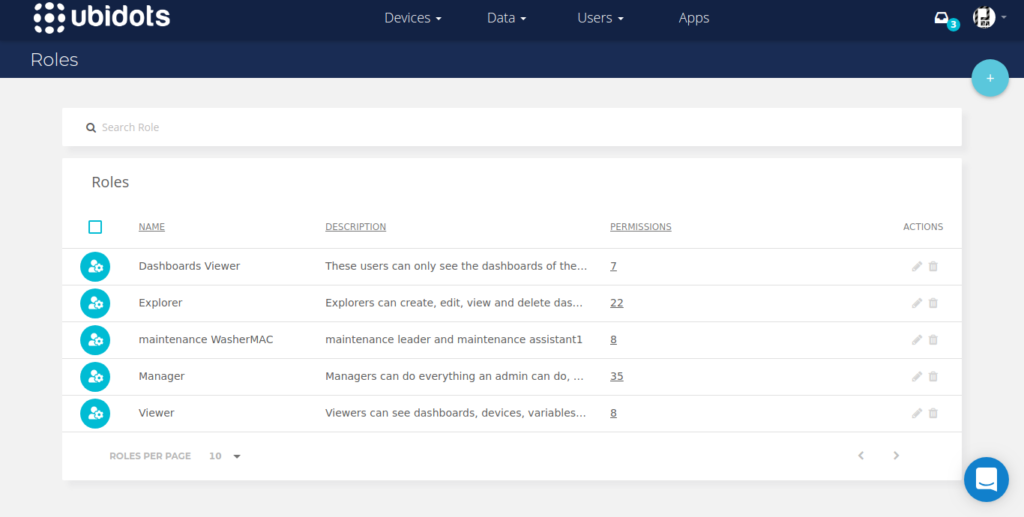 Users
We will initially create 5 users, some with permissions on the 4 organizations, some only on an organization depending on their functions in the final company.
Users require a user, password,...
Read more »