So, I'd like to find a CMOS logic gate with complementary outputs - you know, like ECL, CML, LVDS, or any of those differential signaling families. It's not for a logic application; it's for driving a diode sampling gate with a truly differential pulse - transformers just aren't cutting it (story for another log!). I don't think such things exist, so I came up with this. Can I do better? What do you think?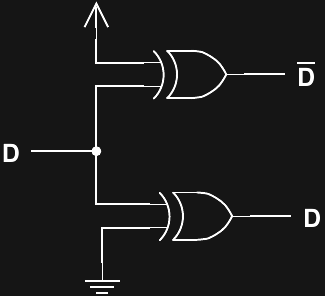 I'm hopeful that if I use two devices from the same gate package, I can get a small timing difference (skew) between the two outputs. I'm looking at the 74LVC2G86 right now, because I need the large voltage swings afforded by a 5V supply and the 32 mA drive.
I had considered somehow using the Q/Qbar outputs of a d-flip-flop, but I think there are a few problems with that.