To generate a steady B-field for our experiment, we have two options to choose from:

Permanent Magnets
Electromagnets
Before I choose a path, I'd like to do a quick study to determine the cost of building a magnet with a 1 Tesla flux density through a 1" x 1" area.  If more than 1 Tesla is needed, we can approximate the cost as a linear function of flux density.
Using Permanent Magnets:
Benefits of using permanent magnets are:
Different sizes, shapes, and strengths readily available
Stacking smaller magnets is equivalent to a single magnet of the same thickness

Setup would require a simple mounting fixture
Some cons:
If using multiple small magnets, the B-field will not be uniform in certain places (compared to a larger permanent magnet or electromagnet) due to the gaps between the magnets.  (Not a show stopper)
Can get expensive as the number of magnets needed is increased to increase the B-field.
Example Jig set up:
Using the B884-N52 rectangular magnets stacked in two rows, we can get a B-Field of ~ 1 Tesla (0.99 Tesla)
Total cost would be ~$30.  The jig would be made from scrap wood I have laying around.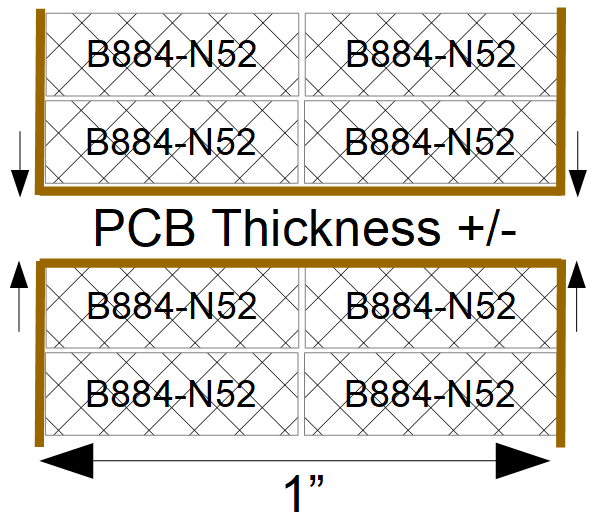 Analysis using an electromagnet coming in the next log...