It's hard to capture the actual look and feel of this thing because in photos it comes out as a super vibrant blob of color. Which is pretty awesome, honestly. I finally finished piecing together everything, hot gluing it all, designing/printing some wall-mounts, and all that jazz. Detailed build instructions to come soon.
Here are some thoughts for v2 / postmortem
Things that went well

Part interfacing. This worked, on average, surprisingly well. The faceplate connecting with a friction fit mechanism to the hexagon with enough slack to sandwich on the clearish insert - that was actually pretty awesome.
NodeMCU. My first time using it and wowzer, I've already bought a few more to have on-hand for future projects. The ease of accessing WiFi with it is definitely going to open up a whole new world.
Hot Glue. It's a hacky solution, but I've never seriously used hot glue in any project before. Mind=blown. Worked phenomenally for this.

Inside rail for wires. I didn't even have to iterate on that, it worked as expected.
Wall Mount.

Things to improve for v2

The snap-fit mechanism between each hexagon was not really that great. It was fun to design, and my finalized part did snap together. But it was physically painful to do so 80 times :-P next time I'll be sure to get that perfect before moving on.
Molds? Someone mentioned I could have made a silicone mold from one part instead of re-creating the same one a million times. This is definitely an interesting thought! I'd love to explore that next time.
Hiding the electronics. Although I think the solid black hexagon gives character, it's also visually jarring. I could have hidden the electronics without it.
Sensors?? Stretch goal! Would be awesome to have some kind of interactivity here.
Slimmer profile. I believe it can be achieved.
What a journey! I'm really happy with how it turned out.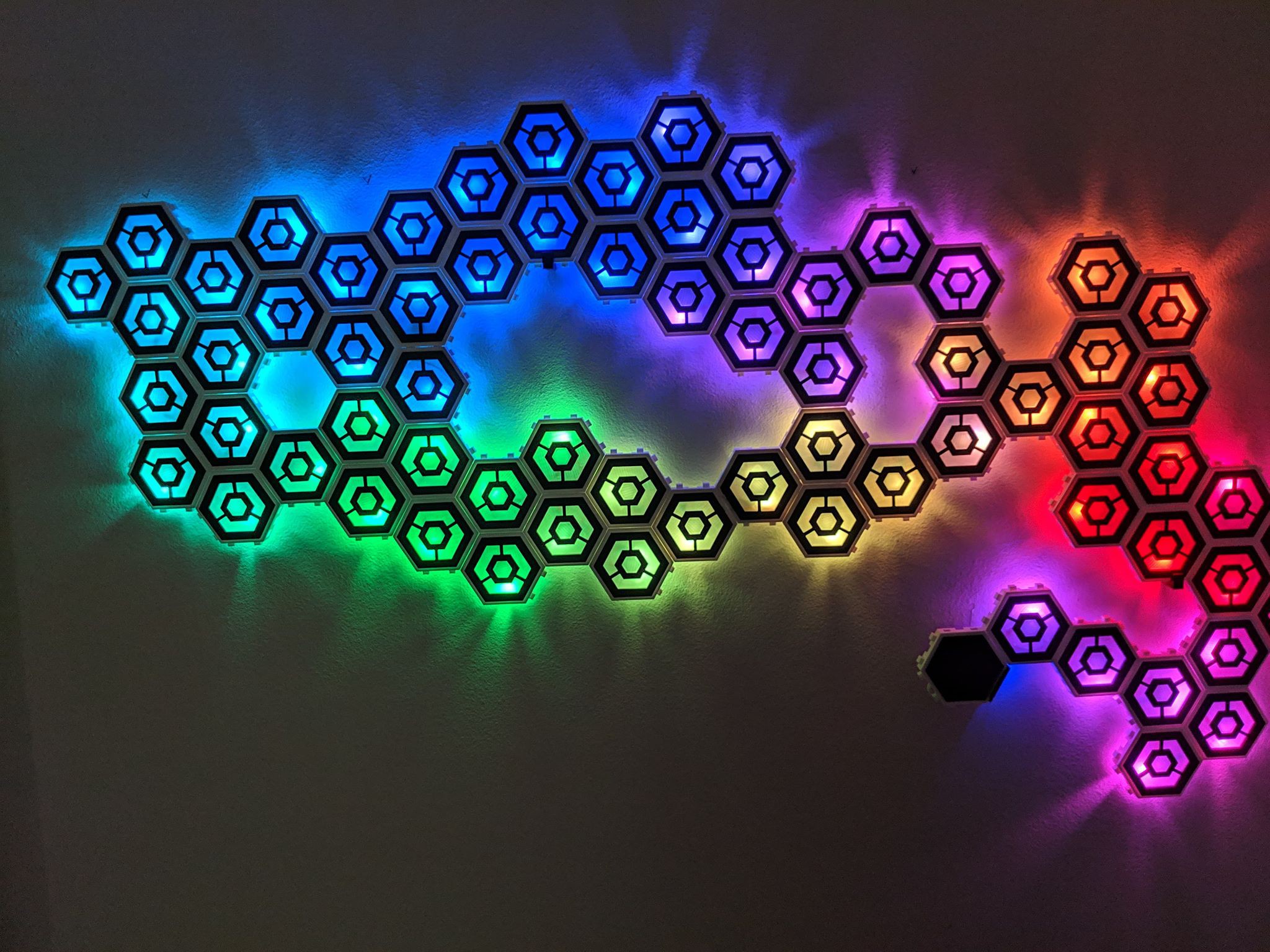 As a bonus, I also made a tiny one for my desk at work.