Right now, I have the schematic and design done enough that I can get some quotes and go through the actual cost engineering of the VT-69. The TL;DR, is that this would cost more than you would pay.
---
Electronics get cheaper as you buy more. This is a simple fact that one resistor from mouser costs ten cents, and a thousand resistors from mouser costs a dollar. It's like this with injection molding and silicone keyboards, too: the first silicone keyboard costs five thousand dollars, and a thousand silicone keyboards cost six thousand dollars. The more I can sell, the less it will cost. This is especially important when it comes to very small quantities, and no one in #badgelife that is sane is doing more than 1000 units. I did that, it was hell.
So we come to the unit economics of the VT-69. Here's the price graph for just the populated PCB: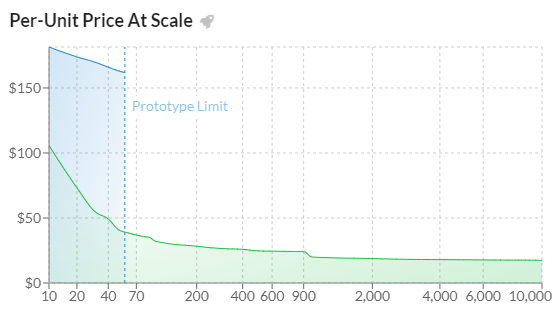 One costs $220, and that doesn't include a keyboard, screen, battery, or really anything else. If I were to only make one, I would sell it for a thousand dollars.
I'm going to cut to the chase here with the total cost of quantity 100, 500, and 1000:

Producing 100 units costs $16,000. Producing 500 costs almost $40,000, and producing 1000 costs almost $60,000. This is the cost of goods sold, and not reflective of any actual price. To look at that, you need a margin and I wouldn't be comfortable with anything less than a 30% margin (If I'm only building 100, I would need to charge $225 per badge for a 30% margin. For quantity 500, I would charge $107.03 for a 30% margin. For quantity 1000, the price comes down to $83). Your iPhone, for example, has a 60-70% margin. Take money transfer, logistics, and all that stuff and that 30% margin gets eaten up pretty quick.
Now, here's where it gets tricky. I know people aren't going to pay much more than $100, and I need a higher margin to put the money back into the project so I can manufacture the *back* of the plastic enclosure. I need to make a lot of these, and I need to charge a lot. Sorry.

I'm going to be straight with you: this is fucking expensive, and the only way that this will work is that the first 500 pays for the next 500, and then it's self-sustaining. This effectively means a 50% margin, meaning you would pay $160 per badge. I don't think that's going to happen. I just don't think the market is there.
I'm not saying Def Con is cancelled,  but this is hard. 

---
That said, the significant cost of this is in the tooling. The first keyboard cost four grand, and the thousandth keyboard cost a dollar. Stuff like that. Here's where it gets trippy. This is my cost after all the molding and tooling is paid off:

That's reasonable. That's not bad. I can do that all day. I'd pull the trigger now if that were the case.

The entire goal of this project was to do a badge with silicone keyboards and a plastic bezel, simply because no one has done that before. Why has no one done that before? Here's your answer.