The following circuit shows a possible way to do this. It uses a quad comparator similar to the LM339. Note that these can only sink current at their output, so they need a pull-up resistor. It also means that the outputs can be connected together to form a wired AND gate.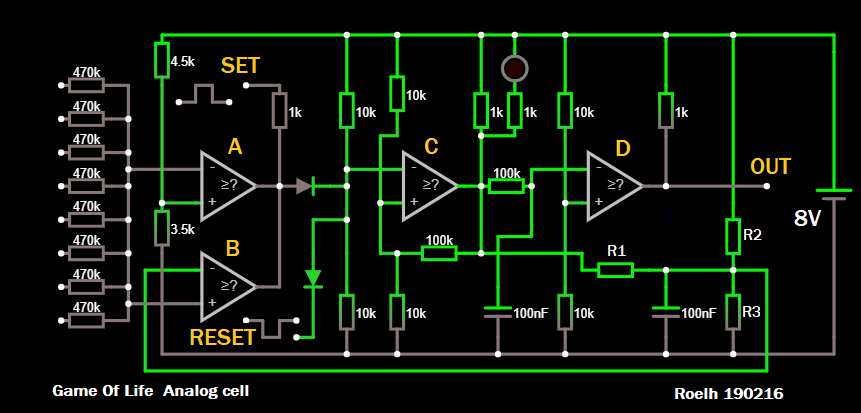 I use an 8 volt power supply, in that case the voltage at the summing point will be (almost) equal to the number of surrounding active cells. Easy for measurements. But it will work with other voltages too. I here assume that the comparator outputs are almost equal to GND or VCC.

The opamps A and B form a classic window comparator. The upper one compares to 3.5 V, the lower one compares to a voltage determined by R1, R2, R3. These resistors should be calculated such that:
When the output of C is HIGH (cell dead), the voltage of the - terminal of B should be 2.5V, and
When the output of C is LOW (cell alive), the voltage of the - terminal of B should be 1.5V,
Comparator C holds the actual state of the cell. In each cycle, it gets a short negative-going reset pulse followed (or partially overlapped) by a positive going set pulse. The set pulse will only be effective if the set-signal is not shorted to ground by the window comparator. The C comparator has positive feedback so the state is remembered. The output drives a LED if the output is LOW, that indicates if the cell is alive. 
The output of C is connected to the inverted input of D, that delivers a active-high signal for the neighbors. Note that there is a low-pass filter that keeps the output from changing while the pulses are applied. The output of the R1,R2,R3 circuit also has a capacitor with the same purpose.
No tests or simulations were done yet, so it might be needed to do changes. It might also be possible to simplify the circuit. Note that the input summing resistors could be in a single resistor array. It should be checked that the comparators have sufficient input range.