Update May 15th, 2019
Just soldered the first V0.2 board on a hot steel plate:
It works, burned the bootloader (for fuses) and the blink sketch. Runs just fine. Next I'll try to read the three pots and switching the MOSFET on/off.
Edit: Everything seems to work so far. Will post an update soon to keep you posted!

---------- more ----------

Update May 14th, 2019
PCBs arrived:
Hope I can test them this week!

Update May 13th, 2019
Got all of my parts, the PCBs will arrive this week as well. Hope to get the first prototype soldered before the weekend!

Update May 5th, 2019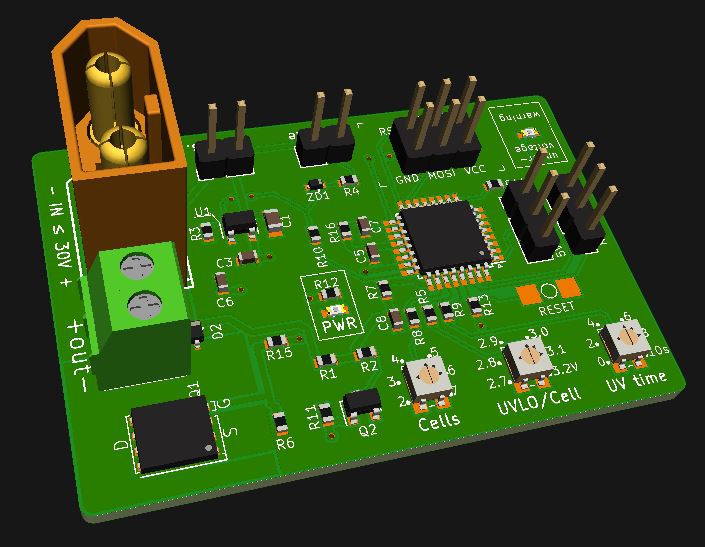 So, as I said earlier I didn't like my first v0.1 design. Digging through the schematic again before sending the board off to the fab I saw a few things that wouldn't quite work the way I though they would.
Here I'd like to thank @Simon Merrett for his support! He had a lot of good advice to give and helped me getting some things sorted! Sometimes some stranger asking "why this", "why that" is everything that's needed to question some of your decisions :)
The board now is:
smaller (52x35mm)
tidier
cheaper (less expensive parts)
Of course this still is not the final thing, but if it works as expected, getting it smaller will be no big deal.

We'll see. Boards are ordered, parts are on the way too...

Original post - just for reference
Okay, so this thing is not a beautiful piece of hardware. To be honest I don't like it myself, the layout is very shitty and much space is wasted. But I need a first revision to get myself started :)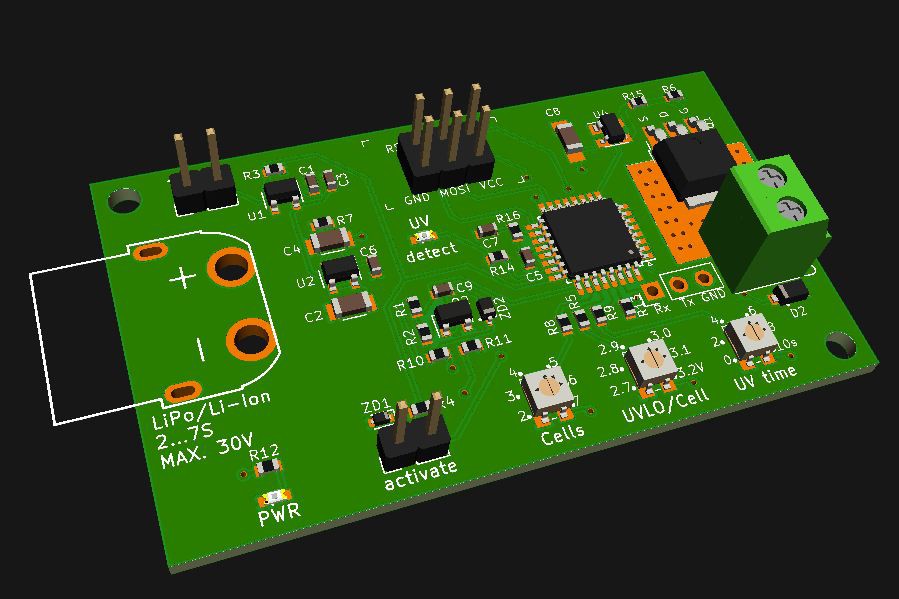 This is not how the final board will look like, not at all.
Things that'll change:
size-wise

board must be smaller. I aim for 50x35 or 50x40mm
limit height by removing those header pins and screw connector (need them for debugging and stuff)

hardware-wise (going cheaper!)

Atmega328P is overkill. Will work with an Attiny24A-SSU or something like that. Much cheaper, too at 0.65€
looking for a substitute for those pots. Ideas?
U4 is a MIC5018 boosted MOSFET driver to have a constant 10V drive voltage regardless of the input voltage which can be lower! At 1.1€ those are expensive. MIC5018 is half of that. Anyone know a similar chip?

smaller caps will be used. 1uF @ 50V in 0603 are super cheap and much smaller than the 1206 I am using at the moment

(…)