ESPboy is science, technology, engineering, and mathematics [STEM] learning platform which encourage and enhance creativity, imagination, and ingenuity through project-based learning.

It utilizes a powerful ESP8266 microcontroller with built-in WiFi, Arduino IDE compatible with tons of libs and professional firmware and SDKs
All parts you can buy for a couple of coins on eBay / Aliexpress / Gearbest.
ESPboy modules collection
Demo of Little Game Engine by Igor with games
Chip8/Superchip emulator demo
Retro game console with OLED demo with games from ESPERT
Loads of games Chip8/Schip plays in ESPboy emulator and  Arduboy community as Project ABE / Erwin's Arduboy Collection could be recompiled using ported  Arduboy2 library.
ESPboy modules or different sensors and actuators attached to the extension header  will transform it into: Meteo station, FM radio, mobile-phone, smartwatch, RGB led matrix driver, laser ruler, robot pilot driver, drone flight controller, smart house manager, thermovision camera, thunder forecaster, radiation meter, heart rate meter, navigator, GPS tracker... and everything you can imagine.  
ESPboy MeteoStation+ module and firmware made with wifi-iot.com online constructor
ESPboy portable FMradio module
ESPboy portable GPSnavigator module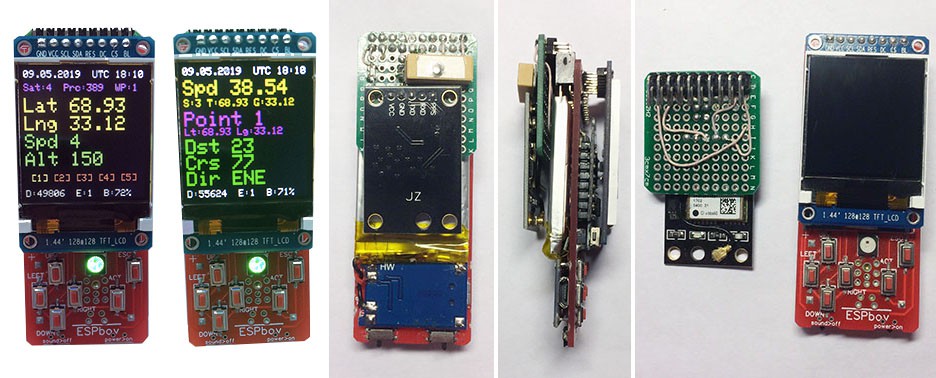 ESPboy portable MeteoStation module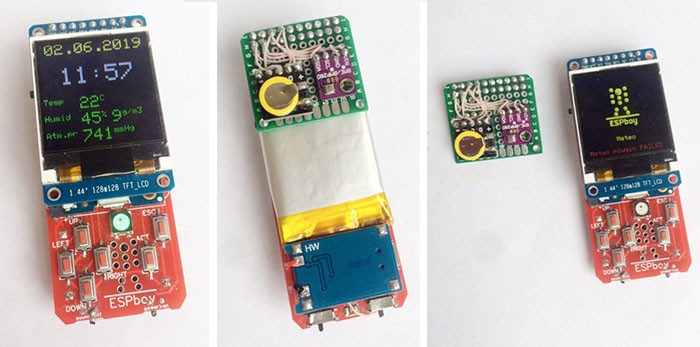 ESPboy has WiFi onboard to:
Make your own firmware in a few minutes online with WiFI-IoT.com and then upload it directly through WiFi. No wires, no IDEs, no compilers. 
Download apps and retro games form the Web and play mass multiplayer old style games being online
Surf the web with an old school browser
Use messengers for communication - Twitter for example 
Specification:
ESP8266 microcontroller (80/160Mhz 32bit Tensilica Xtensa CPU and 4/16mb RAM) on the WeMos D1 boards MINI or old PRO
WiFi connection for multiplayer, communications, online cloud services data transfer, telemetry transmission...
Read more »