Going for IP67
Something I learned through the path of enclosure design after our last mentor session with Eric Weinhoffer, is the nitty gritty of enclosure sealing.

So our target customer needs a water resistant motor drive, and to be on the safe side we will spec it for IP67 or better (requires testing at 1 meter deep for 30 minutes). If your case is a single piece with no connectors, easy peasy. If you have signal connectors you need IP67 rated connectors. That's okay, we can get those easily from digikey.
600Amp connectors? Well those are harder to find but industry usually seals the thick conductors with cable glandes, so we'll go that way.
Hum, last step is sealing 2 perfectly flat surfaces. Sounds easier than it is, you need a rubbery compressible material between those surfaces, we all know that. What I didn't know, despite I've been a mechanically oriented EE is how clear the rules are and how deep the knowledge is about seals.
I've seen plenty of custom made gaskets for electronics enclosures, but after a light reading it was evident that the easier and cheaper way to seal is using off the shelf o-rings.
Enter Parker, the age old o-ring industry leader, with an old and extensive handbook that has perdured for decades instructing us engineers to design proper sealing into our products.
Step 1: Read The Fantastic Manual
The Parker O-Ring Handbook is a 50 year old piece of literature that surprisingly hasn't changed that much over the decades. Its on the boring side for an electrical engineer, until you get to the practical design charts:
Step 2: Determine O-Ring diameter
So if we are going for an enclosure that needs to prevent liquids on the outside from entering, your O-Ring inner diameter needs to be the same length as the inside diameter (if the groove were circular.
In a sort of rectangular enclosure, we need to know the line selected in green here: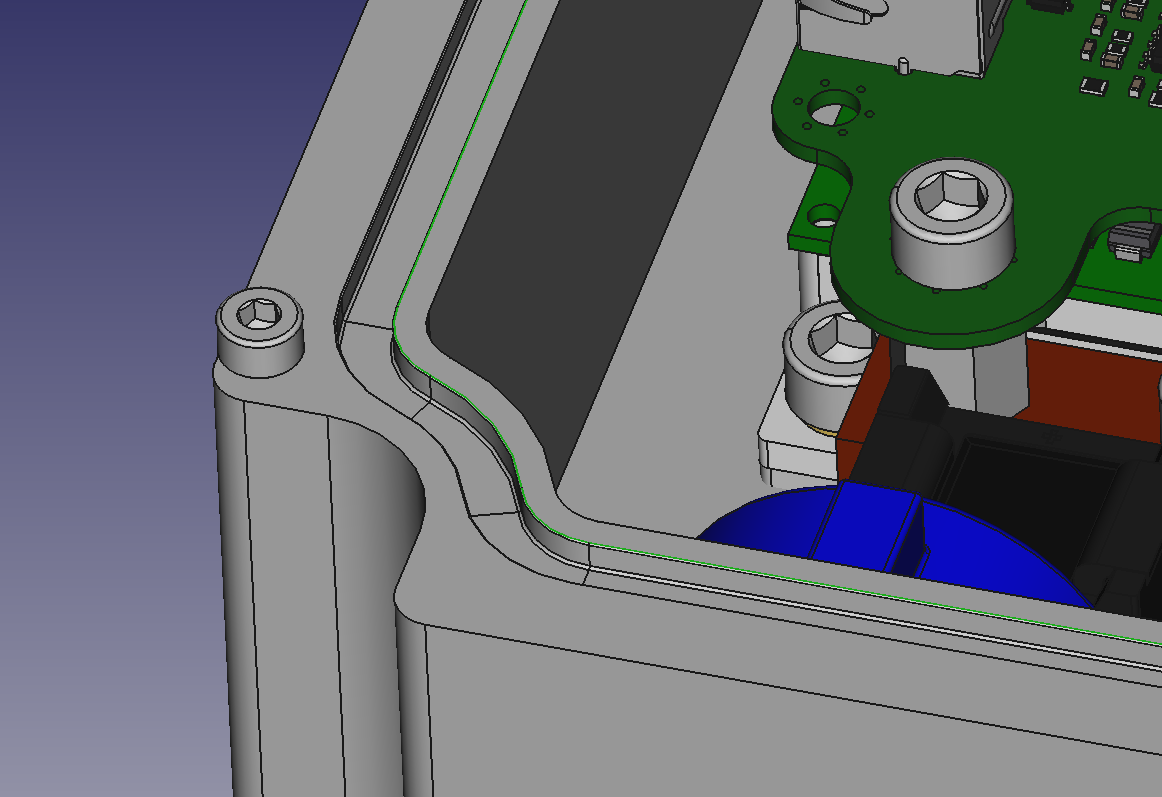 In reality, you will roughly estimate the required O-Ring diameter based on that green line length and it will obviously won't match the off the shelf o-rings, but now you have a ballpark that lets you know which o-ring cross section you will use.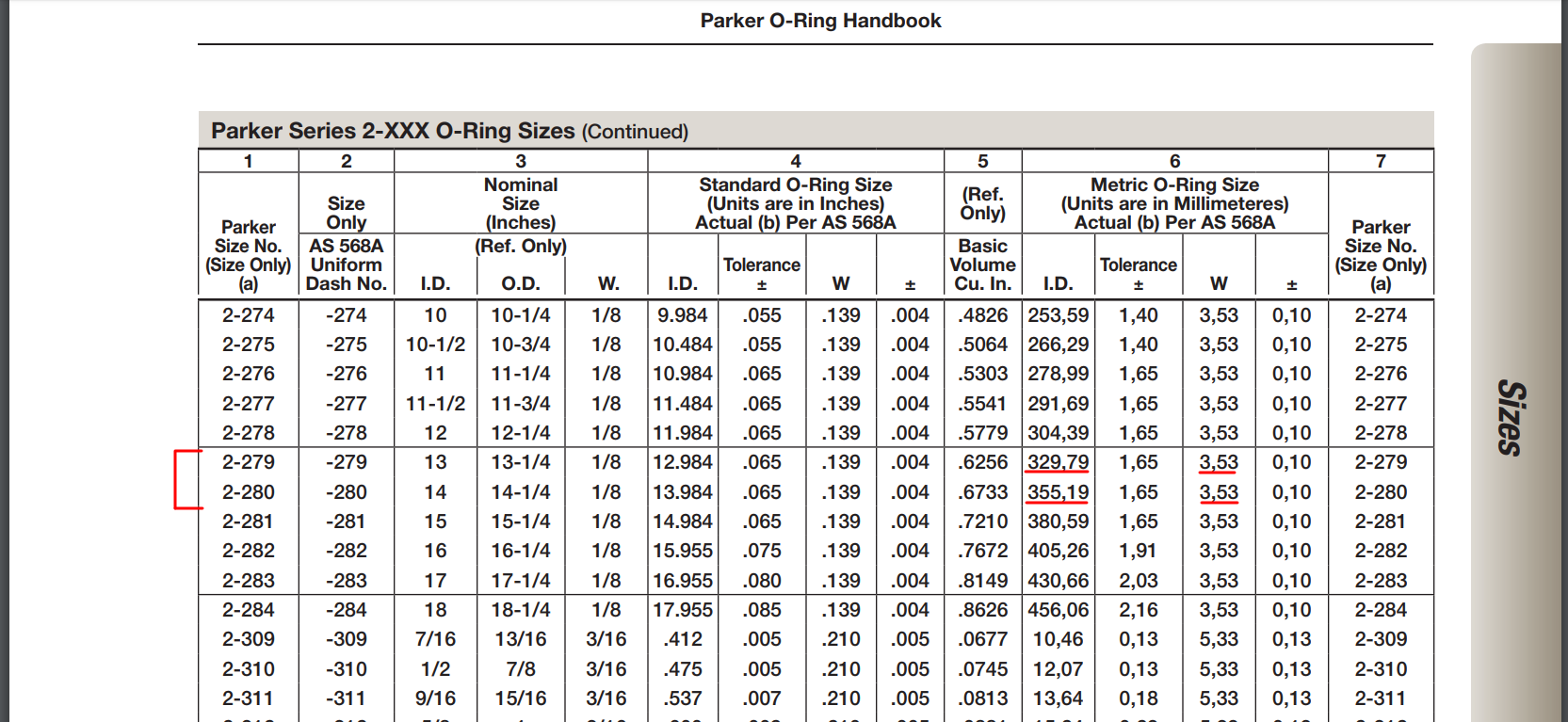 In our case (oh the pun) I could narrow it down to part# 2-279 or 2-280. They only differ in the Inner Diameter (329mm and 355mm). Now the groove needs to modified so it either measures 329 or 355mm to match one of those o-rings. Our enclosure initially had 340mm, so either we make it smaller or larger to get a match.
Step 3: Groove profile
Given a 2-279 O-ring, we know its cross section, that's all we need to know to design the groove, if you work with the free and awesome FreeCAD and followed the first image, it will look like this: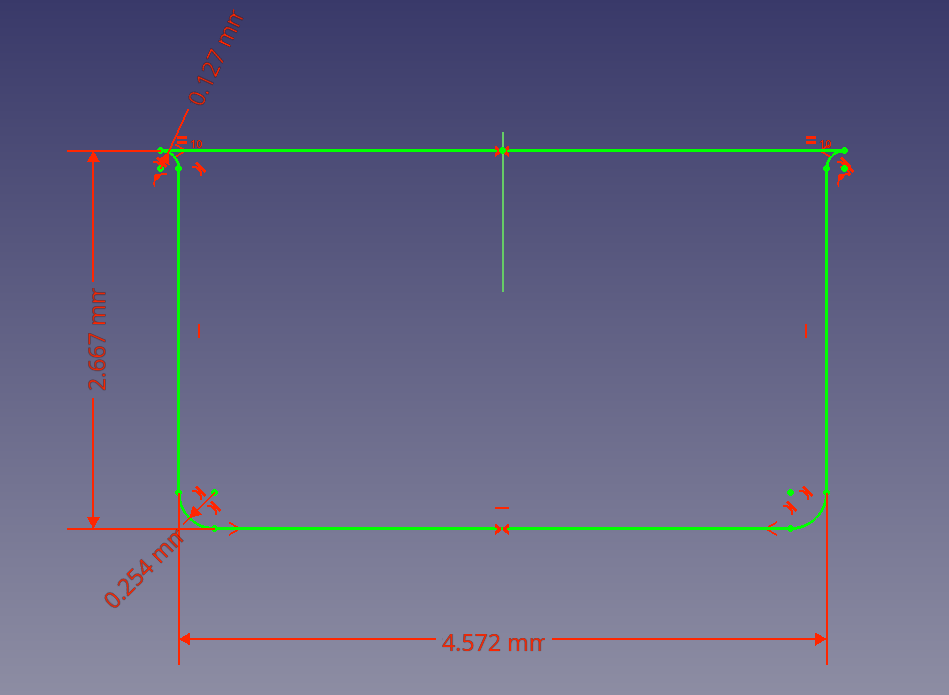 The fillets on the top are required to avoid pinching and damaging the O-ring, and the draft angle would be 0° if you are CNC'ing your enclosure or up to 5° if you are diecasting. Depth and width are given by the tables.
Step 4: Check radiuses
In the second image you can see there is some wiggling in the groove, that's an old trick to increase the available volume inside the enclosure. You can do it on the corners or to surround a bolt, which makes for thinner, lighter and less massive enclosures.
But here's the catch: according to the handbook, you can't bend an O-ring with a radius sharper than 3 cross section widths. In our case that would be a 10mm radius, less than that would compromise the sealing. Ideally you want to use x6 widths.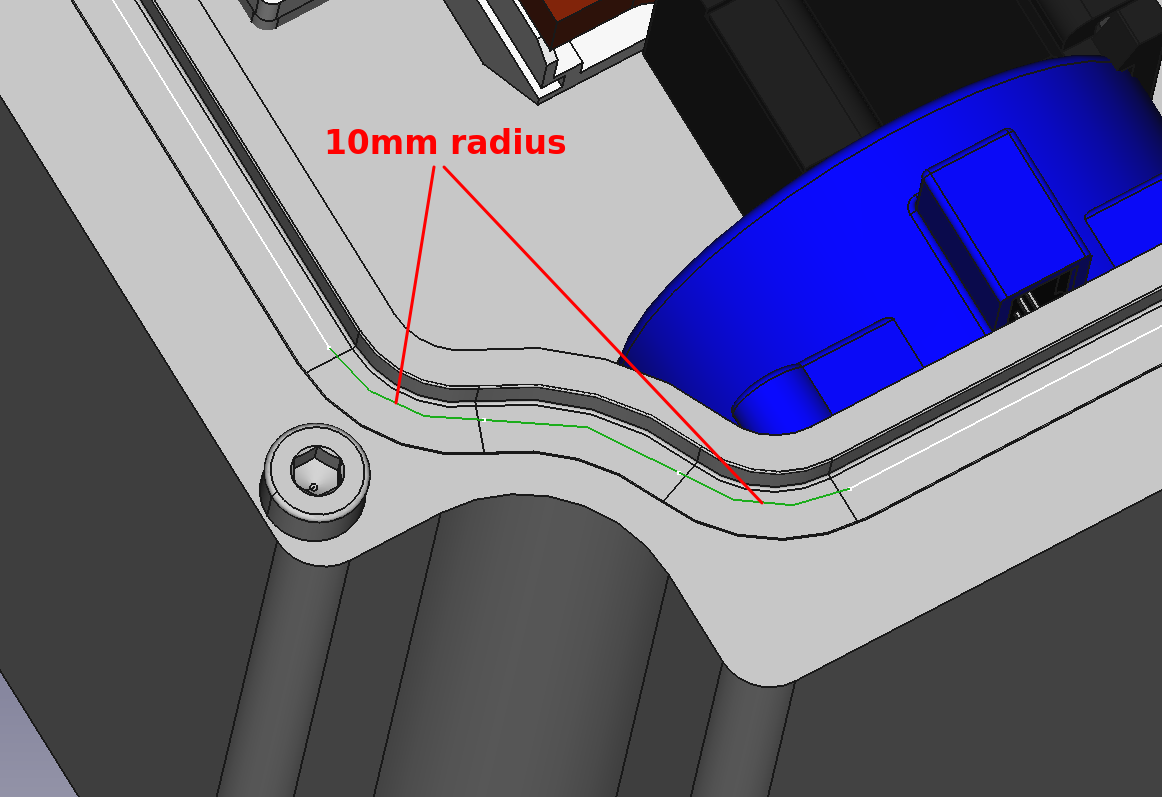 This means that if you want your O-ring to closely surround your enclosure bolts, you are probably going fail the radius check and inevitably fall into a custom made sealing gasket. That was a wow moment, when I realized the exact limit between using an easy off the shelf O-ring and a ton of hours spent into the design and supply chain of a custom gasket.
Axiom enclosure is not done yet, but this was cool bit of product design that I thought its worth sharing.