If there is something we can't complain about is a lack of demand and kind words!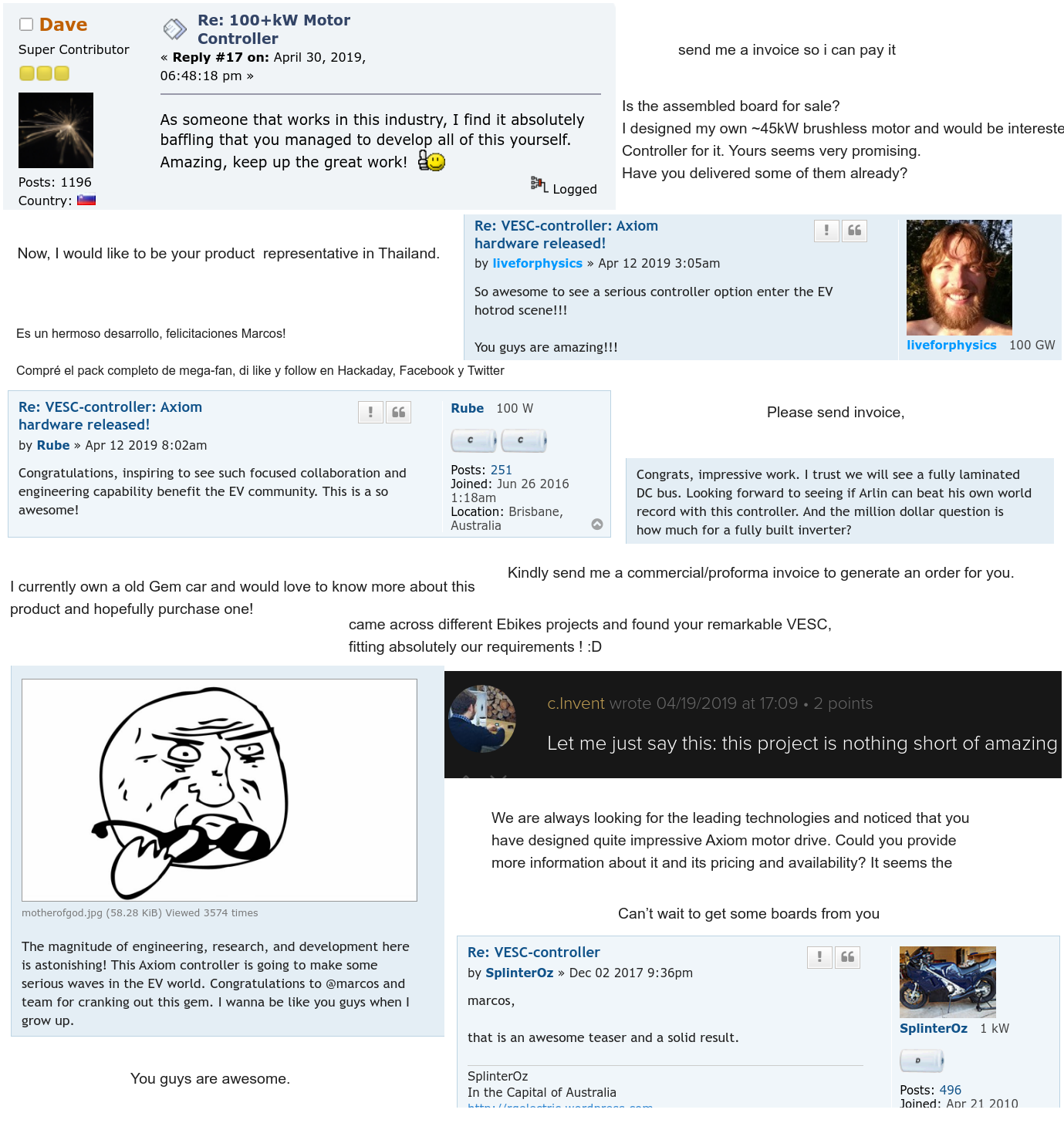 Since we presented Axiom we got a constant flux of requests from individuals, about 200 direct requests were handled (9 in the last 7 days for example) and our newsletter has 300+ subscribers which is impressive because we are talking about a high end piece of hardware.
Let's see more details:
Most requests came from individuals looking for converting their own vehicles to electric, from old hondas like Arlin's to Beetles, BMW's and even an Audi R8 supercar.
Some were companies in very niche markets

Big underwater robots and vessels
Jet boats
Vehicles for mining
EV conversion shops
Aircraft startups
Sportsbikes startups
Wind generation
Glider launchers

There are Axiom controllers already in the (slow) order queue of a couple of billion $ marketcap companies diving into the future of electrification.
Research teams are also keen to have an Axiom as a tool

2 formula SAE teams got their Axioms
R&D departments at universities
Electric motor manufacturer

And there is the community, which makes it possible that a fleet of thousands of small VESC controllers in the field are piling up miles of continuous firmware testing. Those may lack a fancy and expensive LTE network, but the VESC platform has a ton of users happily reporting issues in the forums.
The Axiom development and documentation in the hackaday platform also made possible to get our team in sight of other big companies that need some very special motor controllers with specs and qualifications that Axiom is not meant to meet. If we actually land one of those contracts I would bet that the experience will influence Axiom development to make it even better.
Enough words, let's see a couple of beta testers in action:
VESC Tool has built-in functions to program and plot load tests like this one performed in California
Abricosvw testing and learning (we all learned from his experience).
300V 300A flowing somewhere in Europe
I lost some cool videos from pymco.fr with my phone, but PYMCO was the early partner of Axiom and I personally handed them control boards in both vacations and honeymoon! They were the first ones to drive a REMY motor with a VESC.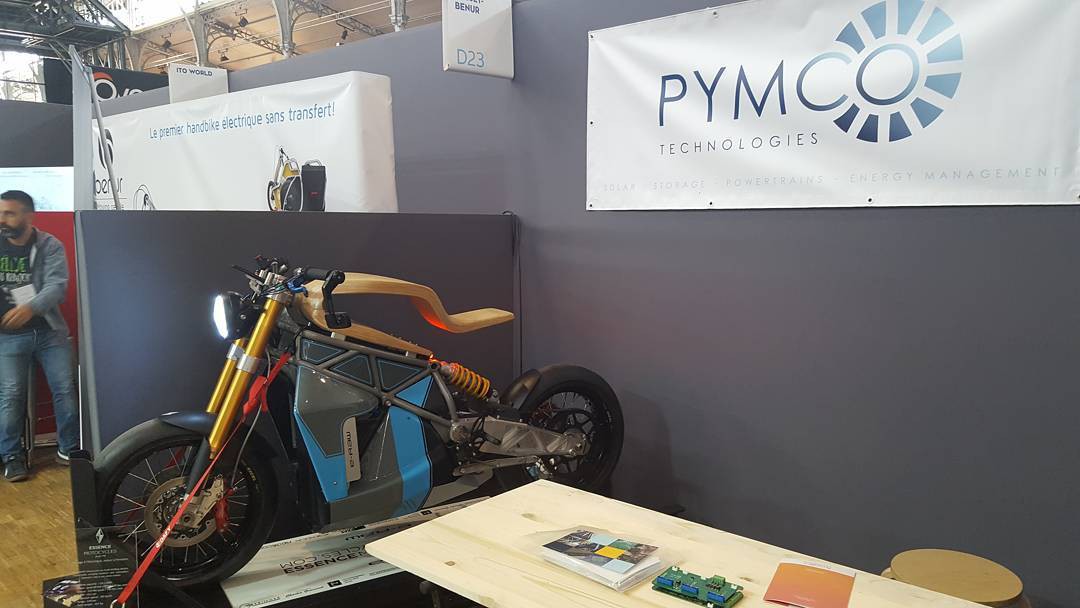 Axioms has been sent for prototyping and R&D to Turbotech in France


700Amps somewhere in India

Somewhere in Africa there are mining machines needing an Axiom on each wheel! This customer is waiting for the control boards to ship and they are ready to start testing.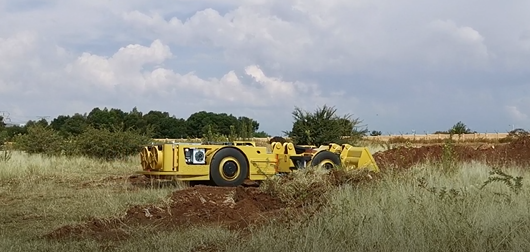 This CRX is Arlin's, but very similar to another car that is powered by an Axiom. (note the motor reaches max speed for that battery in 60 milliseconds)
And this is in our bench showing a somewhat representative testing like a customer would do, they only should add a mechanical load. This was filmed last year when automated tests were not yet coded into VESC Tool.

A critical customer, or should I say partner, is Benjamin, the VESC architect itself who is planning to jump on board of an Axiom next week to turn the power to eleven.

So far the beta test stage covered all 5 continents! And these are actual markers: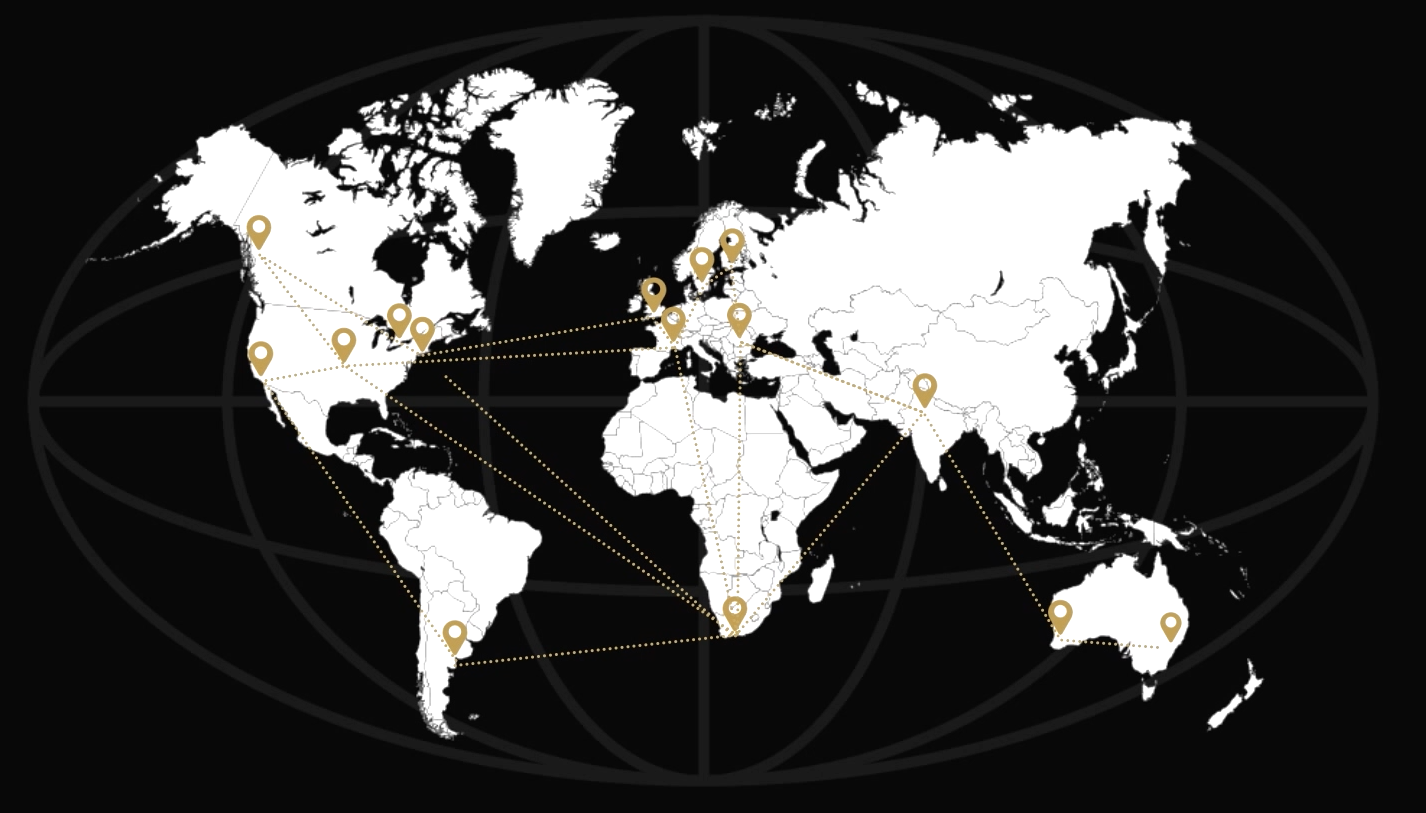 Besides technical feedback and some bugs discovered during the beta program, we found that some of the customers really want to have HALL position sensors. That feature was purposely excluded from the schematic because we consider it not safe for a high power application, but we listened so a plug-in extension with safety isolation was tested and shipped to provide hall sensor inputs at their own risk.
Another lesson learned is that when the customer makes its own DC Link capacitor it doesn't end well, so we have been offering a DC Link custom designed and mechanically matched to Axiom, the second small batch is getting shipped to us tomorrow.
Surprisingly so far no one cares about an enclosure. Most applications either don't need an enclosure (the electronics are already in a safe place) or the enclosure is so special that it has to be custom made by the customer. We are designing one anyways, but it was an interesting note.
Its hard work but we love it and it feels good to know we are in the right path doing the right thing.
Stay tuned!