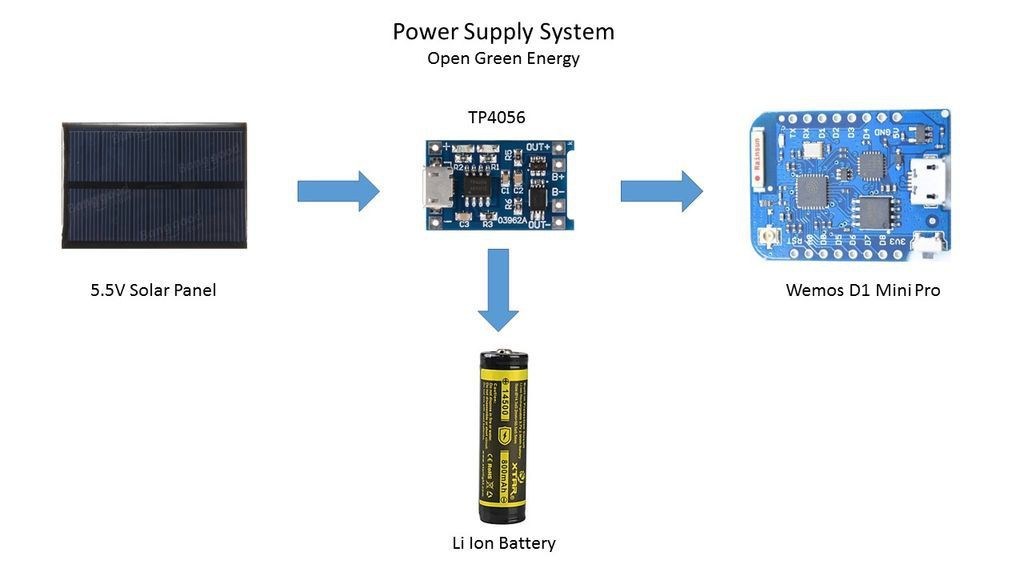 My plan is to deploy the Weather station at a remote place ( my farm house).To run the Weather Station continuously, there must be a continuous power supply otherwise the system will not work .The best way to provide continuous power to the circuit is by using a battery.But after some days the battery juice will run out, and it is really difficult job to go there and charge it. So a solar charging circuit was proposed to user free energy from the sun to charge the batteries and to power the Wemos board.I have used a 18650 Li Ion battery.

The battery is charged from a Solar panel through a TP4056 charging module. The TP4056 module comes with battery protection chip or without the protection chip.I will recommend to buy a module which have battery protection chip included.
About the TP4056 Battery Charger
The TP4056 module is perfect for charging single cell 3.7V 1 Ah or higher LiPo cells. Based around the TP4056 charger IC and DW01 battery protection IC this module will offer 1000 mA charge current then cut off when charging is finished. Furthermore when the battery voltage drops below 2.4V the protection IC will cut off the load to protect the cell from under  voltage. It also protects against over voltage and reverse polarity connection.