Concept
Clintelli is an open-source hardware and software IoT platform for clinical monitoring of patients. Imagine the Clintelli vest (the wearable/hardware component of the project) as your personal, wearable, affordable and lightweight health monitor. Clintelli's vest main focus is measuring and analysing Electrocardiogram data, but will also include later sensors for Blood pressure, body temperature and more.
Features:
Easy to use wearable IoT technology
Easily configurable and customizable based on the requirements of clinical monitoring of the patient (personalized patient care)
Easily attachable modules (medical sensors)
Support for a variety of medical sensors: ECG, Blood Pressure, Body temperature, IMU
Connection with smartphones to configure the wearable and display sensor measurements
Connection with the Cloud for data storage, analysis and Machine Learning
Can be used for personalized analytics (precision medicine)
Cloud software easily deployable to any Cloud provider
Powerful hardware enabled by Cortex-M4 Microcontroller
End-to-end security both in hardware (cryptographic chip) and in software (digital certificates, encryption) to protect the valuable private medical data
Expose data via REST APIs for other third-party HealthTech applications
Interface with EMR (Electronic Medical Records) systems using the FHIR standard
Pros:
Low cost hardware, affordable healthcare
Personalized patient care
Ideal for remote clinical monitoring (telemedicine) and elderly care
Easy to use
Small in size
Integrated solution
Cons:
Very early stage product
Not many cardiac diseases are supported
Methodology
Research & Development phases:

Research on IoT, Wearables, Medical Devices and ECG
Fast prototyping with the development board NodeMCU and Arduino code
Setting up the Cloud infrastructure for brokering sensor data
Develop Android application for communicating via Bluetooth with the prototype
Implement a Deep Neural Network for Atrial Fibrillation Classification using Tensorflow, which will later be used for analysing the measured ECG data (see also https://github.com/nickarad/AF-Classification )
Research on Microcontrollers and Medical sensors used in production
Design the Clintelli board schematics according to project requirements and datasheets' specifications. Initial main components are Microcontroller, Cryptographic chip, ECG sensor, WiFi & Bluetooth, voltage regulators etc.
Start designing PCB layout and iterate until first version minimum requirements are met and mechanical and electrical constraints are resolved.
Send first PCB designs for a small batch-manufacturing (5-10 samples) for testing purposes
Manually solder electronic components or order PCB assembly together with the PCB fabrication
Test PCB quality, test the design for short-circuits and malfunctions
Design plastic cover packaging to house and protect the first version of the Clintelli PCB and the battery.
Generate Bills Of Materials (BOMs) from KiCAD and FreeCAD and make first price estimations for the end-product (materials, Integrated Circuits & Electronics supply, PCB manufacturing, plastic cover fabrication etc.)

Future steps

Test for RoHS compliance (https://www.rohsguide.com/ )
Research and prepare for FDA compliance
Include more medical sensors in the designs
Improve energy consumption and reduce size
Reiterate Clintelli-board designs for leveraging Flex PCB technology
Design
Prototype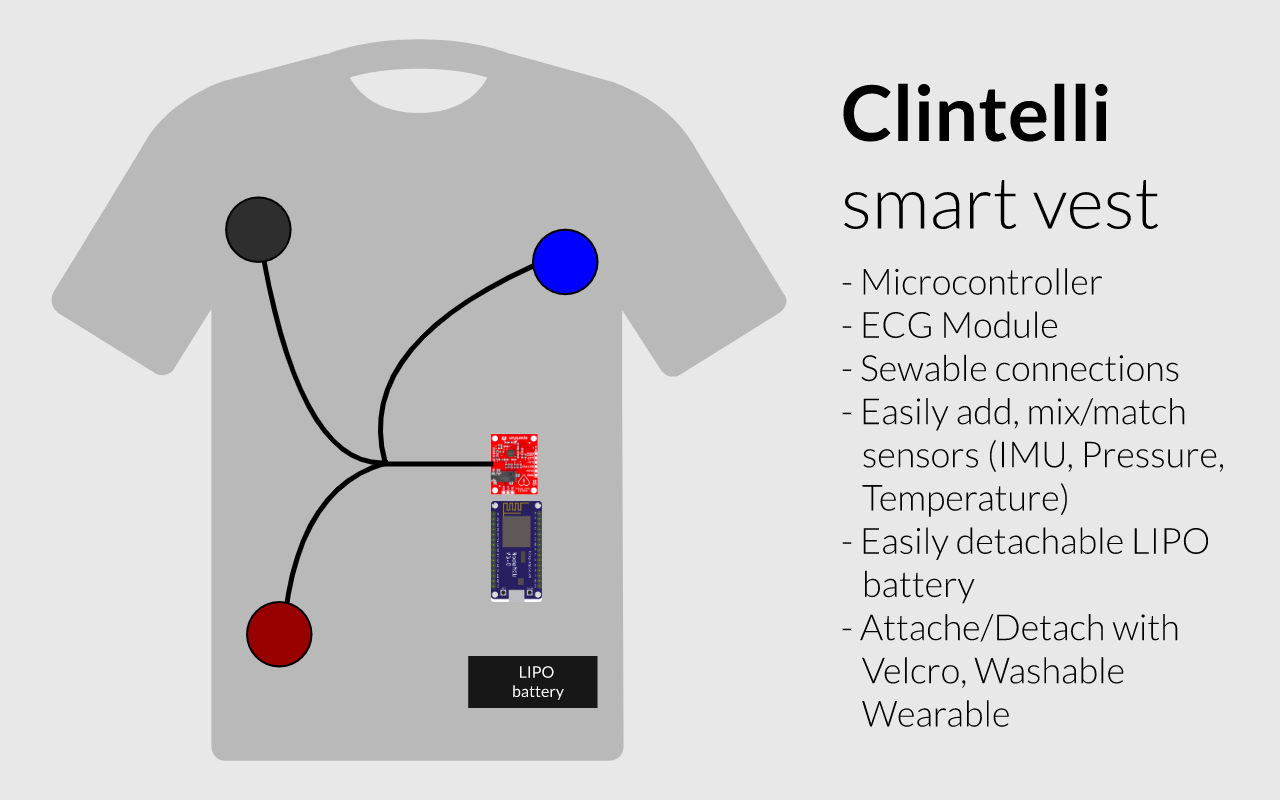 Platform architecture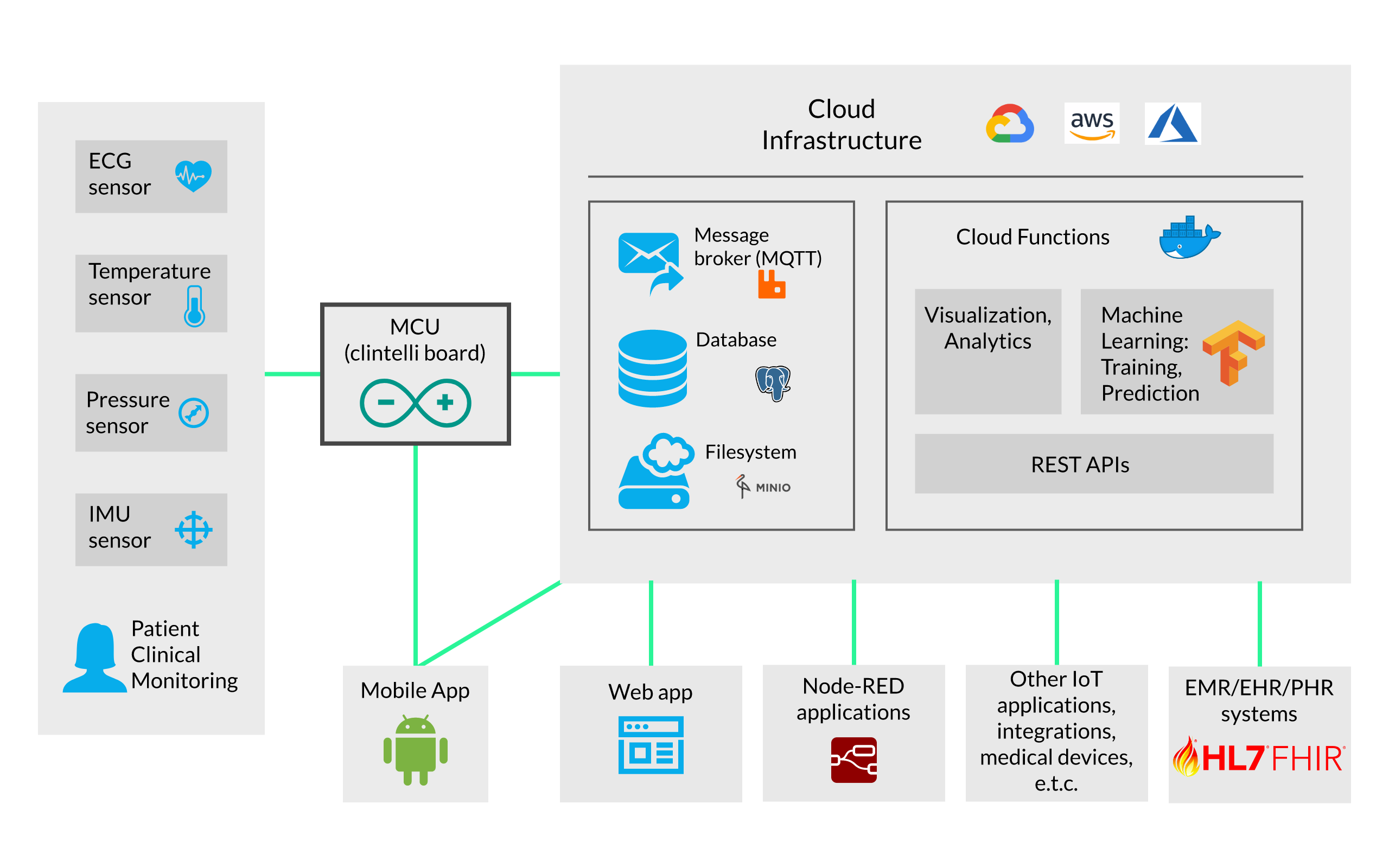 Production
Research and Development for Clintelli are very important, but in order for this product to have an actual impact on people's lives and health it must be easily deployable into production, efficiently reproducible and scalable.
The Clintelli vest is considered a medical device, which means that before being made available to market, it must be thoroughly tested (pilot phase) and approved by Medical Device Inspection agencies like FDA (Food & Drug Administration) and EMA (European Medicines Agency) and meet certain quality requirements.
Benchmark
Market
...
Read more »