This is a brief abstract of the project specifications found in the second log. If you are interested in deepening, check out the logs! 
This project aims to solve the difficulties we still find when prototyping PCBs doing it reducing prices and  time. The solution would include a user experience with almost no interaction: out of the box use + load a design + press print. The idea is that the user can get an almost finished product, even solder paste dispensing and component solder, with minimal interaction.
Main platform characteristics
To achieve this, the PCB manufacturing platform would include at least this characteristics:
Minimal assembly when unboxing

Affordable: under 500usd

Fast: Less than 45 minute process

Professional end: Double sided layer, 0.1mm traces, drilling, cutting, solder mask, minimal silk screen

Solder paste dispensing

Solder reflow

Auto-level

Auto tool changer

Protections: shutdown recovery, over voltage, lost step count and more
This list is open, it may change and it will be growing as the project moves along and new challenges are encountered. It is mostly illustrative and intended to show the main goal characteristics.
Technology used
Having analyzed between options like toner transfer, material deposition, laser engraving, uv light curing and others, the conclusion is that CNC+milling is the best of all options.  It allows to have a fully integrated process, is easy to replace and find parts, and, if well designed it could lead to low price, usage simplicity, speed an quality. Therefore, the main technology that will be used in this project is CNC+milling. This technology still has plenty of room for improving (even those categories where it failed ) which is what this project aims to solve.
Process
Once we have our manufacturing technology, next steps involves process operation. The design process is pretty simple. A PCB is a bunch of traces forming the desired circuit, including holes for TH components and vias. After that, you have to cut the board into the desired shape, apply solder, place components and reflow everything. 
This process will also include a solder mask option, but in a different way as usual. Instead of using a UV curable mask and a transparent sheet to expose it to light, we'll be directly starting the milling process with a fully masked copper board and milling away pad areas as well as the rest of the circuit. For this we will need a really well calibrated system.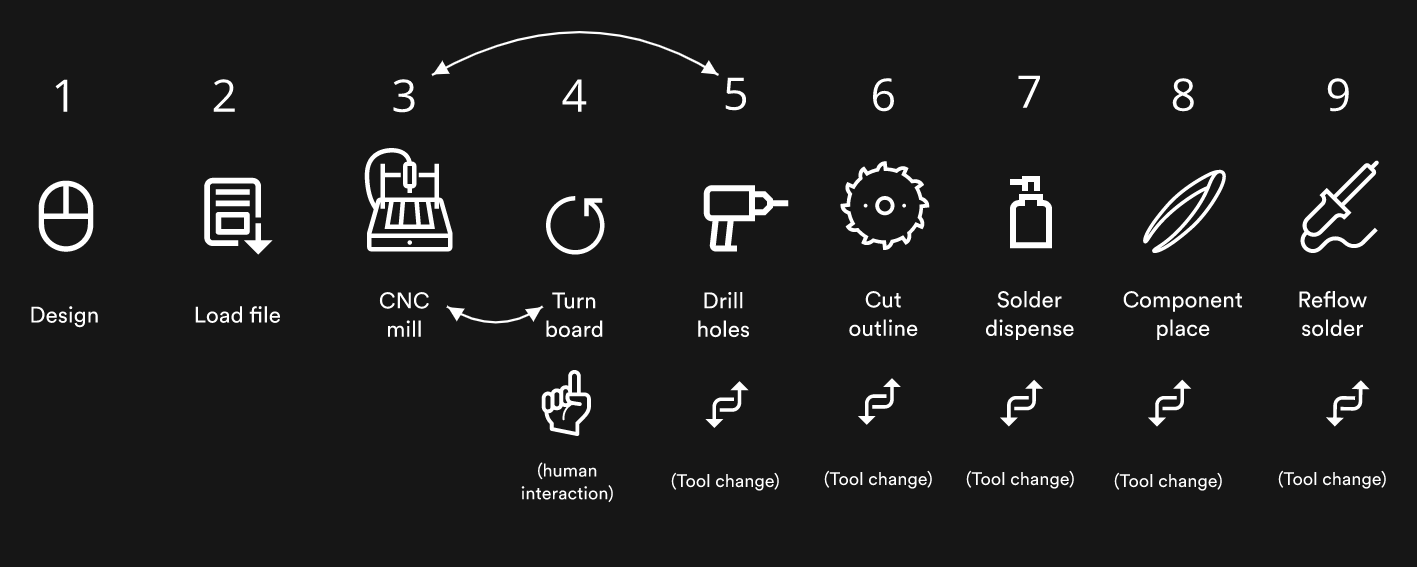 This manufacturing process is fully integrated, from a user perspective, you will get a complete functional prototype in a two step process

Here you can see, the schematic process operation we would have with our CNC technology. As you can observe, there is a minimal interaction from the user that could induce into an inaccurate operation or errors. This will also allow to operate the machine with no additional learning processes involved leading to a better user experience.