Why?  Demonstrate basic concepts, assessments, and design trades to stop incoming threats using physical impact lethality.  Also, build a low cost test platform to develop a highly capable system.
Provides a path to low cost commercial defense systems

Deters attacks and aggressive surveillance
Could help poor and underrepresented communities defend themselves

Evolve this project to a world class capability

High compute rate and agility to hit high speed incoming threats
High clutter environment targeting (ie: ground, sea, brush, forest, mountain, etc.)
Rain, fog, and night targeting capable camera sensor (ie: long wave infrared cameras)
Other targeting sensors (ie: miniature radar and other)
Go beyond quadcopter airframe (ie: boosted interceptor and guided munitions)

Inspire other open source defense capabilities

Low cost open source RF Radar systems
Low cost long range encrypted mesh RF networks
What? Add a Raspberry Pi and web-cam into First-Person-View quad-copter system to demonstrate intercept of airborne targets.
User assisted (manual) targeting via first person camera

RC cntrlr switched modes:

position on-screen target box
enter autopilot intercept mode
Python3 OpenCV3.4 based tracker and guidance

20Hz update rate (60Hz maybe possible with this setup)
~640 x ~480 resolution range
Autopilot without RF telemetry (countermeasure resistant)
How?  Insert the Raspberry Pi between the Human user and on-board quad-copter flight controller.  Use off-the-shelf products available nearly anywhere (via shipping).  Basic circuit to add Raspberry Pi into quad-copter system.  And some Python code and set-up on Raspberry Pi.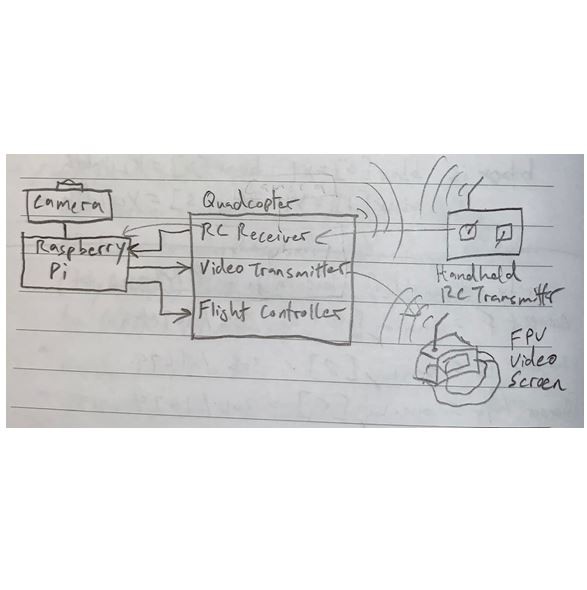 Products:
$349 ARRIS X220 V2 220MM 5" FPV Racing Drone with EV800 FPV Goggle

Omnibus F4 Flight Controller (Betaflight)
Arris VT5804 VTX video transmitter
RadioLink AT9S radio w/ R6DSM Receiver

SBUS Futaba Protocol
4 Flight Control Channels  (Throttle/Yaw/Pitch/Roll)
6 Aux Channels (Rotor Lock/Beeper/Flight Mode/ 3 User Available)

2 Switches User Available ( This project uses for 'user targeting' and 'auto-pilot' modes.)
1 Knob ( This project uses for targeting box size during 'user targeting' mode.)

$35 Raspberry Pi 3 B w/ 1Gb ram
$8 16Gb SD Card (nice high speed flavor)
$0.58 CD74HC14E Schmitt Trigger Inverter (Hex or x6 channel)
$0.45 NCP11177ST33T3G  3.3V 1amp voltage regulator
$65 Logitech C920 USB WebCam with 60FPS @ 640x360 or 854x480  normal color streaming camera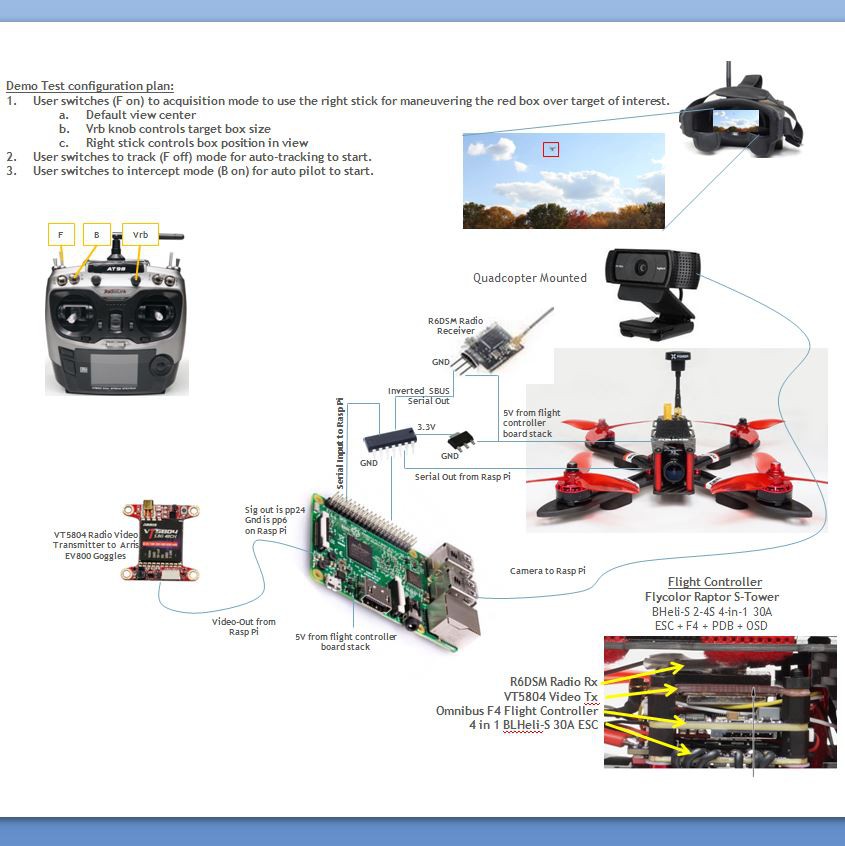 Python Code on Github: https://github.com/rayzrocket/openairdefense