Project Specifications....
Built into a set of stereo headphones.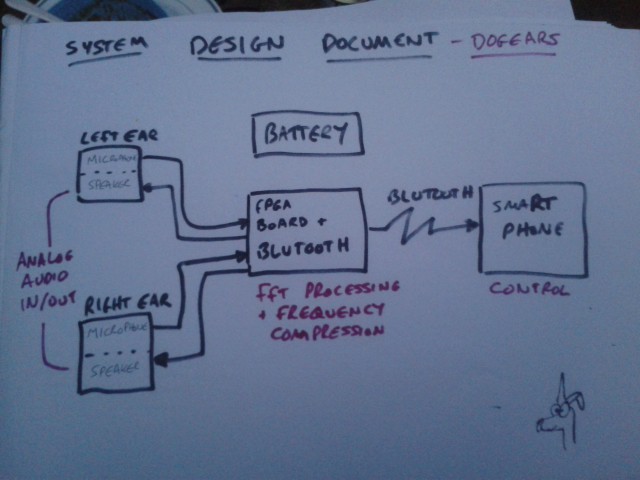 Wide Range microphone in each headphone 'can', orientated with the ear canal.
Digital processing to allow frequencies to be shifted, compressed and analysed.
As low processing delay as possible. 
Battery powered.
Connectivity with smartphone to allow settings to be changed, maybe to account for hearing loss, desired range to be captured etc.
"Pet" Settings, to give the user the experience of listening to the sounds their favourite pet can hear, e.g. Dog, Cat, Ferret, Tyrannosaurus Rex.
A large part of this project will be the Signal Processing software. The device needs to sample the ambient sounds, use FFTs to decipher the spectrum, then decide how to recreate the signal in a range that people can hear.  This isn't something I've played around with before, so should be an interesting learning experience.
I've also never done any smartphone programming, so this will also be a challenge.
There are already a range of bat detectors on the market, most of which use hetrodyne mixing to shift a portion of the spectrum, but these are generally handheld devices and most don't access the wider range of spectrum.
This is another step towards augmented humans, I forsee a future where devices like this could be implanted directly into people, giving permanent superhuman senses.  Another future device would be eye augmentation, I would love to be able to see into other spectrums.  As a RF engineer working in Broadcast, my dream would be to have a pair of glasses that could see RF being emitted.
Something I want to investigate with it is whether humans can be trained to use echolocation. I'm thinking the microphones can have a 3d printed cover to replicate the directionality of human ears, then with the addition of a couple of ultrasonic transmitters, it may be possible for people to use this to navigate in a dark environment.  That would be amazing to experience!
Another thought I had recently is to do a second version that could listen to RF... Basically an aural spectrum analyser, It would be amazing to listen to a bluetooth transmitter switch on for example, or in my day job as an Broadcast Engineer, it would be invaluable to listen for interference, or to see whether transmitters were working.  I imagine with experience you would be able to distinguish power levels, and maybe even tell whether it was transmitting correctly. We occasionally have problems where things like PAs fail , immediately you would hear a reduced level....