Building for the Future: F(n) Series 

The F(n) series of case accessories is a means to identify & address turn-key activations to build and continuously improve upon the user experience.  In the research and development of the Null Modular case, we found a handful of red flags. We plan to address the highest barriers of entry in this field by bringing down the astronomical start up costs and inner-sourcing a fully vertical operation (open sourcing the development process internally within a community or team). By leveraging our knowledge of rapid prototyping techniques, experience in product development and collaborating with industry partners, this will allow us to fabricate a thoughtfully designed modular synth case right from the get-go without blowing a black hole in your bank account.  Our goal is to enable musicians from every walk of life to chase after their dream system. How we achieve this is through building a community of resources via an open & constructive discourse during the product development and design process. By doing so, we can further aid in the artists' discovery process.  
---
The First Sprint: Illuminating The Experience

The Hackaday Challenge offers us a platform to introduce the first accessory in the F(n) accessories pipeline: a LED light feature optimized for studio use and live performances. We've hacked a 3U x 84hp Null Modular case prototype to integrate a controllable, light-reactive LED strip to illuminate your workflow, so it's one less thing to worry about. No more headlamps to mess up your vibe! (Check out Log #2!)

Phase 1: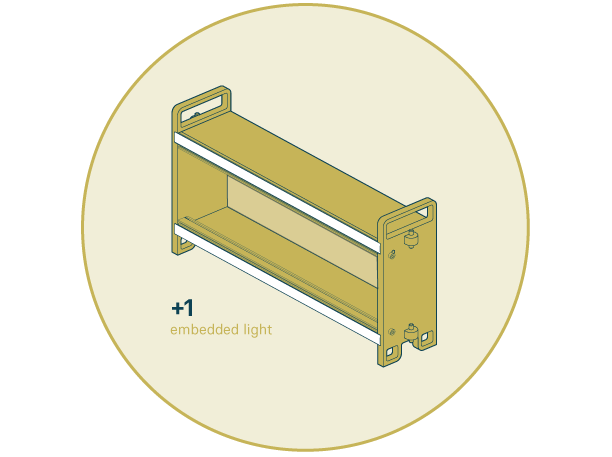 The difficulty of this project lies in the size of parts --not a lot of clearance inside the case to place extra features without sacrificing rack space for modules and having things dangling externally is not ideal either, hiding/integrating the wiring, and stable power supply for both the Eurorack system and LEDs. We've decided on two options for powering the LED unit, either by plugging directly in to the 16-pin row power of the Eurorack system or to an external power plug. The next phases will run in parallel with optimizing the first phase of the +1 embedded light feature.
There is no "one-size-fits-all" with modular synth units. As a result, we have devised concepts in three phases to combat various scenarios that different users may encounter. We have begun the process of building relationships with the modular community to provide input and feedback while we tinker with design and functionality of each phase. Partnerships with artists we're currently in talks with to perform with the demo unit in Phase 1 will be key to discovering how we can continue to improve and drum up excitement around what we're creating! 
---
Upcoming Milestones
...
Read more »