BikeOn is a device that converts any bicycle to electric and back in seconds. No tools or skills required. Just attach the device to the wheel of your bicycle and it becomes an electric assist.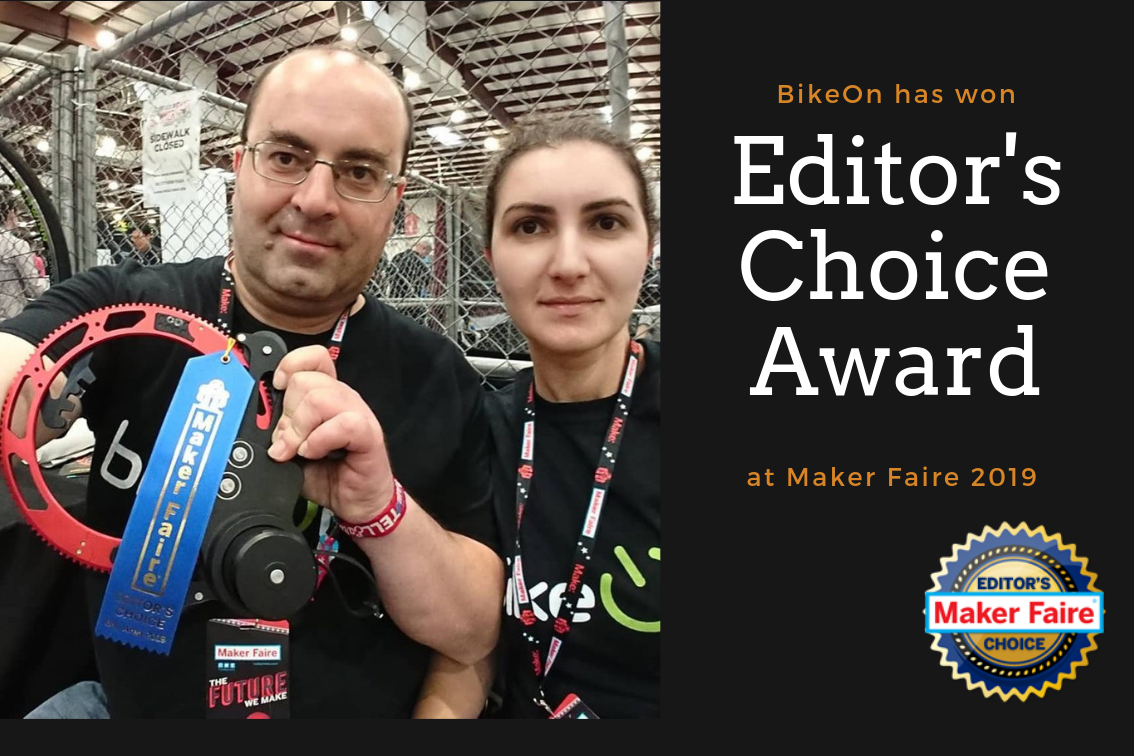 EASY TO INSTALL - Install in seconds with no tools.
LIGHTWEIGHT - 2.4 lbs/1.1 kg (excluding battery) 
INTELLIGENT - Pedal assist with torque sensor
REMOVABLE - Use your bicycle both as regular and as electric assist when needed
VERSATILE - Fits most bicycles

Motor: US: 350W, EU:250W 
Battery: 250 Wh, sleek water bottle design.
Range: Up to 20 mi 
Sensors: Torque sensor, accelerometer, gyro.
Weight: 2.4 lbs/1.1 kg (excluding battery)
Wireless connectivity: Bluetooth 4.2
Smartphone app: iOS 10 or greater; Android 5 or greater


Creating a product that is useful, very practical, aesthetically pleasing and stylish was very challenging.

It had to be practical in several areas which included:
Usage: very simple and intuitive to use, with minimal learning curve, yet powerful. 
Maintenance: small and lightweight enough, so that it's easy to ship to the manufacturer for depot maintenance and repairs. It had to be easy to dismantle from the bicycle by a user for such depot maintenance.
Manufacturing: made of simple parts, using widespread manufacturing methods and easy to assemble by minimally trained workforce. That would allow to diversify and simplify the supply chain as well.
Aesthetically pleasing and stylish products are often a key to successful brands (along with other aspects, such as usefulness and practicality, for instance). In our view that is especially important for digitally native vertical brand, which we are trying to build. 

BikeOn is the only device on the market that combines ease of installation and removal (in seconds, with no tools), compact size, and low weight (below 2.5 lbs). Our algorithms ensure the smoothness and ease of ride.  Because it powers up the rear wheel, it also provides very natural feel and handling of the bicycle. 


One of the challenges on the technical side was to find a concept and a form factor that would physically fit most of the bicycles. Bicycles of different brands and builds (and even different production year) have very little in common. Frames, wheels, wheel lacings, cranksets and all other bicycle components vary greatly in size and often shapes. There are some common dimensions agreed upon by manufacturers, but not many. We have managed to find a way to bypass most of the constraints yet keeping the design within desired specs and parameters


We have been developing BikeOn for over 5 years. In the course of the development, we have made over 70 different prototypes. Each of them led to a different set of decisions and changes. We have tried to compress that 5+ year process in this submission and highlight the most significant choices and decisions we have made. Those decisions can be partially seen in our logs and project details section (see Design portion below)


BikeOn is set to solve two major issues:

1. Urban transportation challenges: traffic congestion, parking challenges, longer commuting due to traffic, public transportation inadequacy in some places. With BikeOn people can use their bicycles for commuting more often rather than relying on a car, which will save gas, parking costs and environment at the...
Read more »