This is a tracked robot built for the RoboCup Junior Rescue Line competition.
Summary of competition (as stated in RoboCupJunior Rescue Line – Rules 2019):
An autonomous robot should follow a black line while overcoming different problems in a modular field formed by tiles with different patterns. The floor is white in colour and the tiles are on different levels connected with ramps. 
Teams are not allowed to give their robot any advance information about the field as the robot is supposed to recognize the field by itself.
If the robot gets stuck in the field, it can be restarted at the last visited checkpoint. The robot will earn points when it reaches new checkpoints. At the end of the line there will be a rectangular room with walls (the evacuation zone). The entrance to the room will be marked with a strip of reflective silver tape on the floor. 
Once inside the evacuation zone, the robot should locate and transport as many live victims (reflective silver balls of 4-5 cm diameter that are electrically conductive) or dead victims (black balls of 4-5 cm diameter that are not electrically conductive) as possible to an evacuation point in one of the corners of the room, the robot should distinguish between live and dead victims and save live victims first.
Construction:
The robot has one big PCB as a base where everything is mounted to (sensors, motors and the remaining electronics) instead of an 3D printed base. This allows to directly solder the sensors to the PCB instead of using many cables.
On the top of the PCB will be a 3D printed base mounted (with distance sensors and servos) to rescue the victims in the evacuation zone.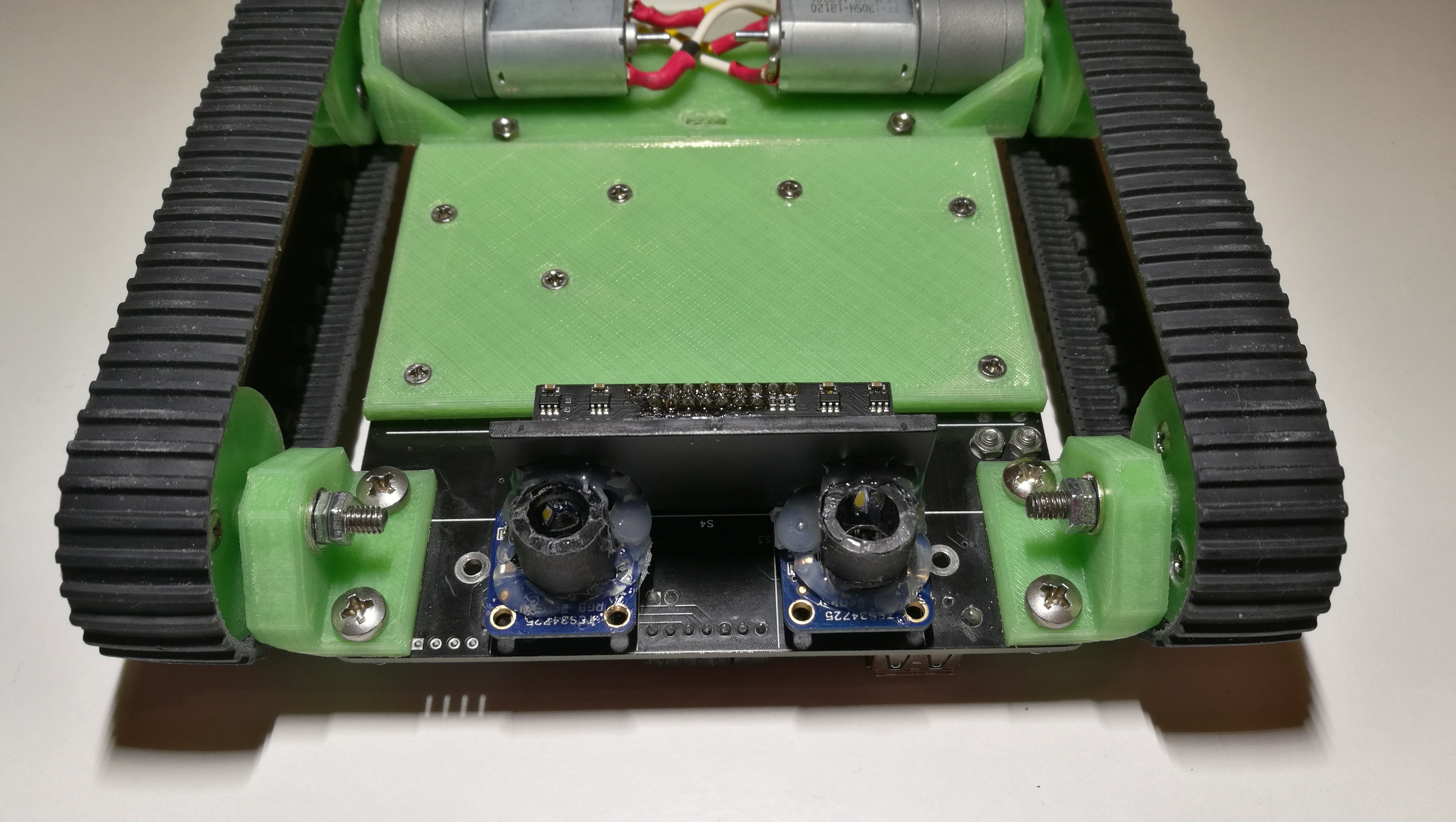 Parts:
The robot is powered by 2 3500mah 18650 Li-ion batterys. 2 LDO's are on the PCB for 3.3V and 5V voltage.
It has 2 TCS34725 color sensors and a Pololu QTRX light sensor array (QTRX-MD-13RC).
To read the sensors and drive the motors the PCB has 2 Arduino compatible ATSAMD51 120mhz microcontrollers (Adafruit ItsyBitsy M4 Express).
The DRV8838 breakout boards from Pololu are used for driving the motors. 
The PCB also features 4 LED's (2 pogrammable, 2 power indicators), 1 Buzzer and 3 Buttons.
The motors used are Pololu 20D mm Metal Gearmotors (6V) in combination with custom 3D printed mounting brackets.
Team and plans:
Our team consists of 2 members.
First we will make the PCB and pogramming for the Line Following part (mostly done). Later we will build the 3D printed base for the evacuation zone.