Interface
Everything become better if done by professionals :). Since i have no illusions about my own skills, i usually forward art-related parts to designer. Here are screenshots of new interface: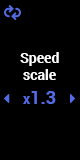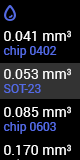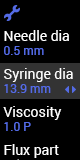 IMO looks nice. Current demo will be updated soon.
Hardware
After some reviews, decided to do one more iteration prior to start bare metal debug. Updated schematic & PCB https://easyeda.com/puzrin/dispenser:
Fixed (i hope) USB firmware upload.
Remapped MCU pins for better traceability.
Added current sensor - important for automatic retract calibration.
SWD pins are grouped in line again.
Returned back push-button filter. Now it's safe to attach external pedal if desired.
Rounded PCB contour in some places.
Moved SMT reference holes to more convenient locations.
Added holes to make locks for plastic supports, if you don't wish to glue those forever.
Will take couple of days to recheck everything, and then order new PCB, SMT stencil & components.