I bought an Alula a few years ago. It was everything that Dream Flight said it would be, but my old damaged elbow joints did not tolerate the process of throwing the Alula repeatedly.
The Alula is a DLG (discus launched glider) from DreamFlight. I bought the Alula early on -- thinking that I could handle the stress of the launch on my old bones. It did not work out. After a couple of tosses my right arm was saying, "Don't do this again...it hurts a lot." 
I found a website that provided information to convert the Alula to electric flight -- http://www.jivaro-models.org/alula_trek_electro/page_alula_trek_electro.html. Unfortunately, it's in French, but thanks to Google I could translate it into an understandable english version. I could not get ahold of most of the components called out by the French website. So I set about to find the necessary components available to US citizens. Still, I recommend that you review the French website -- it is a very good explanation of the conversion process.
The Alula Reference Starting Point:
The Alula ships with a heavy NiMH battery and suggests that you use a 7g receiver.  The total AUW for these components is over 40g: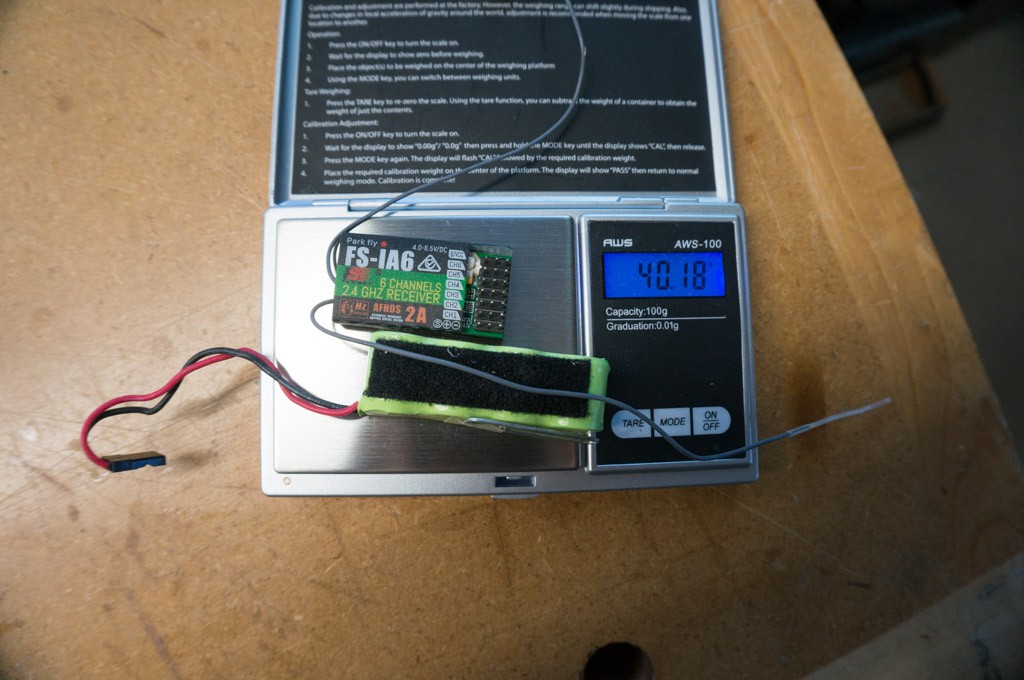 Finding Components:
HobbyKing doesn't have the motor called out by the French website. I waited a few months and then gave up and ordered an equivalent motor from Heads Up Hobbies (which is now going out of buisiness). The HobbyKing motor had a built-in prop-saver, so in order to provide an equivilant capability I added a prop-saver add-on for the motor that allowed for an equivilent solution. Here's what I eventually settled upon for my electrified conversion:I discovered that many of the recommended components are either out-of-stock or unavailable here in the USA. Hobby King was out-of-stock on the motor and ESC, so I went looking for alternatives.
I proceeded to substitute components for what I could get here. This is what I used:
Turnigy NanoTech 300mAh 2S Lipo  = 17g (the same as the French site)
Emax 6A ESC = 5g (shortened wires)
FrSky R9 mini receiver = 1.1g
5.5x3.3 folding prop = 3.5g (same as French site)
Miscellaneous = 2g (motor mount, motor cover, etc.)
Total weight: 47.6g
The links provided are tenuous, so I will provide descriptions that will help you find an equivalent, if you wish to pursue this.
The motor: 
KV:2200 
Dimension:19mm x 23mm (excluding shaft) 
Weight:16.1g/0.57oz (not including connectors) 
Diameter of shaft:2mm 
Length of front shaft:8mm 
Resistance:0.52 
Max efficiency currency:2A to 6A,>70% 
Max working currency:8.5A 
IO:0.5A/10V 
Prop recommendation: 
3S/10V, GWS 5030HD, 16500RPM, 5.5A, thrust 272g/9.6 oz. 
2S/7V, GWS 7035HD, 10150RPM, 5.6A, thrust 215g/7.6 oz. 
ESC:10A 
Battery :2~3s LiPo or 6~10s NiMH
The ESC:
EMAX BLHeli-6A
Continuous Current - 6A
Burst Current - 10A
Battery - 1-2S LiPo
Dimensions: 22x13x5.5mm
Weight - 6g
BEC - Linear, 5V/0.8A
The Battery:
Turnigy 2S (7.4V) LiPo, 300mAh/35C rating, 17g, JST connector with JST/HS balance connector. I believe there are better alternatives now. There is another Turnigy 2S 300mAh/70C LiPo that only weighs 18.2g -- a small weight increase for much better power capability. Also, with the popularity of the Whoop class of drone and the new Toothpick class, there are now 300-400mAh 2S LiPo batteries that might outshine the Turnigy stuff.
The Conversion:
I just followed the directions of the website that I referenced above. There are some areas where I deviated:
The motor/prop saver are longer, so the motor mount must be set back further. Therefore, I increased the motor mount template by scaling the image on the printer (see files.)
I used a small sheet of FR4 circuit board for the motor mount. I...
Read more »