A beginning
The problem itself seems to be pretty obvious once you've got to see the solution. But believe me, at least for me, I got a lot of though and work to get a suitable solution. I knew what specs I would like it to include as said:
Immersive experience. Once thing I noticed when playing retro-games with my smartphone was that I couldn't forget I was playing with it. This, believe or not, took away part of the original experience. I did not make sense using my smartphone due to its modern capabilities in terms of hardware (screen, battery, processor etc) and losing part of what originally gave those games that particular flavor. That shouldn't be lost.
Portable: light and small to carry everywhere. This premise is basic and it's something I could not find with most third party gamepads I saw. A handheld console must be somehow portable. In this particular case,  it didn't make sense that most gamepads where bigger and heavier than my phone. I decided it should be as much as half of my smartphone size.
No need to charge it. This may not be obvious. But I tried to imagine which scenarios I could be using such a device. When traveling, waiting for a doctor appointment, on public transport...etc. All this situations appeared to be random and not planned. I could carry my Playloop everywhere I go because it was small and light, even forgetting it was with me. For this to happen, not worrying about charging showed up to be a must. Who wouldn't love that? I could not stand for the idea to have a chance to use it and battery got to ruin my gaming break.
Adaptable in case I wanted to use it in different smartphones. This last premise was essential and directly linked with what I criticize when I explained the main problems I wanted to solve. I was totally against consumerism, buying devices, using them for 2 weeks, and keeping them in a drawer. Good design is sustainable and durable, good design extends products live. Playloop should be adaptive to different smartphones because we change and it should adapt with us. According to statistics people change their smartphones every one/two years, on average. I did not have a clue which were the dimensions phones on the market had, so I made my own research.  This chart shows the relation between thickness-width of the top 50 phones sold. It may be deprecated now since I made this research early 2018: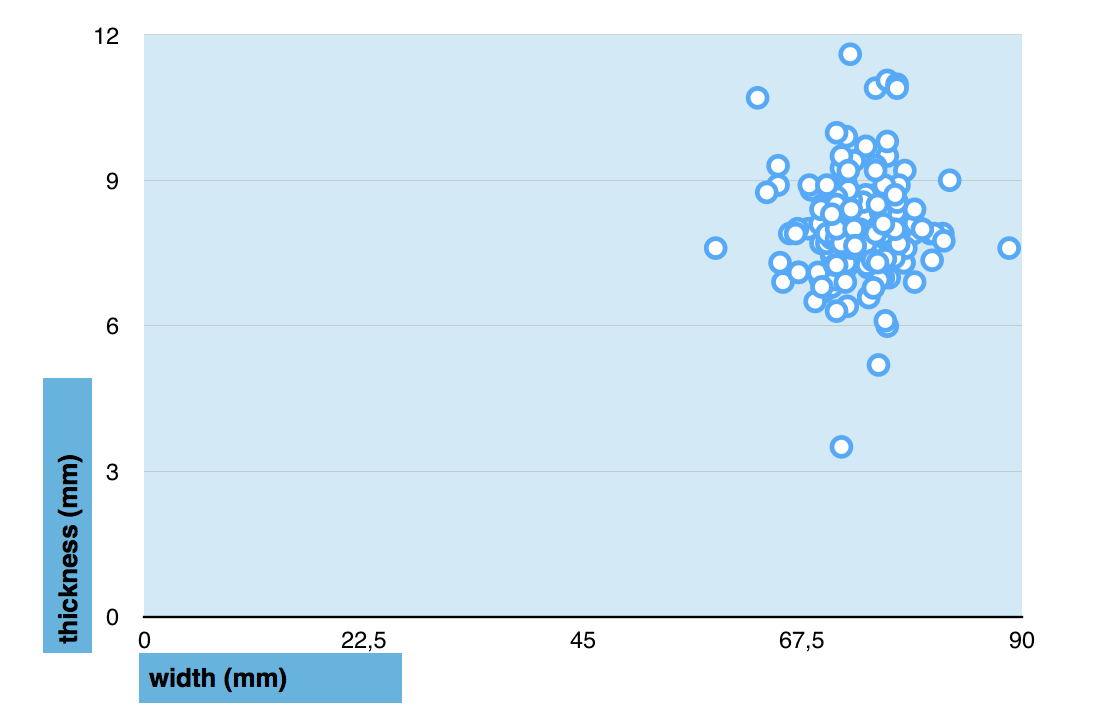 With this principles set up, I started designing the product, you can read about it on the next log. My main inspiration in this process and, from whom I learnt how ton face this problem, is one of the best designers of all times: Dieter Rams. He has 10 awesome principles when designing that I would like to share you just to end: