Build, Learn, and Create
Build the BeatBox from the ground up. (All parts needed included)

Learn how to play it through in-app tutorials.
Create your own beats with our mobile studio, or with a third party DAW of your choice.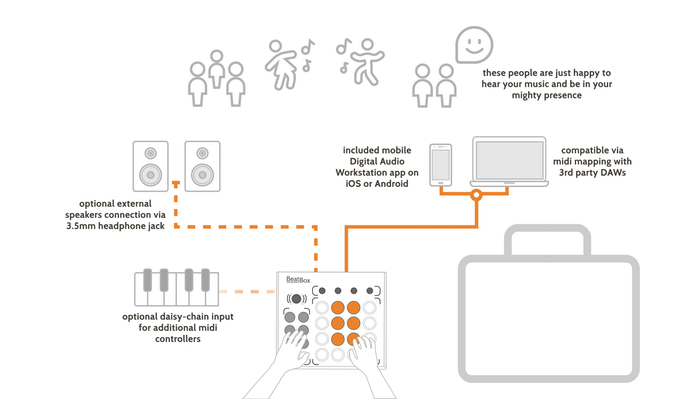 Versatile 
The BeatBox is adaptable to fit the users needs. It links up to our mobile studio, and is compatible with 3rd party DAWs. There is the option to daisy-chain for additional MIDI controllers. You can also connect via headphone jack to external speakers for performance.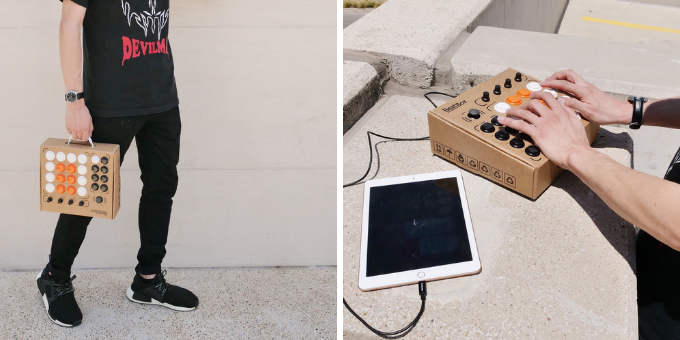 Portable
The Beatbox is portable so you can experience the traditional bedroom studio set up, and live performance aspects of music production. You will be sure to draw in a crowd if you bring your Beatbox out with you.
App

In the BeatBox app, you can load up samples either from your local or cloud storage, edit/rearrange the samples, record/playback, arrange a track with the built-in 16 step sequencer, mix audio between 4 channels per project, create a quick loop with our 4 layer looper function, and more! We are always coming up with new ideas and features to implement in the app and with your help, we'll be able to develop it even further.

Accessible
The BeatBox is intended to be used by a variety of users. If you are a beginner producer, or professional you can gain from using the BeatBox. It is perfect for those interested in STEM and coding, as well as members of the Maker Movement.