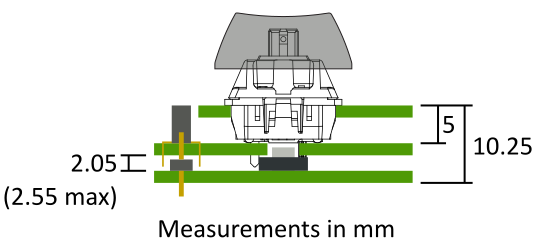 Each key is made from two switches, with the velocity determined by the time difference between. The larger switch is a Cherry MX type, with the seeond being EVQQ2 type.
This key mechanism is based on the one seen at http://wiki.lvl1.org/Isomorphic_Keyboard
MX switch

[Image source: cherrymx.de/en/dev.html]
The MX internal switch mechanism contains a plunger that is stopped by a well that extends beyond the base. A hole is required in keyboard PCBs to accommodate this well.
By cutting off the well, the plunger is able to extend beyond the base and strike a switch below it.
The MX switch variant chosen is the Gateron White (a MX clone), due to the the low force required and silent operation.
The MX switches are held in place using a plate that the MX switches clip onto.  Normally this plate would be laser cut, however a PCB without traces is used instead as it is cheaper. The holes for the switch body to enter are made during the PCB manufacturing.
EVQQ2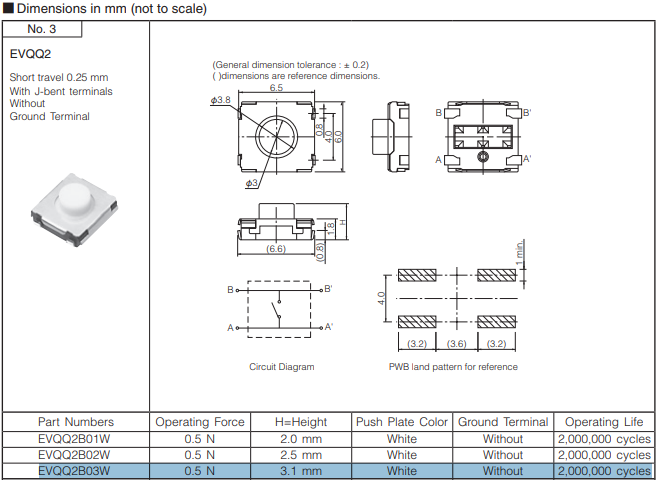 [Image source: EVQQ2 datasheet]
The switch has a very low actuation force, so little resistance when pressed by the MX switch's plunger.
One problem with this switch is that is a surface mount component and so not easy to solder by hand. 
Headers
Male header on the EVQQ2 layer
Dual entry female header on the MX layer
Matrix columns shared between layers via headers
MX row output passed to EVQQ2 layer (which also has the Teensy LC controller)
Note: the space between PCBs means that the male header's plastic component must be smaller than usual
Due to height of female header, the Plate cannot cover this header
Key caps

DSA profile
DSA keycaps are rated for all rows on a computer keyboard, so they all must have the same shape and no slope.
Tonnetz keyboard requires all the keys caps to be identical without slope.