1. This is the project I want to show you today. Dual channel audio amplifier with 6 SC5200 + 6SA1943.
2. This project when I completed.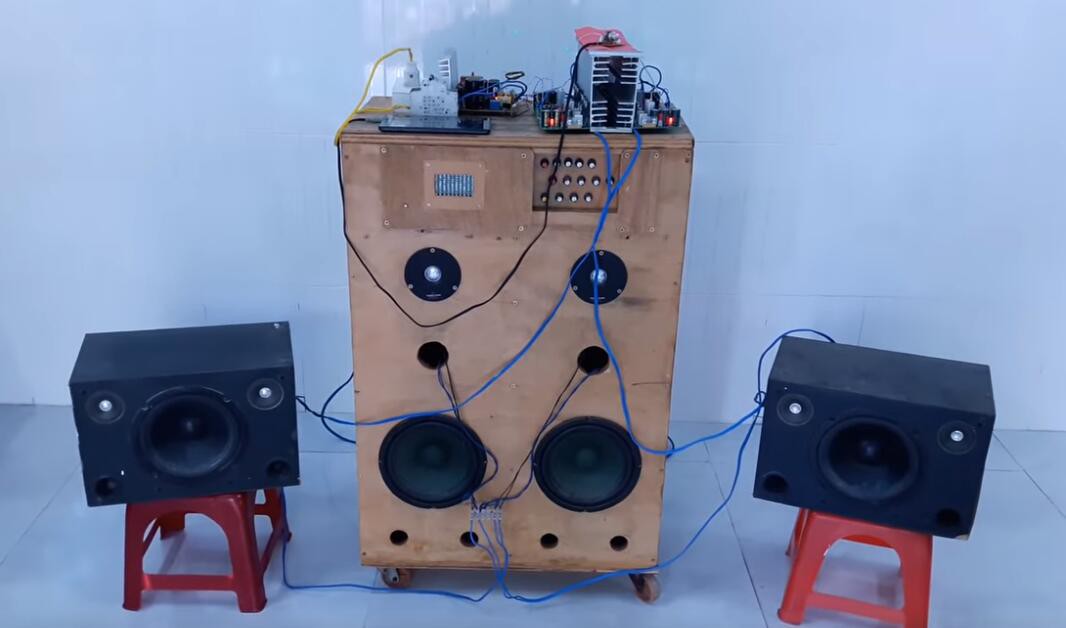 3. Here are all the parts I used in this project.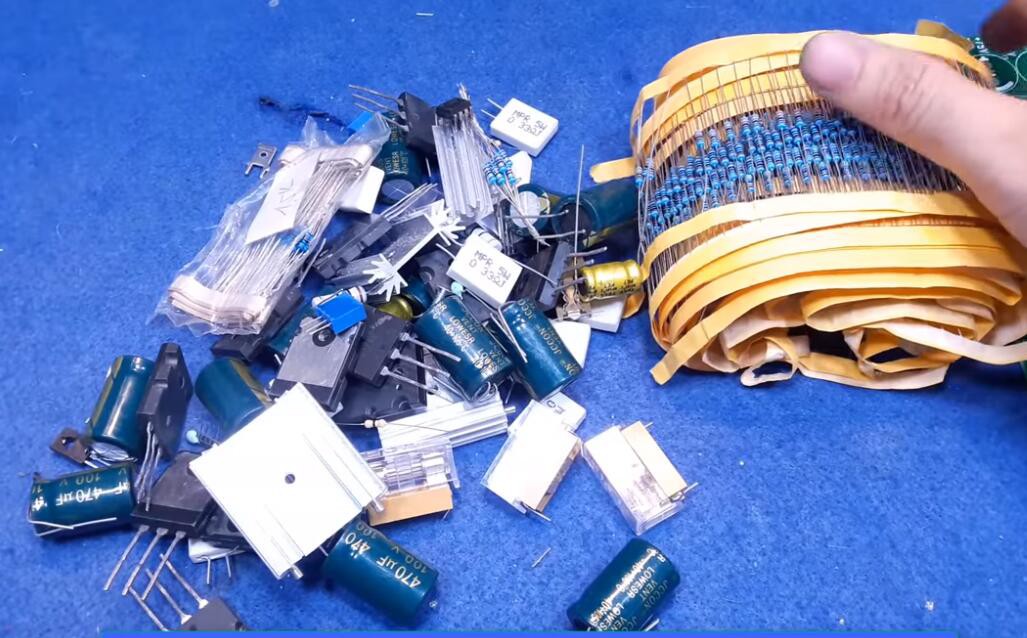 4. Big heatsink, drill holes for putting power resistor.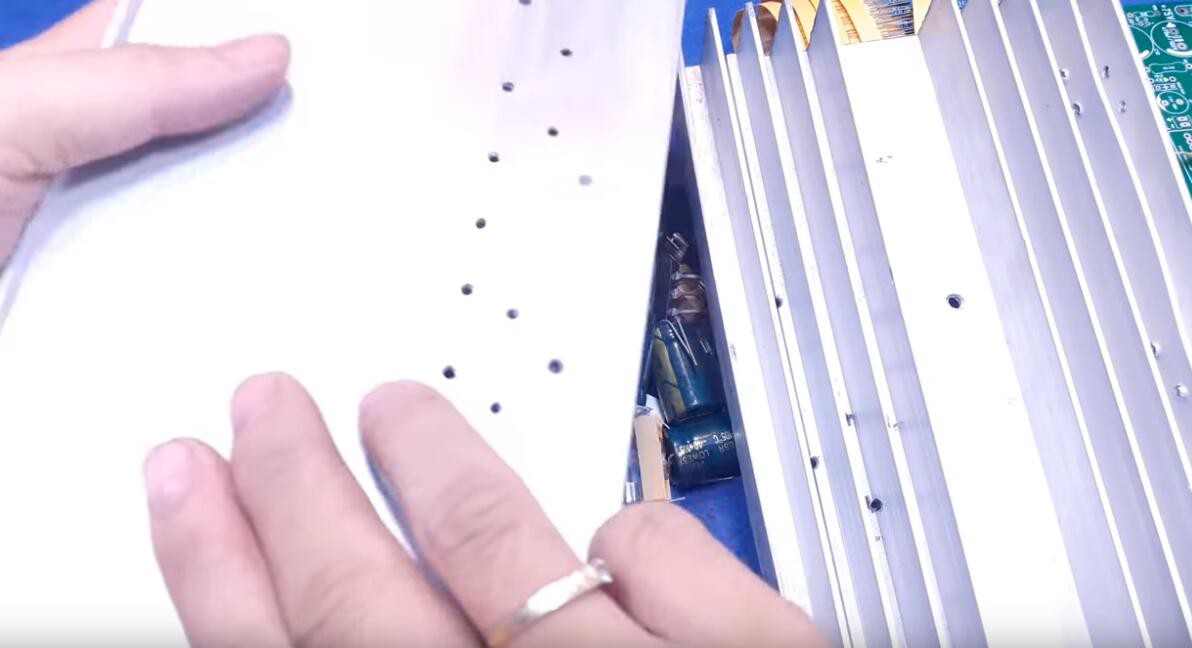 5. Power resistor 0.33/5w.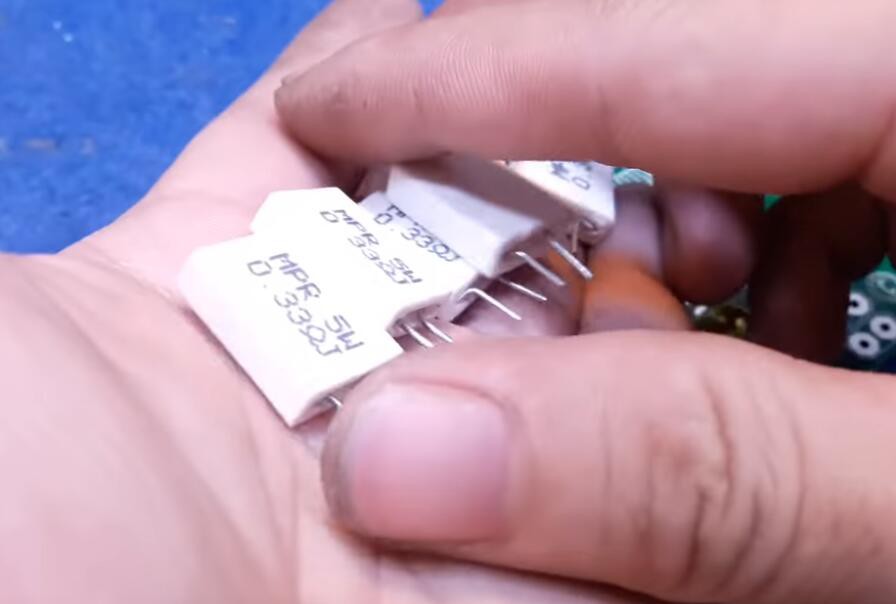 6. Installed all the parts on the board.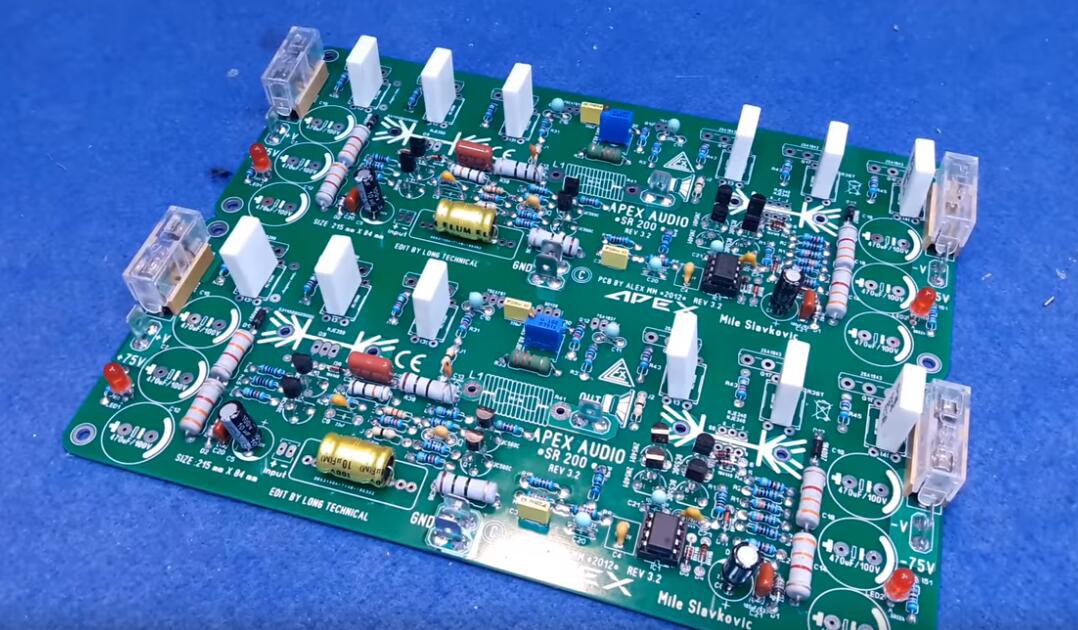 7. 1.2mm 20T of 10mm of DIA.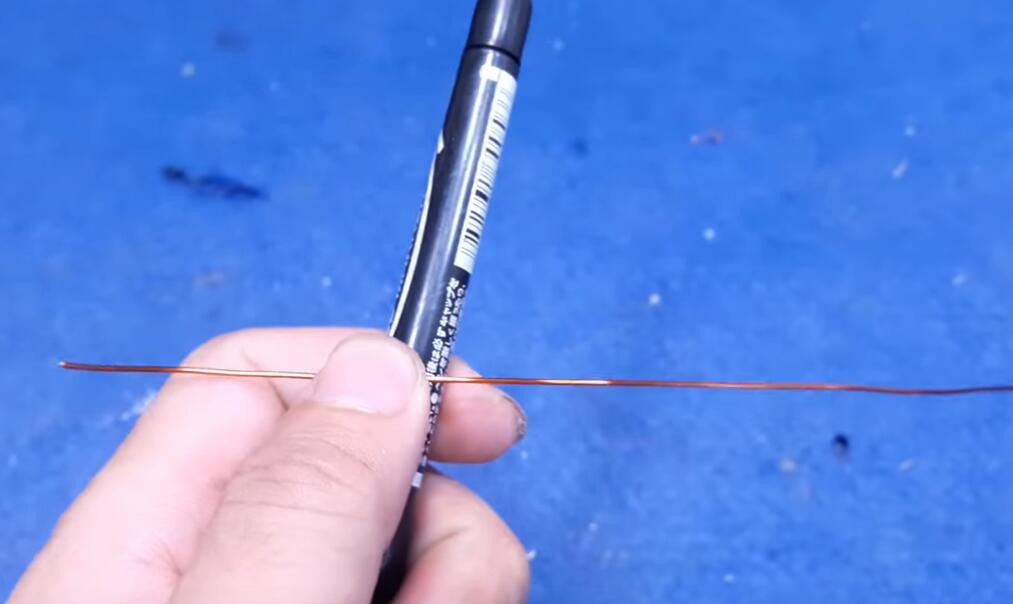 8. Resistor 10ohm/3w.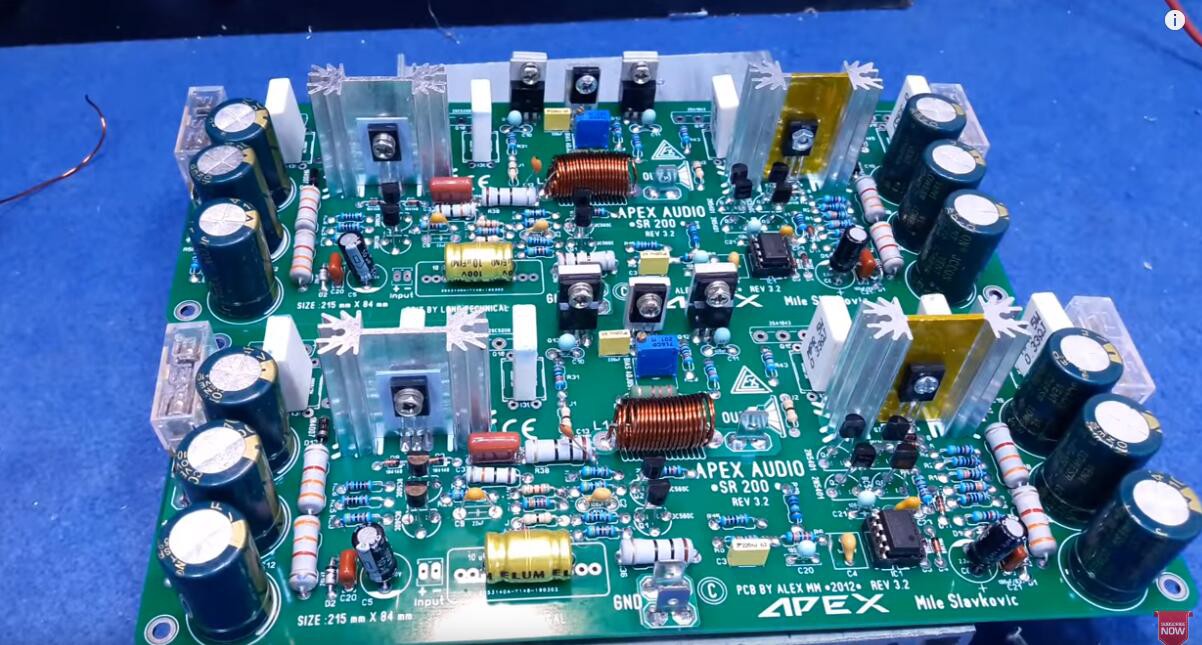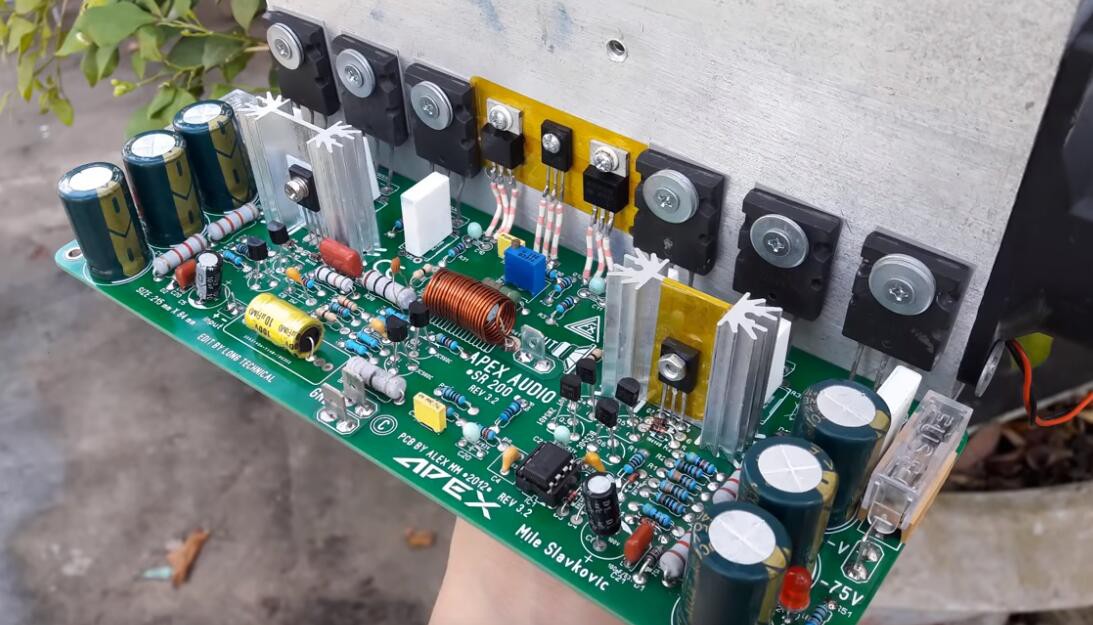 List of electronics component below:
● IC1 - LF411 - 1 pc.
Transistors:
● Q1, Q2, Q10 - BC560C - 3 pcs. : http://bit.ly/2TbIYyy
● Q3, Q4 - 2N5401 - 2 pcs. : http://bit.ly/2T4gw6H
● Q5, Q6 - BC550C - 2 pcs. : http://bit.ly/2F5mvyg
● Q7, Q8 - MJE340 - 2 pcs. : http://bit.ly/2Da1d1Z
● Q9 - MJE350 - 1 pc. http://bit.ly/2VT22DG
● Q11 - BD139 - 1 pc. : http://bit.ly/2F6QENs
● Q12 - 2SA1837 - 1 pc. : http://bit.ly/2JfSIYT
● Q13 - 2SC4793 - 1 pc. http://bit.ly/2udFTDS
● Q14, Q16, Q18 - 2SC5200 - 3 pcs. : http://bit.ly/2FiPlMV
● Q15, Q17, Q19 - 2SA1943 - 3 pcs. : http://bit.ly/2O8mLR4
Diodes, zener diodes:
● D1, D2 - ZF15V - Zener diode for voltage of 15 Volts - 2 pcs. : http://bit.ly/2T9b5yg
● D3, D4, D5, D6, D7, D8, D9, D10, D11 - 1N4148 - 9 pcs. : http://bit.ly/2RQimq8
● D12, D13 - 1N4007 - 2 pcs. http://bit.ly/2tt5dFO
● LED 5 mm - 2 pcs.  http://bit.ly/2IkuH1s
Resistors:
● R1 - 2k2 - 1 pc.: http://bit.ly/2AJVU8g
● R2, R5, R6 - 220k - 3 pcs.: http://bit.ly/2TPQ9Rh
● R3, R14, R20, R21, R22, R23 - 47k - 6 pcs. : http://bit.ly/2Th6bn6
● R4, R15, R18, R30 - 1k - 4 pcs. : http://bit.ly/2Uk6Zot
● R7, R8, R9, R10 - 2k2 / 2W - 4 pcs. : http://bit.ly/2FaT11F
● R11 - 15k - 1 pc. : http://bit.ly/2U8Yf4A
● R12, R13 - 47R - 2 pcs. http://bit.ly/2ve1HA9
● R16, R17 - 3k3 - 2 pcs. http://bit.ly/2OVtmP3
● R19 - 1M - 1 pc. http://bit.ly/2IfhZQG
● R24 - 6k8 - 1 pc. http://bit.ly/2IzRINs
● R25, R26, R27, R28 - 100R - 4 pcs. http://bit.ly/2FqvXP9
● R29, R31, R32 - 220R - 3 pcs. http://bit.ly/2YYRKUu
● R33 - 220R / 2W - 1 pc. http://bit.ly/2UCmjkF
● R34, R35, R36, R37, R38, R39 - 0R68 / 3W - 12 pcs. (or 0R33 / 5W - 6 pcs.) http://bit.ly/2IyBpAs
● 5.6 ... 10R / 3W (Zobel filter) - 1 pc. (for the first printed circuit board version) http://bit.ly/2GmIgeP
● Resistor for 6k8 LED - 2 pcs.  http://bit.ly/2IzRINs
Capacitors:
● C1 - 10mF / 100V (audiophile film) - 1 pc.(SMD) http://bit.ly/2ZbvCXk
● C2, C10, C11 - 100pF - 3 pcs. : http://bit.ly/2WqdBlZ
● C3, C8 - 220nF - 2 pcs. http://bit.ly/2GbUh5m
● C4 - 1mF NP - 1 pc. http://bit.ly/2U1UMEZ
● C5, C6, C12, C13 - 2,2mF / 100V electrolyte - 4 pcs. http://bit.ly/2KF9otp
● C7 - 470pF - 1 pc. http://bit.ly/2Gdyvhy
● C9 - 22nF - 1 pc. http://bit.ly/2Ilvlvw
● 470mF / 100V - 6 pcs.  http://bit.ly/2KDEhP2
● 100nF / 250V (Zobel filter) - 1 pc.  http://bit.ly/2Iwk7DT
Video on Youtube: