As explained in previous logs, the MCU is the brain of the board. It configures the HDMI bridge chip, and handles power-sequencing of the display.
Out of curiousity, I connected an STLink to the SWD pads on the PCB, and behold, the chip is unlocked!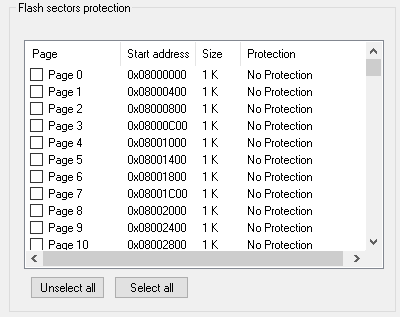 This allowed me to extract the firmware. I plan to reverse-engineer the firmware to determine how it configures the system, and how it could be configured via USB.

GPIO map:
---------- more ----------
| | | | | |
| --- | --- | --- | --- | --- |
| Label | MCU Pin | MCU Port | Net Name | Supply Voltage |
| E1 | 31 | PA10 | VDD_HDMI | 1.1v |
| E2 | 14 | PA4 | VDD_MIPI | 1.2v |
| E3 | 11 | PA1 | VDD33_HDMI VDDIO33 | 3.3v |
| E4 | 30 | PA9 | VDD_DISP_18 | 1.8v |
| E5 | 42 | PB6 | VDD_BL (V3) | ? |
| E6 | 13 | PA3 | VDD_DISP_33 | 3.3v |
| E7 | 17 | PA7 | VDD_OLED (V1/V2) | +V/-V? |
| E8 | 43 | PB7 | VDD_BL (V3) | ? |
| E9 | 45 | PB8 | Feedback? | ? |
| E10 | 29 | PA8 | VDD_OLED (V1/V2) | +V/-V? |
| L1 | 16 | PA6 | LED1 | |
| L2 | 15 | PA5 | LED2 | |
| A | 21 | PB10 | IOA (1.8v) | |
| B | 46 | PB9 | IOB (1.8v) | |
| C | 25 | PB12 | IOC (3.3v) | |
| D | 22 | PB11 | IOD (3.3v) | |
| B1 | 28 | PB15 | BTN1 (Left) | |
| B2 | 27 | PB14 | BTN2 (Right) | |
(Ignore the labels column - I am using it within my reverse engineering to track the signals)
Flash Layout
| | |
| --- | --- |
| 0000 0000 | Boot Space (Aliases to one of the below regions) |
| 0800 0000 | Flash space |
| 1FFF F000 | System memory space |
| 2000 0000 | SRAM space |
| 1FFF F7D6 | USART Bootloader |