After using the Unipolar-Feather in a stacked configuration the lack of a reset button became obvious.  I played around trying to free up some room to add the reset button but kept coming up short of space.  So I got over my fear of tiny components after discovering that I could have the PCB house do the assembly of the really small components without breaking my budget.  I think this will work.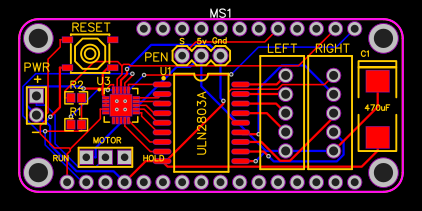 It should work well in my future Makerspace classes as people new to soldering won't have to solder the SOIC's of the previous version.  Most people don't have problems soldering the headers and I think they will able to get some of that "I built it" satisfaction while freeing up time that we can spend on how to run and program the robot. 
The ability to use truly tiny components is seductive.