My SMA connectors that I ordered from AliExpress have not arrived, so I ordered two SMA connectors from Digikey for $3.44 each, along with the resistors to correct the gain error in the first gain stage. I am using a 20 inch long SMA to BNC pigtail to connect the probe to the scope input. The power is provided by an old wall adapter that I modified some time ago to output 5.25VDC. The extra 0.25V allows the differential inputs to swing past ±25V before the amplifiers saturate.
Here's a few waveforms showing performance at lower frequencies: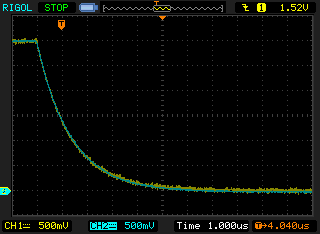 Channel #1 is the diff probe and channel #2 is the 10X scope probe. Both are connected to the scope's 3V calibration signal.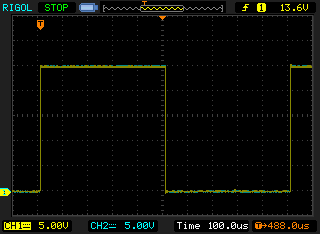 This is a 25V 1kHz square wave. Same channel inputs as above.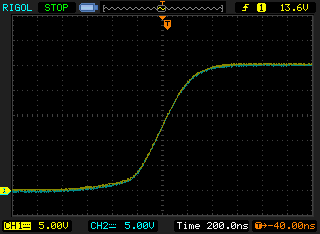 A zoom in on the rising edge of the 25V square wave. The diff probe captures the same waveform features as the 10X scope probe.
Faster Rise/Fall times:
I don't have a laboratory grade signal source to test the probe, so again I'm using a switching step-down converter to obtain ~10ns transition times.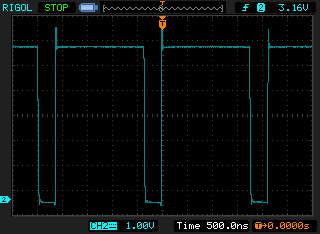 This is what the 10X scope probe produces on channel 2 when connected to the inductor.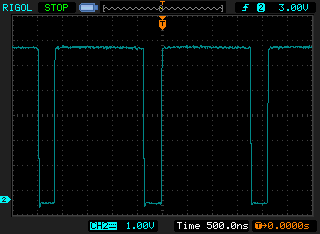 The above is what the diff probe thinks the inductor waveform looks like.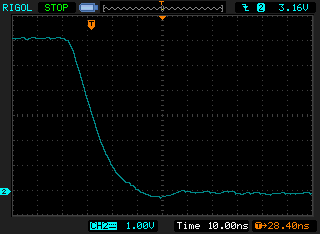 This is the falling edge measured with the 10X scope probe.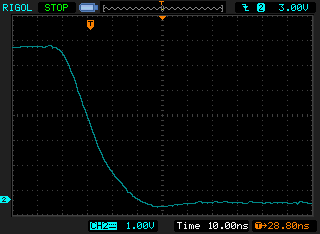 The falling edge measured by the diff probe.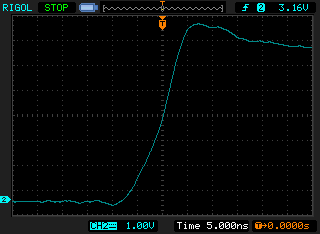 The rising edge measured by the 10X scope probe. This edge is faster -- about 10ns -- there is ringing from the probe.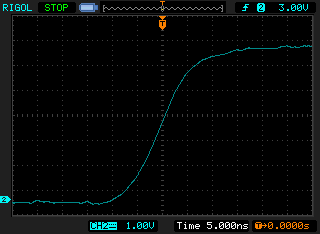 The rising edge measured by the diff probe.
I can't say for sure which probe is telling the truth about the waveforms. My equipment is not up to the task of properly evaluating the performance of the differential probe. But it is good enough for my purposes at this time.