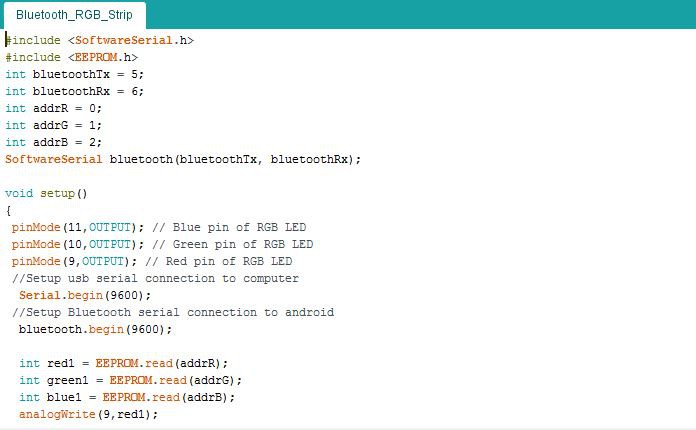 Now here I have included two programs. Both are same with just one change. One of the code has the capability to store the previous selected color to display even after the Arduino is reset.
The other code is just a simple RGB led controller that we have to configure every time we power on the device.
The code with the EEPROM is quite efficient and you don't have to connect your smartphone every time. If you have any doubts regarding the code feel free to comment below.
Note : Disconnect the Bluetooth module's Rx and Tx pin while uploading the code or it will give you an error.

int

 bluetoothTx = 

5

;


int

 bluetoothRx = 

6

;
SoftwareSerial 

bluetooth

(bluetoothTx, bluetoothRx)

;



void

 

setup

()


{
 pinMode(

11

,OUTPUT); 
 pinMode(

10

,OUTPUT); 
 pinMode(

9

,OUTPUT); 
 
  Serial.begin(

9600

);
 
  bluetooth.begin(

9600

);
}



void

 

loop

()


{
  
  

if

(bluetooth.available()>= 

2

 )
  {
    

unsigned

 

int

 color1 = bluetooth.read();
    

unsigned

 

int

 color2 = bluetooth.read();
    

unsigned

 

int

 color = (color2 *

256

) + color1;
    Serial.println(color);
   
    

if

 (color >= 

1000

 && color <

1255

)
    {
    

int

 blue = color;
    blue = 

map

(blue, 

1000

,

1255

,

0

,

255

);
    

int

 blue1 = 

255

-blue;
    analogWrite(

11

,blue1);
    
    }
   
    

if

 (color >=

2000

 && color <

2255

)
    {
      

int

 green = color;
      green = 

map

(green,

2000

,

2255

,

0

,

255

);
      

int

 green1 = 

255

 - green;
      analogWrite(

10

,green1);
     
    }
   
    

if

 (color >=

3000

 && color < 

3255

)
    {
      

int

 red = color;
      red = 

map

(red, 

3000

, 

3255

,

0

,

255

);
      

int

 red1 = 

255

 - red;
      analogWrite(

9

,red1);
      
    }
 }
}
int

 bluetoothTx = 

5

;


int

 bluetoothRx = 

6

;


int

 addrR = 

0

;


int

 addrG = 

1

;


int

 addrB = 

2

;
SoftwareSerial 

bluetooth

(bluetoothTx, bluetoothRx)

;



void

 

setup

()


{
 pinMode(

11

,OUTPUT); 
 pinMode(

10

,OUTPUT); 
 pinMode(

9

,OUTPUT); 
 
  Serial.begin(

9600

);
 
  bluetooth.begin(

9600

);

  

int

 red1 = EEPROM.read(addrR);
  

int

 green1 = EEPROM.read(addrG);
  

int

 blue1 = EEPROM.read(addrB);
  analogWrite(

9

,red1);
  analogWrite(

10

,green1);
  analogWrite(

11

,blue1);
}



void

 

loop

()


{
  
  

if

(bluetooth.available()>= 

2

 )
  {
    

unsigned

 

int

 color1 = bluetooth.read();
    

unsigned

 

int

 color2 = bluetooth.read();
    

unsigned

 

int

 color = (color2 *

256

) + color1;
    Serial.println(color);
   
    

if

 (color >= 

1000

 && color <

1255

)
    {
    

int

 blue = color;
    blue = 

map

(blue, 

1000

,

1255

,

0

,

255

);
    

int

 blue1 = 

255

-blue;
    analogWrite(

11

,blue1);
    
    delay(

10

);
    EEPROM.write(addrB, blue1);
    }
   
    

if

 (color >=

2000

 && color <

2255

)
    {
      

int

 green = color;
      green = 

map

(green,

2000

,

2255

,

0

,

255

);
      

int

 green1 = 

255

 - green;
      analogWrite(

10

,green1);
     
      delay(

10

);
     EEPROM.write(addrG, green1);
    }
   
    

if

 (color >=

3000

 && color < 

3255

)
    {
      

int

 red = color;
      red = 

map

(red, 

3000

, 

3255

,

0

,

255

);
      

int

 red1 = 

255

 - red;
      analogWrite(

9

,red1);
      
      delay(

10

);
      EEPROM.write(addrR, red1);
    }
 }
}