Now to the last category of building blocks: Flip Flips.

If you grew up learning about digital electronics in the advanced CMOS era, like me, you will most likely be accustomed to using edge triggered flip flops for everything. Unfortunately, it turns out that proper edge triggered flip flop require at least 6 NAND gate equivalents, unless you have dynamic CMOS logic at your disposal.

For those of us who were suddenly beamed into the discrete LTL age, latches are a much more part count efficient solution, as they only consume about half as many components as a static edge triggered flip flop.


A commonly known minimal representation of a gated D-latch in NAND2 is shown above. See also Wikipedia article. A nice propery of this design is that it only requires a single clock input and has both inverted and non-inverted data outputs. Data from Din is forwarded to the output while Clk is high. The state of the latch is frozen on the high->low transition of the clk and held while clk is low.
When using this design in high speed circuits it becomes apparent that it has a nasty habit of generating glitches. The origin of this effect is the NAND2 gate in the lower left. The clock signal arrives on one input directly and on the other it is delayed through the NAND2 gate in the top left.

This effect can be somewhat reduced by tweaking the propagation delay of the logic gates. In LTL this is easily possible by changing the LED color to change threshold voltage. In this case I introduced a faster "red" (hence the R) gate with lower threshold as the top left gate.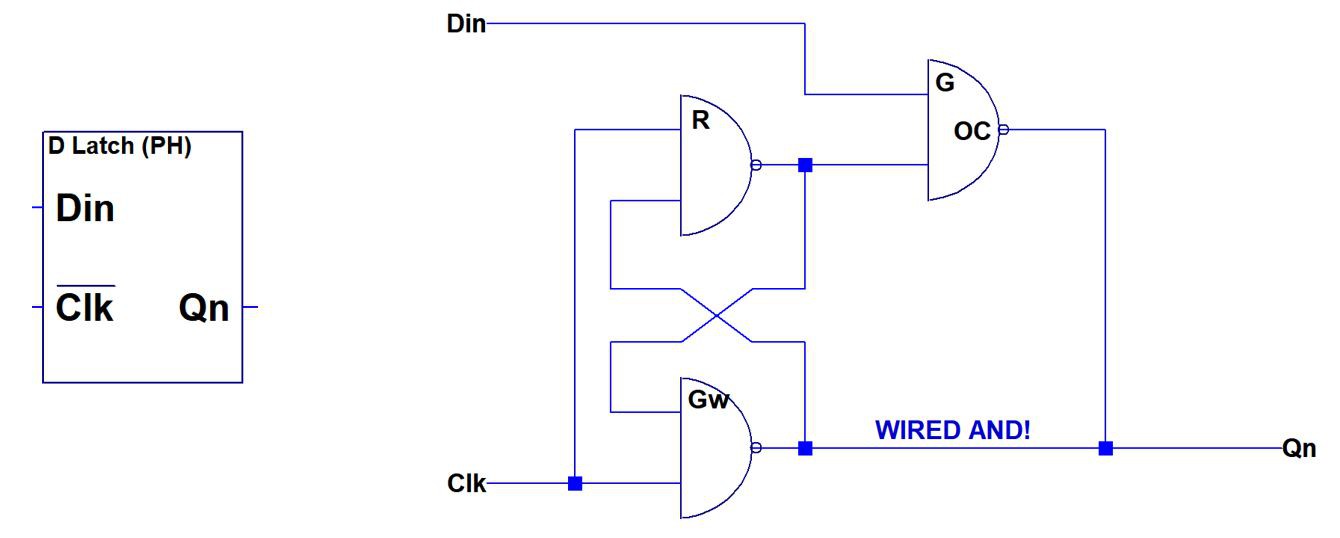 There is also a way to reduce gate count to three by replacing one of the NAND2 gates with a wired AND. This is described in a now expired patent. (A similar design is described in this patent)

The patent also describes to work around the aforementioned glitch by introducing one faster gate. A disadvantage of this design is that it is only has an inverted output. The clock input is also inverted compared to the previous design: Data will be forwarded for clk='0' and held for clk='1'.