A few weeks ago I became aware of the mid-power UVC-LED VLMU35CM00-280-120 from Vishay, designed for disinfection and sterilization. It comes in a 3.5 x 3.5 x 1.2mm re-flow soldering compatible surface-ceramic mount package with a quartz window. Its radiant power is typically 15mW at 100mA, the wavelength is usually 278nm and it has a nominal forward voltage of 5V. A built-in Zener diode will limit voltage in case of surge or if wrong voltage is applied. Its lifetime is 25000 h, while mercury lamps have a lifetime of 10000 h. Furthermore, compared to mercury lamps, this new UVC LED  is not shock-intensive, environmentally friendly, has no heating phase, can be used in the low voltage range and consumes much less power. The price for one of these Vishay LEDs is currently almost 40 USD though! However, UVC LEDs with almost identical technical parameters are available in China at a fraction of the price, even though Vishay's LED is also manufactured in China.

I ordered three of them from Digikey for first experiments, already in the back of my mind to design a improved breathing mask by irradiating the respiratory flow with short-wave ultraviolet light. The idea of a UVC breathing mask is not new. There are dozens of patents. Here is an exemplary drawing from the US patent US8733356B1. You don't want to wear that kind of mask. It won't work. Except the UVC light will burn your face, lips, and throat as skin exposure to UVC light can produce rapid sunburn and skin cancer. Exposure of the eyes to this UV radiation can produce extremely painful inflammation of the cornea and temporary or permanent vision impairment, up to and including blindness in some cases.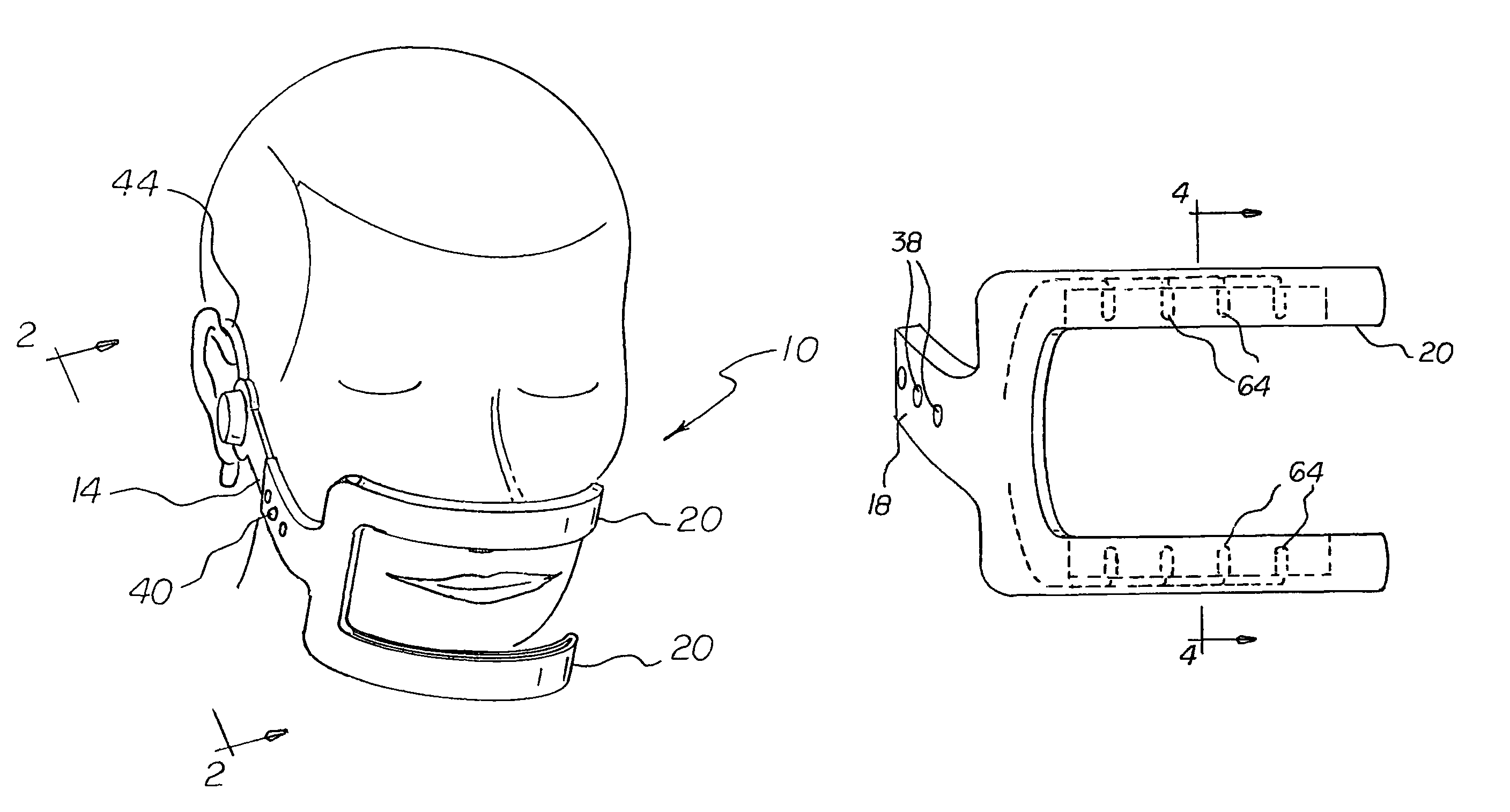 I have applied for a patent as well. It is not difficult to have an idea and to get a patent for it. The difficulty is rather to develop a technically mature product and find a market for it. I think the market for this mask will be mainly in Asia, but a market could emerge anywhere in the world, as current developments show. In this context I am looking for an Asian supplier who can produce the mask. If you think you're suitable, drop me a message. Maybe I will run a Kickstarter or Indiegogo campaign.

The LED is powered via a USB micro B connector. Since the power consumption is relatively high and the mask is worn in public for a long period of time, a portable power supply is needed, preferably 5V, hence a power bank, connected to the mask via USB cable. As already mentioned, the forward voltage is according to the datasheet typically 5V but  it's not exactly 5V. After some measurements and taken the USB voltage range of 4.75 to 5.25V in account I decided to use a current limiting resistor of 5.6 Ohm.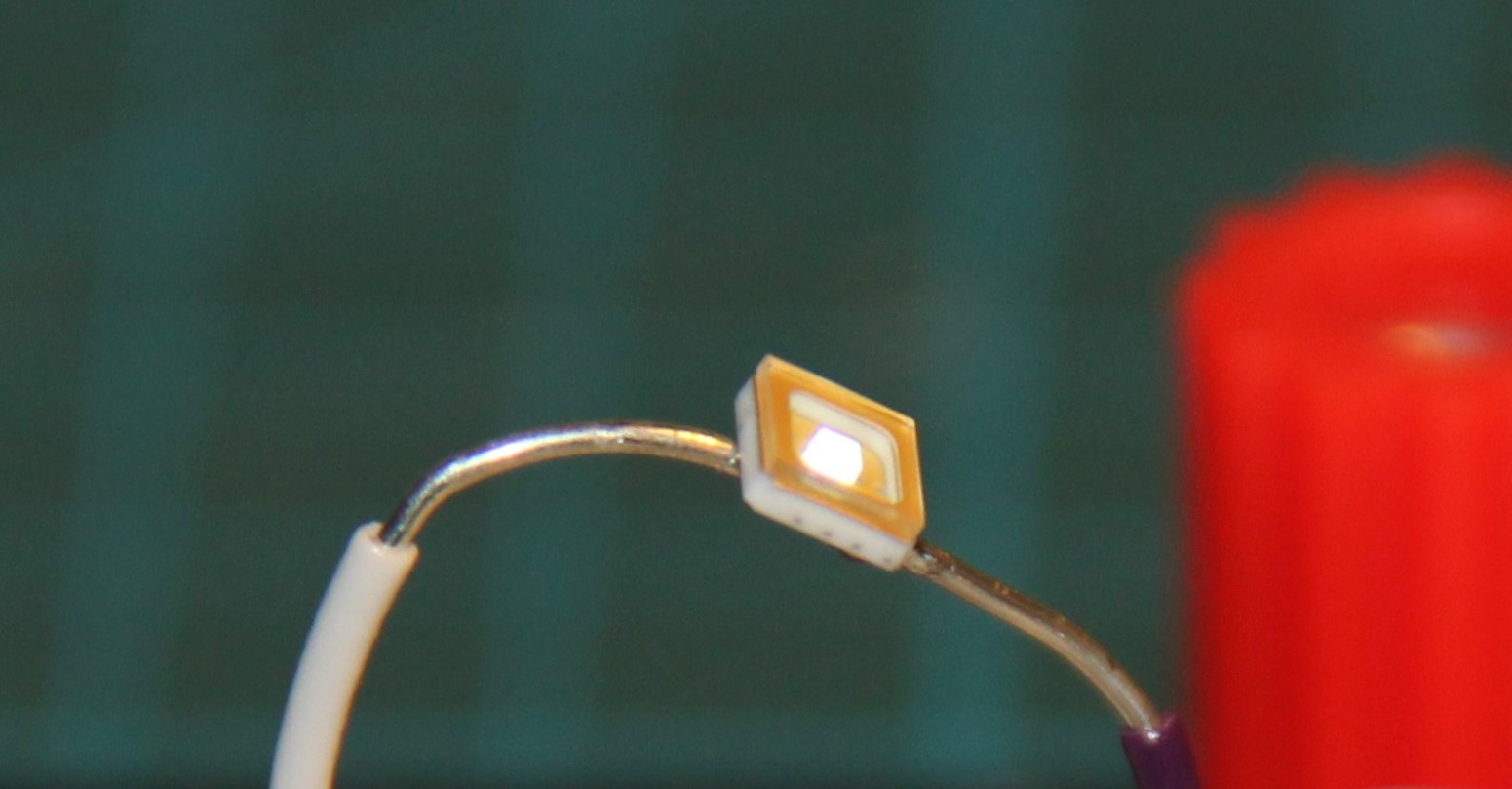 It is only a very narrow range of wavelengths that our eye can detect. It ranges from red (750 nm) to violet (400 nm). As you can see the UVC LED from Vishay emits a small amount of bluish light. The ultraviolet light with the typical wavelength of 278 nm, which the LED also emits, is not visible to the human eye and camera. The data sheet states: Depending on the mode of operation, these devices emit highly concentrated non visible ultraviolet light which can be hazardous to the human eye and skin.
The UVC LED has a quartz window for a reason. Normal glass and many plastics block UVC radiation. This can be shown with a simple experiment. If a test tube with dissolved fluorescein is exposed to UVC light from outside, no fluorescence occurs. If the liquid is directly exposed to UVC light, it fluoresces. But one can see that the UVC-radiation does not penetrate far even in liquids.

As the breathing air is led through a circular chamber with a diameter of about 40 mm in which the disinfection takes place, the LED must kill bacteria and viruses in this range immediately by destroying nucleic acids and disrupting their DNA so that they are no longer able to perform vital cell functions. Whether it will do so in this configuration remains to be...
Read more »