TRY FACE GUARDIAN NOW
Android App: https://play.google.com/store/apps/details?id=com.cmi.faceguardian
Mobile Web App: https://faceguardian.org (Android Chrome only for now)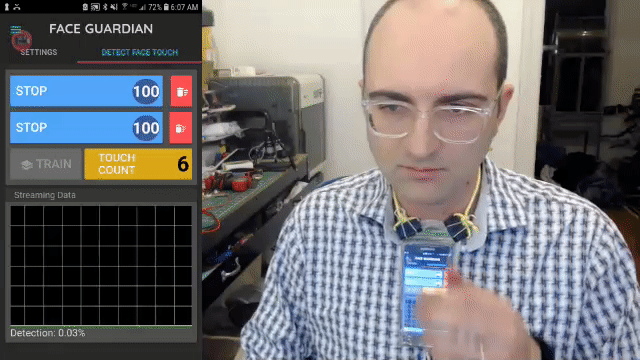 Face Guardian's target demographic is parents and children stuck at home during the coronavirus pandemic. If you have children, you can setup up everyone in your family with Face Guardian (phone on neck and magnet on the wrist) and then play a board game or watch a movie. Who will be the first person to inadvertently touch their face? Maybe the person who touches their face the least can get a prize. Although this is meant to be a fun educational activity for parents and children, anyone can benefit from it. Setup Face Guardian before you read a news article, write some code or procrastinate on the internet. Even with the admittedly obtrusive experience of wearing your phone around your neck, you might be surprised at how quickly you inadvertently touch your face.

VOLUNTEER: I am a research engineer, not an app developer. Are you an app developer who likes this project? We would love your help! 

CODE: Face Guardian is entirely open source. Check out our brand new GitHub repo https://github.com/curtpw/face-guardian
This repo is also the web app version of Face Guardian via GitHub pages. That means you can fork the repo, enable GitHub pages in repo settings and start customizing your own live web version of Face Guardian in minutes.
---
ARTICLES ABOUT FACE TOUCHING AND COVID-19
NYTimes: Stop Touching Your Face! It's a quirk of human nature that we touch our eyes, noses and mouths all day long. It's also a major way we pick up infections like coronavirus.
The Hill: How often do you touch your face—and does that increase your risk for coronavirus?
The Atlantic: The Small Stresses of Keeping Coronavirus-Free: Why is it so, so hard to stop touching your face?
The Guardian: The coronavirus challenge: how not to not touch your face
SUPPORT: This project started in a brainstorming session at work. I pitched it and now it is an official CMI MATTER Lab project. Big thanks to Dr. Arno Klein (Director MATTER Lab, Child Mind Institute) and Dr. Michael Milham (Director Research, Child Mind Institute).
DEDICATION: Face Guardian is dedicated to my wife, Dr. Virginia White. She is a second year OBGYN resident at Northwell LIJ (Long Island Jewish) hospital in New York City, a COVID-19 hot spot. She and the other residents spend much of their time treating COVID-19 patients. 1/3 of her fellow residents are in quarantine and the hospital is often short on masks. And she's 17 weeks pregnant! Despite all this she is completely unflappable, which is AMAZING. She's also very much a collaborator on this project.