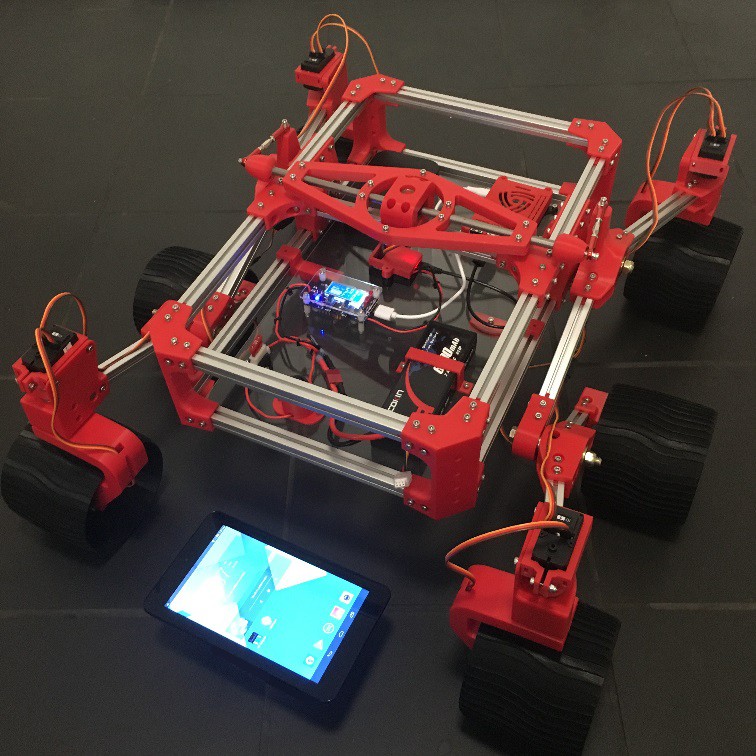 Rover-X is based on the schematics of the Sawppy Rover https://hackaday.io/project/158208-sawppy-the-rover by Roger (Thank you). A smaller Replica  that is true in proportions to the Curiosity rover.  ROVER-X will be used at a School Assembly Program to engage students in STEM related activities in Planetary Science featuring the mechanisms of all 4 rovers NASA sent to Mars.
-
I built this rover in the late spring/early summer of 2020, so I had an advantage of seeing what others have done, and I tried to put together the best parts I can get my hands on and tried to do the least amount of fabrication possible (The only parts I had to fabricate were the 10 steel shafts attached to the servo motors, and those were shaved a little different than the ones on Sawppy 1.0). The total cost of all parts ended up being $600.
-
Regarding the Files: They are the 7 .stl files of the 3D Printed Parts I used on my rover that are different than those on the Sawppy 1.0.

1 Designed from scratch: Servo Brackets
3 Designed similar to the Sawppy ones, I had to re-make the 3 Center Differential Parts because the Sawppy ones didn't fit properly.
3 Designed as Optional Parts: Two parts I created as Bus Linker Housing, and one is a Support Arm for the floor panel (two of those needed).
* Other Edited 3D Printed Parts: I also used 4 edited parts (files) from the CJ Rover ttps://hackaday.io/project/165094-cj-a-sawppy-variant (Thank you Laura).
As a Final note in regards to 3D Printed Parts, I didn't print the Battery & Power Tray from the original Sawppy, I placed those parts on the Rover's Floor Panel.
-
Regrading the Components:
I only listed the components I used on my rover that are not mentioned on the SAWPPY 1.0 components.
-
Regarding the Logs: In the 5 logs, I wrote about the progress of putting the rover together, and variations I addressed during the build. They appear here from most recent to oldest.
-
Regarding the Instructions:
My instructions are a timetable for the sequence of chores that can be utilized to efficiently move forward with the build as it takes shape.