If you'd like a detailed, step-by-step walkthrough for finding and setting up a tablet like this, I've written up a "beginner-friendly" version of this guide here: https://tabletconnect.org/instructions
Otherwise, here's some additional advice for the project:

- You don't have to use 4G.  A WiFi tablet can work just fine.  However, 4G is nice because it saves the elder from having to figure out how to connect the tablet to their WiFi network.  The tablet will also continue to work on 4G if the elder takes it with them outside their home, or to a hospital/rehab facility.
- I recommend using Skype and turning on its "Answer incoming calls automatically" setting, along with the "Start my video automatically" setting.  With these settings turned on, the tablet will pick up your calls automatically, without your older relative having to tap anything.  Skype is the only app I could find that has this option.
- Older versions of the Skype app don't seem to have the "Start my video automatically" setting.  If you're going to buy a used tablet on eBay, make sure to buy a relatively recent model.  I recommend (and have tested) the Samsung SM-T295 and SM-T387.  They can often be found used on eBay for under $100.
- I'd suggest installing Facebook Messenger on the tablet as a backup for Skype, in case Skype stops working. Unfortunately Skype is the only Android app that I could find with auto-answer capability, but if it fails maybe the senior can figure out how to manually pick up a Facebook Messenger video call.
- It would also be a good idea to install the "TeamViewer Host" app on the tablet, and connect it to your TeamViewer account.  In theory, this will let you remote control the tablet if there is ever a problem.  In reality I've found TeamViewer to be a bit unreliable on Android, but it can't hurt!
- In addition to labeling the power button and charging port, I suggest label the camera with a piece of tape and a sharpie.  That way the elder knows not to cover it with their hand.  Be careful not to cover the ambient light sensor with the tape though!  It's usually hidden somewhere near the camera. Here's how I did the camera labeling on my tablet: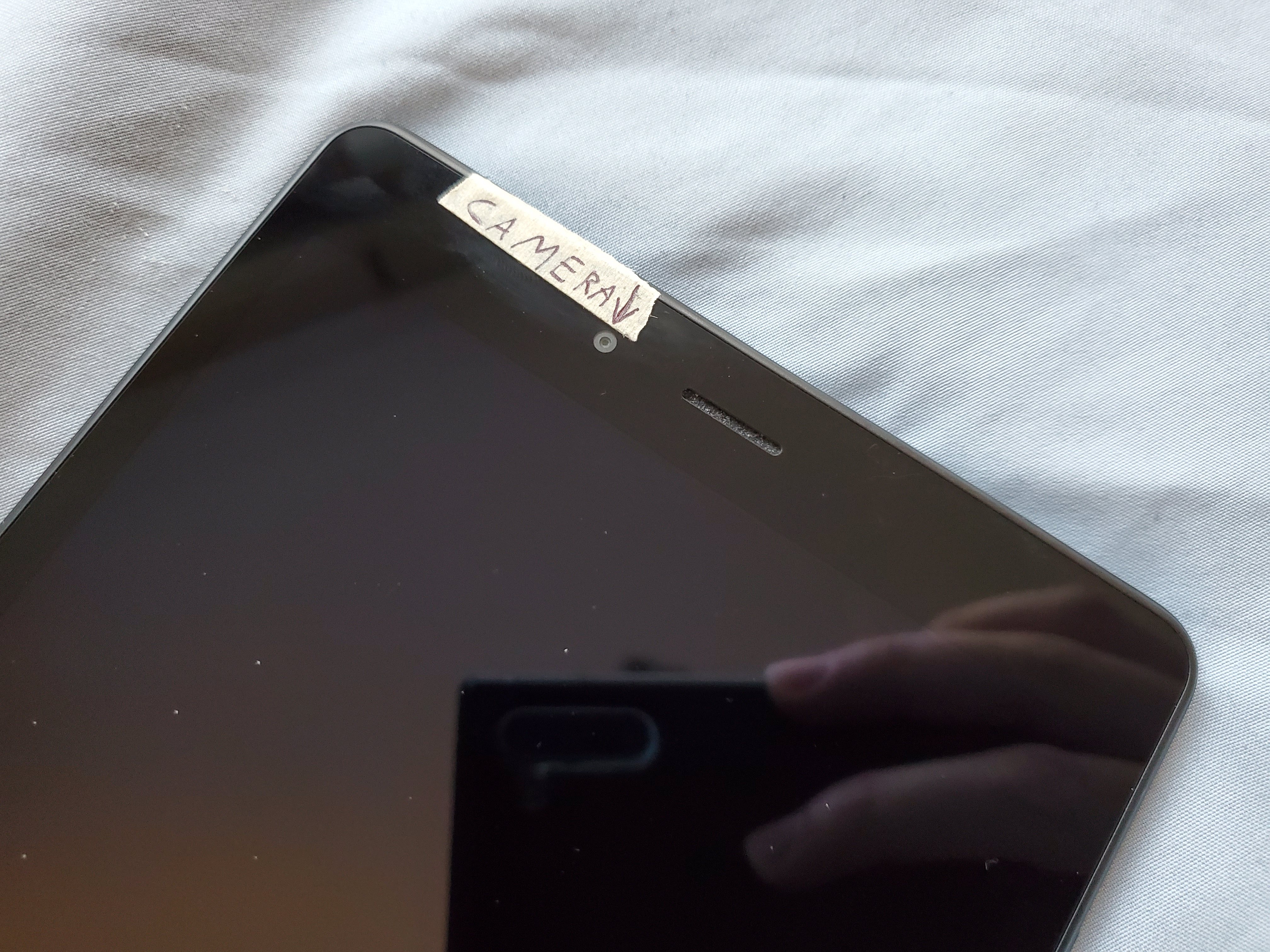 - Want to involve your parent/grandparent in a group Skype call?  You can do that!  In your own Skype account, click "Meet Now" to create a group meeting.  Send the generated meeting link to anyone you want to include.  Then, click the "add person" button in the upper right corner, and add in your parent/grandparent's tablet.  Their tablet will join the video call automatically, and you're good to go! My family did a Passover Seder with my grandmother this way. 😁  Here's a video showing how to set up a call like this, and what it looks like on the tablet:
- If you want to set up something like this using an iPad instead of an Android tablet, that is possible, but you'd have to do it with Facetime.  I have instructions for that in the "WiFi" section at TabletConnect.org
If you want help setting your tablet up, or if you have any questions, feel free to shoot me an email at help@tabletconnect.org

Good luck!
- Steve Trambert