This project is a ultraviolet radiation source based on a mercury-vapor lamp (DRL series) controlled by STM8.
Donor lamp: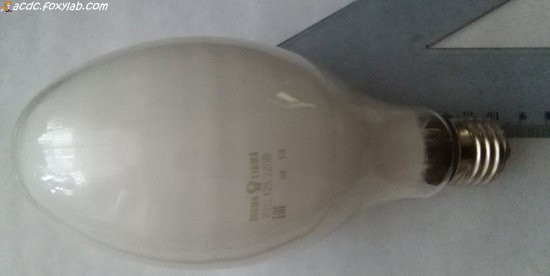 I opened the outer bulb of the lamp (placing it in a bag and gently hammering it), removing the fragments of its glass. This is an extremely dangerous operation, because if things go wrong, you can destroy the inner quartz tube, which will lead to mercury contamination of the surrounding area!
Shards of the outer bulb must be disposed of properly!

Outer bulb removed:


1. main electrode
2. main electrode
3. additional (igniting) electrode
4. resistor connected to ignition electrode

Such a lamp has negative differential resistance, which requires measures to limit the current flowing through the lamp. In my device, I used a line voltage multiplier to power the lamp.

After turning on the device, it is in standby mode. After pressing and releasing the SW1 button, the countdown starts until ready - 60 seconds, for which the operator needs to leave the danger zone. Then the voltage multiplier is connected to the mains supply  and the lamp lights up.
The exposure time with UV rays is set using a variable resistor (varies from 10 to 45 minutes), the position of the slider of which is read by the microcontroller after releasing the button.
Power consumption from the network is about 10 watts. The burner does not work in arc mode, but in glow discharge mode:



WATCHING A WORKING LAMP WITHOUT PROTECTIVE MEANS IS STRICTLY FORBIDDEN!

The smell of ozone appears almost immediately after ignition of the lamp.
After operating the appliance, the room must be ventilated for at least 15 minutes.

Ultraviolet radiation in the wavelength range of 200-280 nm (germicidal bandwidth, the most effective - 260 nm (maximum absorption for DNA and RNA)) can be used to disinfect, destroy viruses and bacteria - destroys cell membranes, which causes cell death, and destroys DNA/RNA of microorganisms, which makes them harmless, since it deprives them of the ability to reproduce and cause diseases (such irradiation is called ultraviolet germicidal irradiation (UVGI))!
I use this device to disinfect masks, respirators and rooms.

If fragments of a bulb coated with a phosphor (in a DRL lamp a phosphor excited by radiation with wavelengths of 313 and 365 nm is used) is brought under the lamp radiation, they glow with a red-orange light (620-660 nm):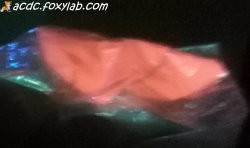 Schematic (Mk.IV):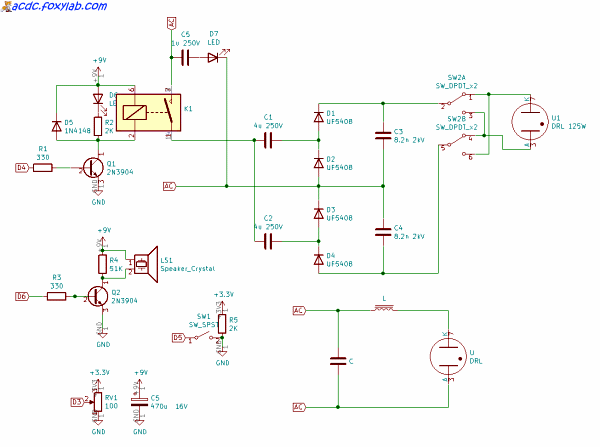 Description (in russian): https://acdc.foxylab.com/uvlamp

Description of the project will be supplemented.