KiCAD6. This is an INPUT 8X24V OPTO ISOLATED, OUTPUT 8XHIGH SIDE MOSFET module name M10DX03-10. I2C or SPI interface depending of what chip is used (MCP2308 or MCP23S8) and Raspberry bus

The difference between M10DX01-10 and this module, is that XMCP23X08 chips are used here. That is more flexible design since the user can make both the INPUT and OUTPUT interdependently select able I2C or SPI.

That assumption came out of the discussion of Raspberry Pico CNC. We concluded that we need SPI for fast inputs and I2C for outputs. Since this board can serve both worlds we think that this design is more appropriate.
To add the fact that at the time of writing (24/01/2022) there is shortage of many chips MCP23S7 included. Thus users will have more options building M0CUBE interfaces

. All modules from version 10 and later are sharing the new 90x90mm PCB.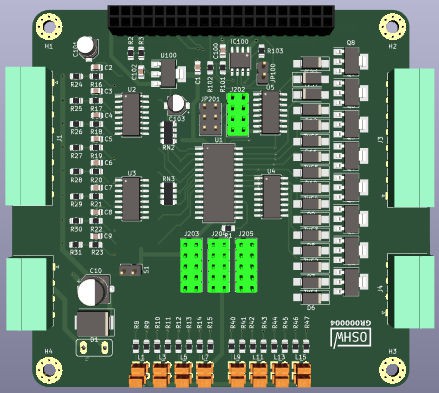 Project still in progress...
Since this interface is crucial component for a 6 Axis CNC or complicated 3D Printer controller, discussion will continue here: M10CUBE PICO CNC. A Universal Controller ?

Enjoy...