Part number: EVM31-050A
Introduction: The EVM31-050A is Power transistor module by Fuji Electric, which is widely, used in Power electronics industry.
With its high current gain you can use it in any design system that requires high power.
Along with its high power applications, the internal components are insulated from each other, which means that there is no chance of internal short of the components irrespective of the load conditions.
This part also provides, stability and protection in case of voltage spike due to connected load or due to decrease in incoming supply, thanks to Freewheeling diode structure provided.   
Some Core parameters of the module.
Here we mentioned some important parameters of the IC Model EVM31-050A. For complete information, kindly consult data sheet of EVM31-050A
| | | | |
| --- | --- | --- | --- |
| VCBO | Max allowable voltage across collector base junction | 600(ICBO = 1mA) | V |
| VCEO | Max allowable voltage across collector emitter junction | 600(ICEO = 1mA) | V |
| VEBO | Max allowable voltage across emitter base junction | 6(IEBO = 100mA) | V |
| ICBO | Collector – Base cutoff  current | 1.0(VCBO = 600V) | mA |
| IEBO | Emitter – Base cutoff current | 100(VEBO =6V) | mA |
| VCE(SAT) | Collector Emitter Saturation Voltage | 2.0(IC=150A,IB=4A) | V |
| VBE(SAT) | Base Emitter Saturation Voltage | 2.5(IC=150A,IB=4A) | V |
| hFE | DC Current Gain | 70(IC=150A,VCE=5V) | N/A |
Typical Application: 
The EVM31-050A module is basically used in applications where there is need of high power requirements. Please note that this can only be used in Inductive loads. Some of the areas of where it can be used are
Motor control circuits (both AC & DC)

                                              (Courtesy of ON Semiconductor, AND 9088/D)
Un-interruptible power supply (UPS) circuit design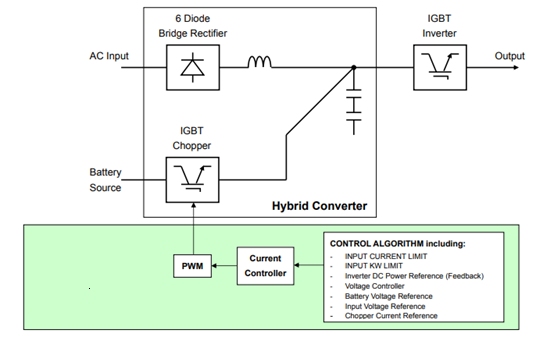 (Image courtesy of Toshiba UPS Systems - G8000MM UPS CONVERTER CONFIGURATION TECHNICAL PAPER)