Part No. FSBB20CH60 (Smart Power Module)
Introduction:
This advanced smart power module (SPMTM) that Fairchild has newly developed is designed to provide very compact and high performance ac motor drives mainly targeting low power inverter-driven application like air conditioner. This module is the combination of advanced circuit protection and drive designed to match the performance of low-loss IGBTs. Stability and trustworthiness is improved by the integrated "under-voltage" lock-out and "short circuit" protection. While using this module, phase current of each phase in the inverter can be checked and verified separately due to the separated negative dc terminals of the module.
 Following are main Features;
Very low thermal resistance due to using DBC
600V-20A 3-phase IGBT inverter bridge including control ICs for gate driving and protection
"Divided negative" dc-link terminals are designed for the inverter current sensing applications
Single-grounded power supply due to built-in HVIC
Isolation rating of 2500Vrms/min
Main Characteristic Ratings are;
For inverter high-side IGBTs: Gate drive circuit, High voltage isolated high-speed level shifting Control circuit under-voltage (UV) protection Note)
For inverter low-side IGBTs: Gate drive circuit, Short circuit protection (SC) Control supply circuit under-voltage (UV) protection
Fault signaling: Corresponding to a UV fault (Low-side supply)
 Input interface: 3.3/5V CMOS/LSTTL compatible, Schmitt trigger input
Application
FSBB Smart Power modules are used in three-phase inverter drive for small power ac motor drives such as air conditioners and washing machine.
Image below describes the connectivity of CPU control for SPM.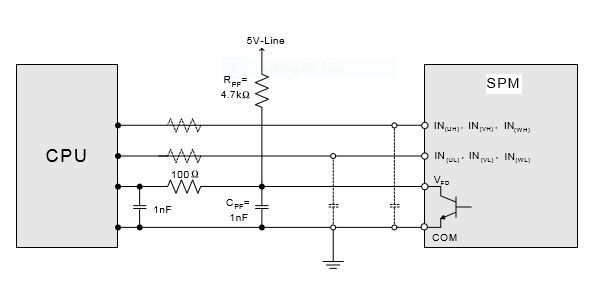 Video on Youtube:
You can get info about more modules or ic chip on our Youtube channel:
https://www.youtube.com/channel/UCnxNgDpzT9kr-cdw1RmhI2Q/videos?view_as=subscriber