I had a lot of problems and familial events. I abandoned this project. Too much to manage, too much problems to solve. I had to cut a drop whatever was not absolutely essential.
.... time passed and i was able to get my head out of the water. Getting back at my bench I saw the two scopes who were waiting looking at me with their lonely buttons. I abandoned a project i had with them. Still had plenty problems to solve, but why not looking at it just to be sure i made the good choice.
I won't go in details as it can be pretty boring, but i was more the type that do everything by himself. All the recent events in my life got me to reflect a lot on myself. So i tried something I had never done until now : Getting some help !
So i looked for people that had extensions cards and who were kind enough to share a scan or a photo of their cards.
Two days later, success ! Someone accepted to help me. He had access at his job to the extensions cards i needed.
He sent me a lot of photos of the cards he had. Front, back, top and down. I can't thank him enough for that. He got me fired up again about this project.
As i had to take a temporary leave from my job, all of the problems linked to it disappeared (nearly 75% of them). I had some brain time to spare for my own projects.
First step was to look for software who reversed or helped to reverse a PCB. Or at least some techniques. I learnt that some company are specialized in this field, that some windows program helped in this, some searcher published papers about reversing a PCB with computer vision. I don't have money, I don't have/want Windows, i didn't want to start learning another domain for the moment.
So it was a fallback to what i already knew and had : Gimp and a good old Wacom tablet.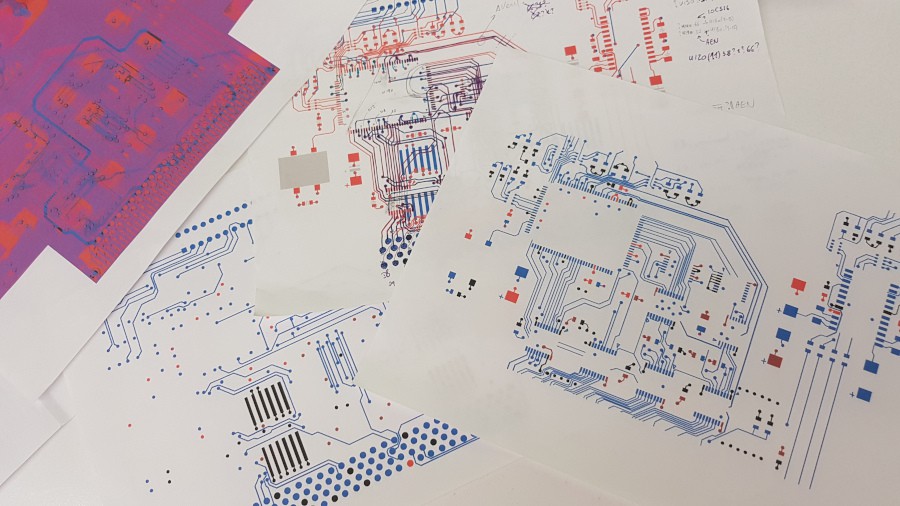 What i learned for my first PCB reversing 4 layers board with trials, errors and looking for what other people do :
Get the best and more detailed photo you have for each side of the board.
The best photos are with homogeneous lighting
Play with the colors/contrasts/highlights/gamma/filters to get the best view of the copper tracks
Learn how to use the cage deformation tool
Create a layer with a specific color for

the top traces (light red)
the bottom traces (light blue)
the components (light grey)

For every vias, look for the thermal relief, it a good hint to know to what layer it's connected
Use a hard pen, not a brush to draw over the tracks. For the width, 5 to 9 pixels was enough for me.
Try to leave some space between the tracks you've drawn, ti's easier to read after
If you spot the a VCC rail, a GND rail or any power rail, mark it with a specific color
Even if you don't need a full reversal, it's useful to correctly all the tracks
Real paper and real color pens are still the best tools :)
Okay, i had most of the TDS3GM board tracks. And I though, good job, i'll find how it work by tomorrow for sure.

Silly me. It's where the real hard work start !
I knew how to use EasyEDA, but it left me with a sensation of playing with a baby toy. So it was time to look for something more robust. A long time ago I played with EaglePCB, but the licensing and limitations where pretty frustrating. I wanted to really get into electronic hobbies, so knowing i can get stopped because i used something like that ... naaaahhh. So after some googling, youtubing, reading, benching and accounting i choose KiCAD to draw the board schematic.
I'll keep this part short as the "history" of this project is near it's end. Not because i don't want to share any useful technics or information, but because i don't remember all i did. That a shame because it's in theses part that i spent a lot of time understanding what was going one on this simple design and learned a lot too in the process !!!!

Here what i can share for sure is :
reverse engineering a 4 layer PCB just with photo is a lot of recursive analysis
Even with missing or interrupted tracks you can guess where they are going to using datasheets and trying to understand how the board was designed
Sometime if you can't find where a track is going, take a guess and way to see if it match with the other guesses/tracks
Having your cleaned tracks printed on paper allow you to easily take notes, so don't reject paper, love them :)
It felt easier to follow a track with a pen on a paper