Hey all, it's been a while since there was a new Project Log. I've been fiddling around with the Holotape Module to see if I can get the OLEDs to work.


The good news:
The OLEDs are a perfect fit for the module.
I can drive them easily from the Artemis Nano.
I got the clock to use the Artemis Nano's RTC module!
The bad news:

These OLEDS have a fixed I2C address so I can't daisy chain them without having to put a I2C multiplexer in between them (which doesn't fit anywhere). Plan B is to just use different SDA and SCL pins on the Artemis Nano for the screens and see how that goes. I do wish to keep it as modular as possible, so perhaps do a break-out plug in between... not sure.
One OLED screen doesn't cover all the holes. One screen can cover the whole "date", but no screen fits between the first one and the gap for the "time" hole: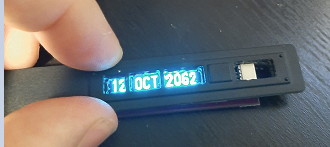 2 OLEDs pushed together gives a gap in the middle of the "year" hole. I might be able to alleviate this with some dark tinted transparent plastic in front of the holes. The light will shine through regardless.
I got to wait on some new OLED screens as I kinda destroyed a couple trying to fit them in, and soldering wires to them. I learned from that mistake and bought some Grove and JST connector kits to make sure I just wire connectors tot those pins. However, the pins are not 1:1 compliant with the Qwiic or Grove standard, so I've got some rewiring of plugs to do.
Lastly, the main reason for the title, is that I've found the perfect drop-in replacement for the top red button on the Pip-Boy: