Here is a flow-chart-like diagram of the proposed system: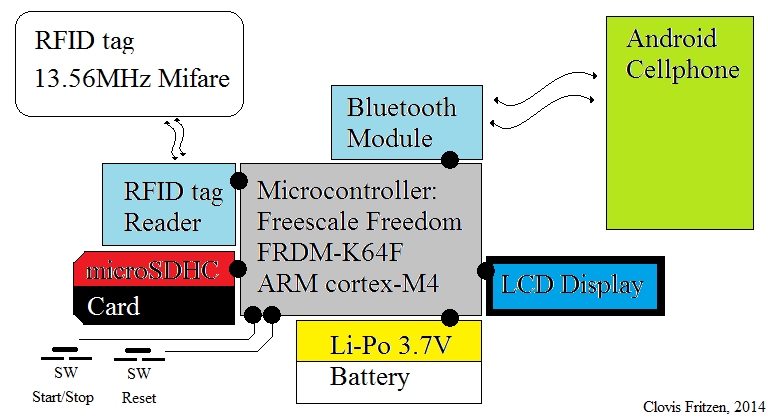 The complete system consists of a LAP/TIME controller (or logger) for runners or trail hikers, to monitor their performance in terms of time taken to perform certain task or run certain course.
Once the Tag holder (e.g. runner/hiker) approximates it to the RFID tag reader, this information is sent to the LCD display and microSD (to be stored), and a buzzer makes a BEEP; Optionally the event of a tag being read can be stored in the Android Cellphone memory, via our custom APP. The Start/Stop button shown in the picture stands to initiate or finish some preset time (the RACE TIME!).
So guys, just to make things clear and easy to understand, here it goes:
- The runner will only carry the Tag (or keychain), not the entire system. The little box with the ARM microcontroller, Bluetooth, RFID reader, LCD and keys will stay somewhere close to a cellphone, which will do all the heavy work of counting the number of laps, or time, etc.
- It will be possible to link the chip (RFID Tag) to the name of the runner (or his/her number), by typing it on the App screen before the race.